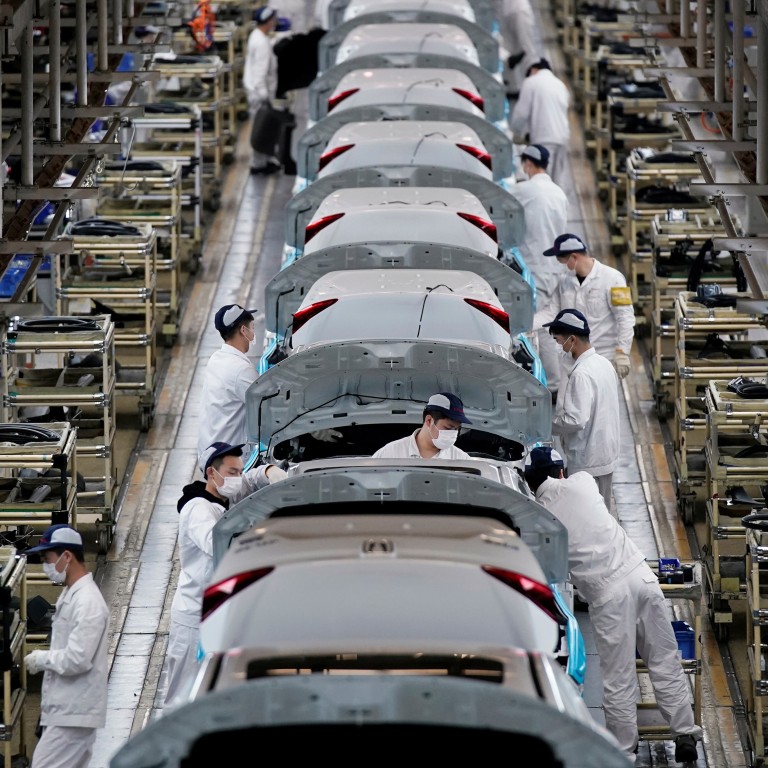 Coronavirus: China's industrial giants see profits collapse in first quarter of 2020
From January to March, China's industrial giants' profits were down 36.7 per cent, with the energy and automotive sectors suffering huge drops
Chemicals and ferrous metals processing were next worst hit, as China's efforts to reopen the economy continue
Profits at China's big industrial firms collapsed in the first quarter of the year, during the country's unprecedented coronavirus lockdown.
Industrial firms saw profits fell by 36.7 per cent over the first three months, led by a massive 187.9 per cent collapse in the profitability of firms in the oil and gas industries. These firms saw a 28.5 billion yuan (US$4 billion) profit over the same period of 2019 fall to a 24.7 billion yuan loss.
Big companies in metal products, machinery and equipment sectors saw profits fall by 84.3 per cent. The automotive industry saw a 80.2 per cent profit drop, profits in the chemicals sector were down 56.5 per cent, while ferrous metal processing profits slid by 55.7 per cent over the first quarter.
Among China's 41 industrial sectors, all but two reported losses: tobacco and food processing.
Profits at state-owned industrial enterprises plummeted by 45.5 per cent, while those in the private-sector fell by 29.5 per cent.
"It should be noted that although the profit situation of industrial enterprises has improved in March, due to the fact that market demand has not yet fully recovered, product inventories have increased, industrial products prices have continued to fall, and cost pressures are still large," said China's National Bureau of Statistics said in a statement accompanying the data.
"We must carefully implement various policies and measures to promote economic and social development, and actively help enterprises alleviate difficulties and stabilise and promote the stable operation of the industrial economy."
Large swathes of the economy were shutdown from late-January, as the virus took root over the Lunar New Year holiday, leaving workers housebound for weeks and many subsequently stranded in their hometowns, where they had travelled to spend the holiday period with family.
The CPB World Trade Monitor, released on Friday, showed that the volume of world trade decreased by 1.5 per cent in February, having decreased 1.4 per cent in January. Given that some of the largest economies in the West went into lockdown over March and April, this figure is expected to worsen over those months.
The World Trade Organisation predicted earlier in April that depending on the severity of the pandemic, world trade would fall by between 13 per cent and 32 per cent in 2020.
Exports account for around one-fifth of China's economy, less than in years gone by, but many large industrial firms make goods for overseas markets. Such firms are also huge employers and their health is crucial should China keep unemployment levels at a minimum.
One report recently estimated that as many as 205 million Chinese workers could be in "frictional unemployment" due to the economic downturn.
This article appeared in the South China Morning Post print edition as: Industrial giants take huge profit hit