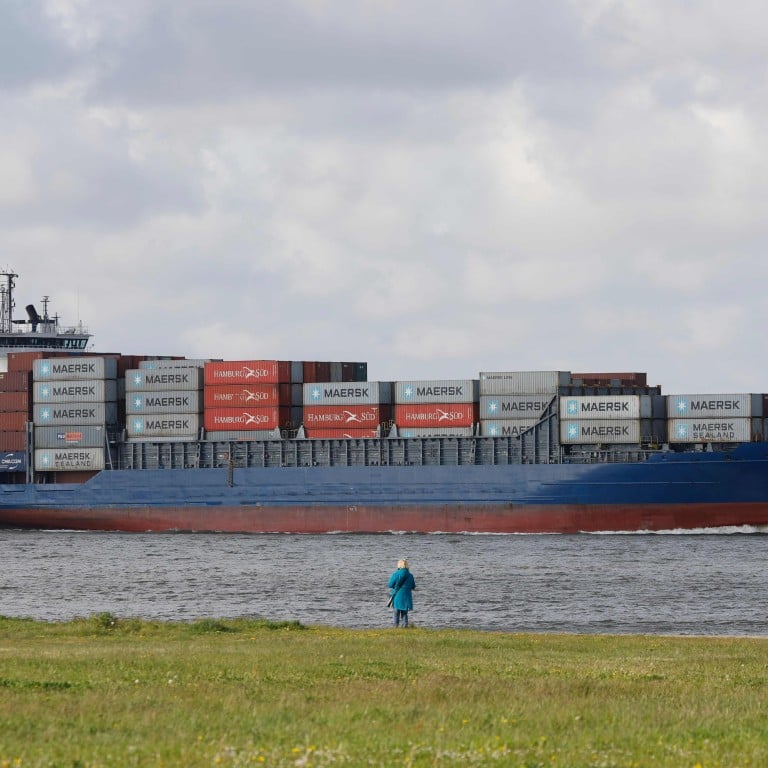 Coronavirus: evidence of demand shock wave to China's economy piles up, as South Korean exports collapse
South Korean exports plunged 46.3 per cent in the first 10 days of May, sparking fears that a second hit to China's economy is on the way
Cancelled ship sailings, plunging metals exports and diverging air and sea freight rates all paint an ominous picture for the future of China's economy
Just days after reporting surprisingly strong exports for April, evidence of tougher times ahead for China's factories and traders is beginning to pile up.
Collapsing shipments from South Korea, plunging commodity rates, wildly fluctuating cargo costs and a hollowing out of jobs markets for major trading partners are all ominous signs for China's industrial base, which has struggled to return to full capacity since a coronavirus-led shutdown in the first quarter.
On Monday,
South Korea
became the first major economy to release trade data for May, with its exports over the first 10 days falling by an enormous 46.3 per cent, while imports slumped 37.2 per cent.
This closely watched metric is viewed as a canary in the coal mine for global trade, since major South Korean products like smartphones, cars, ships, steel and semiconductors, form part of the backbone of the world economy.
"With global demand unlikely to recover quickly, Asia's export-dependent economies will continue to feel the strain for many months to come," said Alex Holmes, Asia economist at Capital Economics.
The gravity of this global demand crash was further laid bare by a succession of historically bad data releases over recent days.
The JP Morgan global composite purchasing managers' index (PMI), a survey of the mood among manufacturing and service sector firms around the world, plunged to its lowest point in history at 26.5 in April, "far below its previous low of 36.8 in November 2008 during the global financial crisis".
The US employment report on Friday showed 20.5 million Americans lost their jobs in April, the worst month in the report's history, suggesting that the demand slump will continue, and that for exporters in China, the worst is yet to come.
There are also early signs that manufacturers are already making cuts to production as export orders fall.
The Baltic Dry Index, a daily measurement of the costs of shipping raw materials like iron ore, coal, cement and steel, has plunged in recent weeks as the global economy wobbles, a sign of weaker industrial activity in an index which is viewed as a key early indicator for manufacturing and consumption.
Copper exports from Chile, the world's biggest producer, fell by 7.8 per cent in April, with prices suppressed due to poor demand from the world's biggest buyer, China. The metal is used in everything from cars to power transmission equipment to smartphones, and so Chile's exports are seen as another bellwether for global manufacturing health.
Shipping traffic is another finger on the pulse of global trade, and Stefan Holmqvist, managing director of Norman Global Logistics in Hong Kong, is seeing "38 per cent blank sailings between China and Europe" and around 30 per cent for China to the US.
"This is an extreme situation, you might usually see two to three weeks with blank [or cancelled] sailings over Lunar New Year, but this has gone on for around eight weeks," he said. "If the carriers thought the market was coming back soon they would not be cancelling so many sailings."
"It is too expensive to fly the usual air freight commodities, so only urgent 'other commodities' are being shipped, with a view that volume air cargo will move later in the year when rates decrease," said John Peyton Burnett, managing director of the TAC Index, a tracker of air freight rates.
But the export-oriented economy still supports – either directly or indirectly – 112 million jobs, according to a study published by the Ministry of Commerce last year.
This article appeared in the South China Morning Post print edition as: China risks facing shock wave as South Korean exports plunge