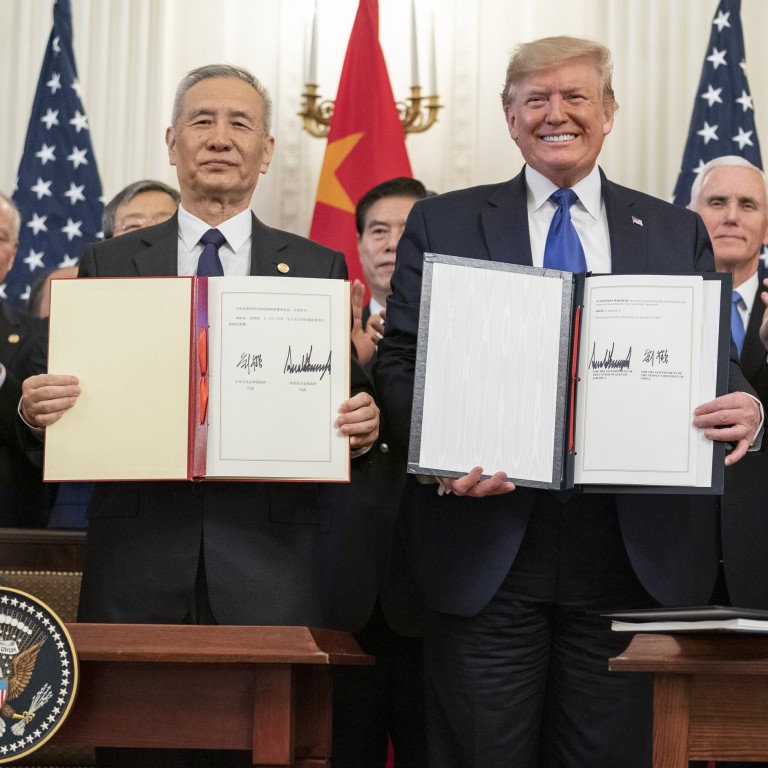 Coronavirus row won't kill US-China trade deal, even as tensions rise, one of phase one's top US negotiators says
Kelly Ann Shaw, until recently Larry Kudlow's deputy at the National Economic Council, said phase one tensions are yet to reach a tipping point
Comments come as pressure piles on the nascent accord from both sides, amid speculation that US President Donald Trump will walk away
While US-China tensions "are at a higher point" than ever before, one of the architects of the phase one trade deal does not believe the beleaguered accord is on the verge of collapse.
Pressure continues to mount on
the deal,
which only entered force in February having been signed a month earlier, with attacks on its content, feasibility and desirability raining in from both Beijing and Washington with increasing regularity.
And while the superpower relationship has soured dramatically since Kelly Ann Shaw left her role as deputy director of the White House National Economic Council under Larry Kudlow in November, she is still optimistic that the deal will hold, having been one of the lead negotiators of the agreement.
"I certainly do not think the deal is bulletproof, there could be a tipping point at which the broader tensions are just too high and it may be victim to that, but I certainly do not think we've reached that point yet," Shaw said in an interview with the South China Morning Post.
"China is continuing to make purchases. They have made some reforms pursuant to the agreement. And I understand at a working level, officials from the United States and China are in close touch and continuing to work through those issues. So while the rhetoric on both sides is tinder, nobody has lit a match yet."
The heat, however, is rising. In a pre-recorded interview with Fox News broadcast on Thursday,
US President Donald Trump
threatened to "cut off" ties with China, saying that while he has "a very good relationship" with Chinese counterpart Xi Jinping, "right now I don't want to speak to him".
"They should have never let [the pandemic] happen. So I make a great trade deal and now I say this does not feel the same to me," Trump said. "I'm very disappointed in China."
Shaw pointed to the fact that Trump "stopped short of saying that he would" actually cut China off, and that "the types of comments the president made today were very similar to a number of comments that he has made throughout the long history of the
trade war".
Discontent with the deal has been growing in recent weeks in response to the building anti-China rhetoric in Washington, where politicians on both sides of the aisle have been eager to hold China to account for covering up the initial coronavirus outbreak.
While China has started to increase its purchases of US products, including soybeans, pork, wheat,
barley
and corn, economists estimate it would have to more than double these to meet lofty import goals of US$200 billion over 2017's levels by 2021. In agriculture alone, China is expected to buy US$12.5 billion more in produce than it did in 2017, which will be extremely challenging given the supply chain disruptions stemming from Covid-19.
"I have been a trade negotiator for a decade and in almost every instance I can think of, there is a level of practicality that is exercised and, the agreement itself has a force majeure clause," said Shaw, who was a senior adviser to Trump on economic and trade policy throughout the trade war.
"I think ultimately if both sides are making their best efforts to comply with the terms of agreement, that will go a long way, but it is going to be up to the president to make that decision on the US side."
Shaw – previously the lead US negotiator to the G7 and G20 – conceded that even if those who negotiated the deal believed at the time that
phase two
follow up negotiations to address meatier structural reforms to China's economy would follow the implementation of phase one, those talks are now less likely.
"None of those issues are new ground for either side. They've been talked about between the US and Chinese negotiators. So there was certainly optimism that we would be able to continue making progress because we had already started negotiating many of those issues," said Shaw, now a partner with the law firm Hogan Lovells. "But I think at this point just given Covid-19 and the overall political dynamic, I am not personally optimistic that we'll see much progress on phase two any time soon."
However, she does not subscribe to the increasingly popular view that the world's
two largest economies will decouple,
nor does she believe that there is broad support for "full decoupling" in the White House.
"Even in theory when you're talking about very specific types of economic activity, whether it's telecommunications or 5G or rare earths, I think that there is a case to be made that the United States needs to make that at home," Shaw said. "We cannot expose our supply chains to certain vulnerabilities, but when it comes to broad-based decoupling, I just do not see broad support for that."
To listen to the full interview with Kelly Ann Shaw, check out the US-China Trade War Update podcast
This article appeared in the South China Morning Post print edition as: US-China trade agreement 'likely to survive virus row'