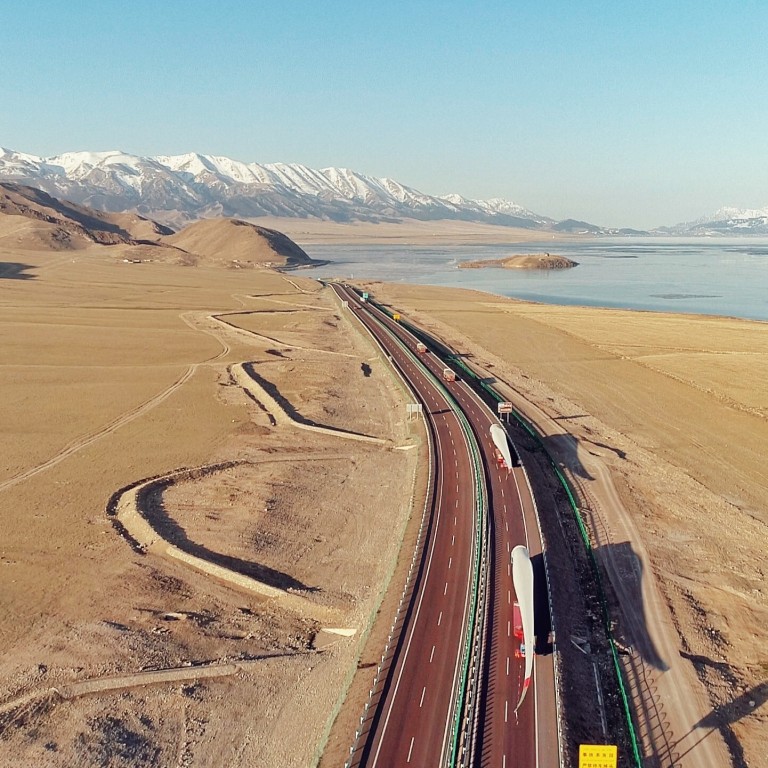 Coronavirus, US-China decoupling prompt Beijing to unveil new western development plan
Beijing's new 'Go West' plan calls for development of central and western provinces to offset the risk of geopolitical isolation
Policy blueprint includes long list of new energy and infrastructure projects, providing more 'leeway for strategic manoeuvring'
China is seeking a new burst of growth from its vast and energy-rich western regions, as its export-reliant eastern provinces suffer from the coronavirus pandemic and face mounting pressure amid US threats of economic decoupling.
The latest "Go West" blueprint announced by Beijing on Sunday comes as the government strategises for a
post-coronavirus world
that is set to be less friendly and predictable for China.
While top government leaders have pledged the nation will continue to open, a new strategy being floated is for the world's second largest economy to turn inward and focus on its massive domestic market.
"Strengthening efforts to advance development of the western regions is an important decision made to answer the request for balanced regional development and also to coordinate overall interests, both internal and external," read the development guideline issued jointly by China's cabinet, the State Council, and the Communist Party's Central Committee.
As part of the plan, China announced a slew of new transport infrastructure initiatives for the western hinterlands, including the Sichuan-Tibet railway, high-speed rail links along the Yangtze River, and a series of airports, reservoirs and irrigation projects.
The government will also develop new energy projects, such as oil and underground gas storage facilities, and encourage industrial projects to shift operations westward rather than relocate overseas.
Beijing had a similar plan to boost regional development in 1999, but the Western Development Strategy, which involved a dozen provinces covering three quarters of China's territory and a quarter of its population, has had mixed results in narrowing inequalities in regional development.
By the end of 2018, after nearly two decades of implementation, it had lifted the provinces' share of national economic output by 1.8 percentage points to 20.5 per cent.
But the gap with China's more developed eastern provinces is still widening in terms of absolute gross domestic product (GDP), fiscal revenues and trade, according to an analysis published by Northwest University professor Bai Yongxiu in December.
Still, China's western provinces have proven more economically resilient during the coronavirus outbreak. China's GDP contracted 6.8 per cent in the first quarter as fixed-asset investment plunged, led by eastern powerhouses like Guangdong and Zhejiang.
China's western provinces, including Xinjiang, outperformed the eastern provinces with only a relatively modest economic declines.
The new plan recognises the importance of China's western regions in meeting the government target of eradicating poverty by the end of his year. It will also provide China with more "leeway for strategic manoeuvring", it said.
China has had a long history of economic planning for self-reliance. When relations with the Soviet Union soured in the 1950s, then-leader Mao Zedong decided to move many of the nation's industrial projects to mountainous regions to protect from a possible war. The so-called Third Line policy was largely abandoned when former leader Deng Xiaoping embraced market reforms four decades ago.
The renewed push to invest in inland provinces echoes President Xi Jinping's idea that China should be more self-reliant for core technologies, food production and consumer demand.
China is facing a major challenge to maintain its
role in global value chains
. Exports plunged 9 per cent in the first four months of the year, while its position in international supply chains is under threat as the Trump administration seeks to blame China for the coronavirus outbreak.
"The economic disruptions and damages that this crisis will cause globally will change the dynamics of the globalisation process," said Steve Tsang, director of the London-based SOAS China Institute. "Most Western democracies will … want to reduce their dependence on China for critical supplies."
The new plan also emphasises the need for China to push forward with the
Belt and Road Initiative
, a concept initiated by Xi to expand China's international influence through a network of infrastructure projects and trade connections with countries in Asia, Europe and Africa.
The inner western provinces lie at the eastern end of this modern-day Silk Road and the Go West plan calls for an expansion of transport links with Europe and Southeast Asia.
"China's external environment was undergoing obvious changes even before the pandemic, as we can see from China-US trade frictions," said Tang Jianwei, head of research at the Bank of Communications. "[China] will rely more on domestic demand for future growth. After all, it has the world's largest market."
This article appeared in the South China Morning Post print edition as: China to 'Go West' in plan for future self-reliance