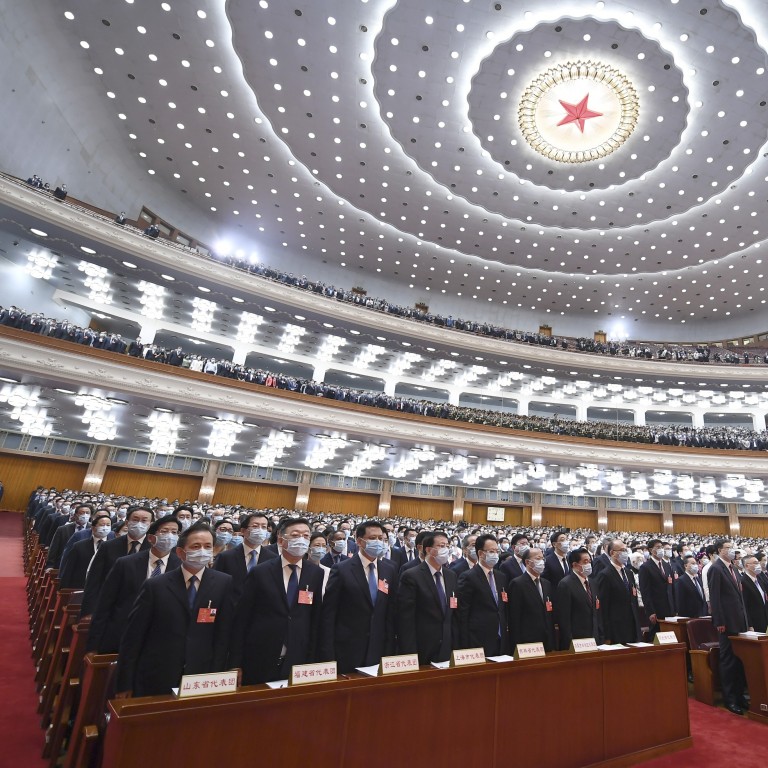 China GDP: Beijing abandons 2020 economic growth target, Premier Li Keqiang confirms at NPC
China will not set an economic growth target for 2020, Premier Li Keqiang confirmed at the National People's Congress (NPC) on Friday in Beijing
China has set a target of creating 9 million new urban jobs, while the target for consumer price index (CPI) growth is around 3.5 per cent
China will not set an economic growth target in 2020, Premier Li Keqiang confirmed at the National People's Congress on Friday in Beijing
The move was expected in some quarters, with the economy having contracted by
6.8 per cent in the first quarter
of 2020 compared to a year earlier, under huge pressure from the coronavirus pandemic.
"We have not set the specific [gross domestic product] target mainly due to the global pandemic and big uncertainties in the economy and trade," read the work report, adding that China was facing an "unpredictable" time.
China's government has, though, set a target of creating 9 million new urban jobs, compared to 11 million last year, and a surveyed urban unemployment rate of around 6 per cent, compared to 5.5 per cent last year. In 2019, China created 13.52 million new urban jobs.
The target for consumer price index (CPI) growth for the year is around 3.5 per cent, compared to 3 per cent last year.
Beijing has set a local special bond quota at 3.75 trillion yuan (US$527 billion), compared to 2.15 trillion yuan last year. It will issue 1 trillion yuan in special Treasury bonds, targeting a fiscal deficit ratio of 3.6 per cent, compared to 2.8 per cent last year. As the special Treasury bonds are not included in central government's budget, they do not contribute to raising the deficit-to-gross domestic product (GDP) ratio.
"We must be clear that efforts to stabilise employment, ensure living standards, eliminate poverty, and prevent and defuse risks must be underpinned by economic growth; so ensuring stable economic performance is of crucial significance," the work report continued.
"We need to pursue reform and opening up as a means to stabilise employment, ensure people's well-being, stimulate consumption, energise the market, and achieve stable growth. We need to blaze a new path that enables us to respond effectively to shocks and sustain a positive growth cycle."
Growth in personal income that is basically in step with economic growth, elimination of poverty among all rural residents living below the current poverty line and in all poor counties, effective prevention and control of major financial risks and a further drop in energy consumption per unit of GDP and the discharge of major pollutants were also included.
"We will work harder to improve the composition of fiscal spending. We will see that spending on people's basic well-being is only increased and not cut, ensure spending in key areas, and resolutely cut general expenditures," the work report continued.
"Construction of new government buildings and wasteful and excessive spending will be strictly prohibited. Governments at all levels must truly tighten their belt. The central government will take the lead by committing to negative growth in its budgetary spending, with a more than 50 per cent cut to outlays on non-essential and non-obligatory items."
The virus initially shutdown large swathes of China's economy, damaging supply chains and China's exports. But it has now locked down many of China's major trading markets, meaning the economy is facing a second shock wave in disappearing demand for its products abroad.
The International Monetary Fund predicted growth of 1.2 per cent for China's economy this year, following the coronavirus disruption. This would be a historic annual low, but is still higher than some private sector forecasts.
Over the course of the past few months, the official metrics of unemployment have ticked up. Surveyed unemployment rose to 6.0 per cent in April, up from 5.9 per cent in March and 5.2 per cent in December, while registered urban unemployment stood at 3.66 per cent in the first quarter of the year, up from 3.62 per cent at the end of last year.
Consumer inflation, meanwhile, soared over the second half of 2019 and early part of 2020, due in large part to pork shortages stemming from an African swine fever outbreak that led to the deaths of more than 100 million hogs through culling or disease.