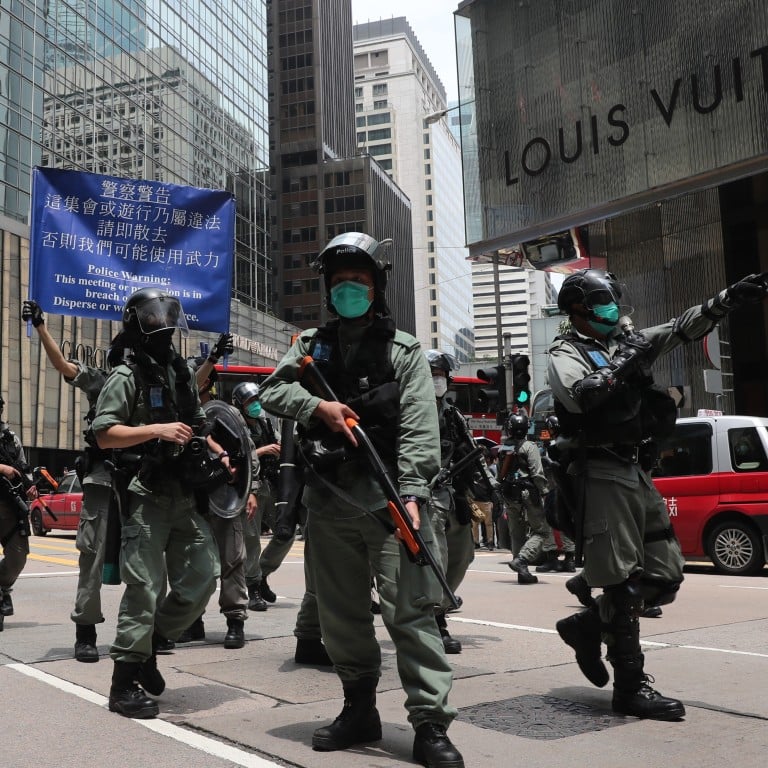 National security law: Hong Kong's appeal as business hub in the spotlight as China law looms large
China's National People's Congress is set to approve a motion to amend Hong Kong's Basic Law, the city's mini-constitution, on Thursday
It is perceived by many as a damaging blow to the city's autonomy that could undermine its many business advantages
Financier and venture capitalist Simon Calton is watching closely how China implements its new national security legislation for Hong Kong, as the impending controversial changes could raise uncertainty that would translate into higher investment costs.
Calton has long been a strong supporter of investing in Hong Kong, a city he sees as serving as a gateway to huge Chinese investment opportunities, especially in the 5G and blockchain sectors, along with projects associated with the nation's Belt and Road Initiative.
But with China's National People's Congress set to approve a motion to amend Hong Kong's Basic Law, the city's mini-constitution, to include national security legislation on Thursday, Calton is left with an uneasy feeling of uncertainty.
The legislation, which may still take many months to come into force, is aimed at preventing and punishing subversion, terrorism, separatism and foreign interference, "or any acts that severely endanger national security."
"Would it stop me from investing? No, but it would make us look real hard at what our security is and what our exit [strategy] is so that we have a backup plan for any problems," said Calton, CEO of UK-based investment firm Carlton James Group. "Because of that, it means making investments is not so easy, and it's inevitable that the market will be affected."
The proposed national security law is perceived by many as a damaging blow to the city's autonomy that could undermine its many business advantages, including its independent regulatory environment and common law jurisdiction for property and contractual rights.
Hong Kong's considerable autonomy, which has helped it build the city into a regional business headquarters centre and global financial hub since the handover to China in 1997, was promised by Beijing in the Sino-British Joint Declaration signed with Britain in 1984 and in the city's "one country, two systems" constitutional principle.
Like Calton, it is likely global investors will continue to invest through Hong Kong for now, but watch closely for clearer details of the legal framework and implementation mechanism of the new law before deciding if major changes will later be needed to their business strategies.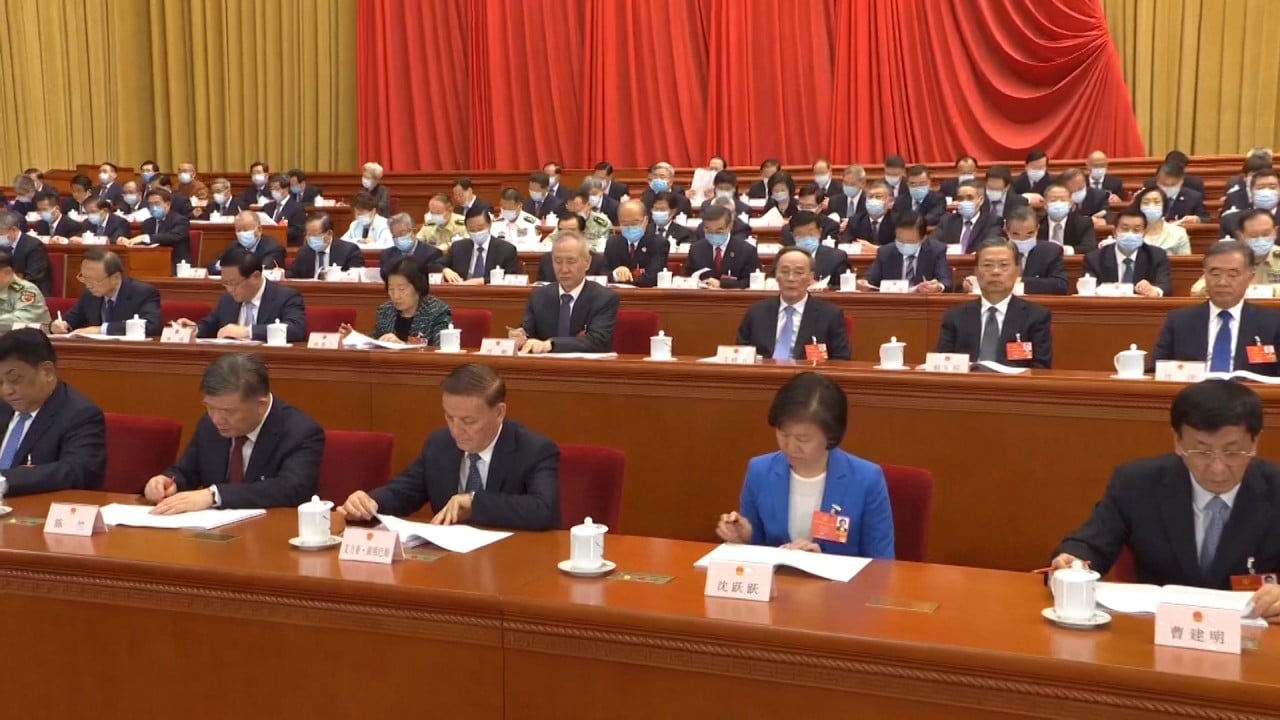 02:17
How China is drafting a new Hong Kong national security law at the National People's Congress
How China is drafting a new Hong Kong national security law at the National People's Congress
"It raises serious questions over the viability of one country, two systems. This uncertainty is bad for business, and is likely over time to have a serious impact on decisions whether to invest in Hong Kong or not," said a European diplomat based in Hong Kong who did not wish to be identified, adding the national security law would be seen in the international community as a significant "moving of the goalposts".
Hong Kong's stock benchmark, the Hang Seng Index, plunged over 1,300 points on Friday in response to the first reports of the national security law, marking its biggest slump since 2015, before eventually stabilising. The index was already under pressure from a domestic economic recession, and it remains 17 per cent down this year.
One sign of confidence in Hong Kong's financial sector comes from the city's free flow of capital via the convertibility of the Hong Kong dollar. The local currency is
pegged to the US dollar,
and is allowed to trade within a narrow trading band between 7.75 and 7.85 per US dollar, maintaining some distance from China's yuan.
The Hong Kong dollar quickly cut its losses from Friday, when it recorded its biggest daily fall in two months, showing financial resilience despite the city's political uncertainty.
On Wednesday, it was changing hands at 7.7524 against the US dollar, trading near the strong end of its permitted trading range where it has stayed in recent months due to capital inflows. Traders have been parking cash in Hong Kong to earn higher interbank market rates compared to their US dollar counterparts.
"The Hong Kong dollar peg
is an anchor of financial stability that the city is built on, and I don't see any change in the peg regime in the city," said Jeffrey Halley, s
enior market analyst, Asia-Pacific, at currency trading firm Oanda.
It is true that the size of Hong Kong's economy compared to that of China has declined from 16 per cent in 1997 to 3 per cent in 2018, but a narrow comparison focusing solely on gross domestic product masks Hong Kong's financial relevance to the mainland and the world, analysts said.
Hong Kong's role as an offshore financial centre helps facilitate China's access to foreign investment because the mainland maintains a relatively closed capital account restricting capital flows. Hong Kong is also an important springboard for re-exports of Chinese-made goods.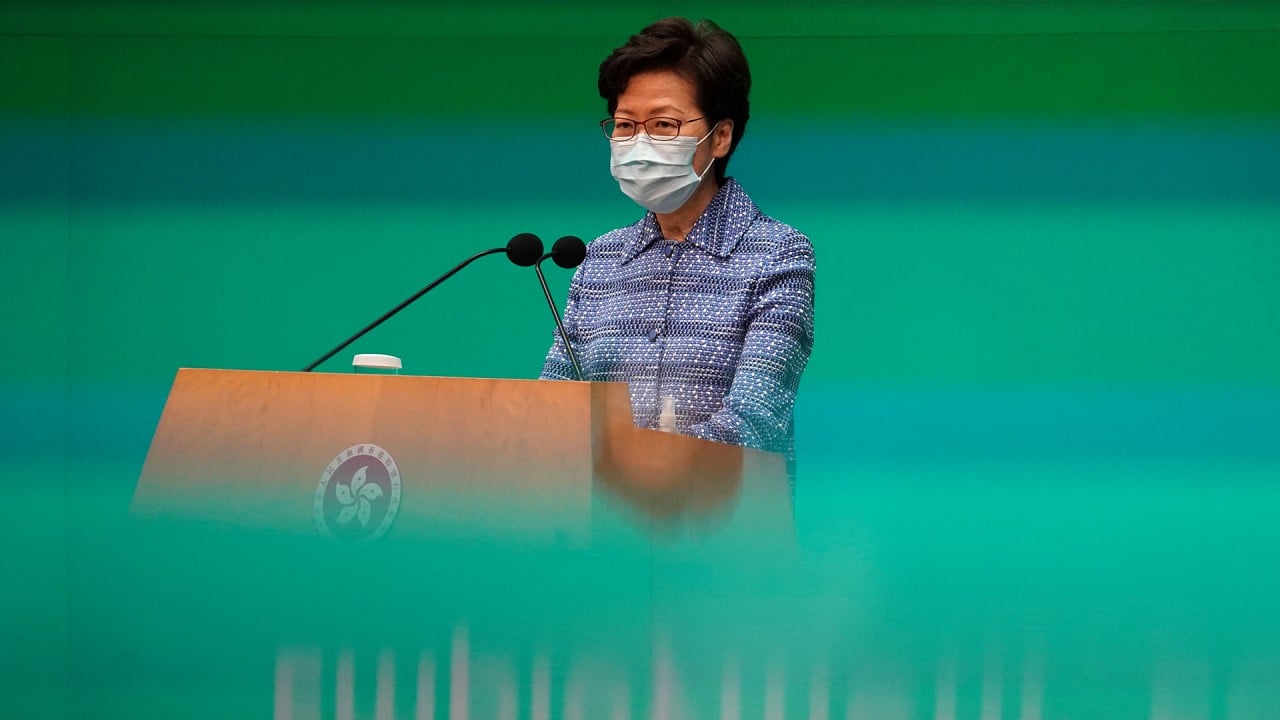 02:22
Hong Kong freedoms will not be eroded by Beijing's national security law, Carrie Lam says
Hong Kong freedoms will not be eroded by Beijing's national security law, Carrie Lam says
In 2019, around US$96.3 billion, or 70 per cent of China's US$138 billion
foreign direct investment
inflows, were conducted through Hong Kong, Chinese government data showed.
Beijing was quick to reassure foreign investors this week as protests in the city resumed at the weekend, having been dormant since January due to the coronavirus outbreak.
Anti-government protests caused initially by a now-abandoned extradition bill, that would have allowed criminal suspects to be extradited to China for the first time, had roiled the city since June last year. The protests continued even after withdrawal of the bill because of demands that included wider democratic freedoms.
"Instead of becoming unnecessarily worried, people should have more confidence in Hong Kong's future. This will improve Hong Kong's legal system and bring more stability, a stronger rule of law and a better business environment to Hong Kong," Chinese Foreign Minister Wang Yi said on Sunday.
Nevertheless, others remain worried that Beijing is willing to place politics over economics in implementation of the new law.
"If Hong Kong is not able to serve effectively as a safe haven insulated from the political risks of doing business in the rest of China, there is no rationale for international businesses to be here: they can either go directly to China, or base themselves elsewhere in Asia," said Hong Kong-based lawyer and author Antony Dapiran.
"This development will increase the urgency of questions foreign investors have already begun to ask about Hong Kong's autonomy and its stability as a long-term base for business in the region."
Edward Chin, a hedge fund manager in Hong Kong, warned that the proposed law may trigger a downgrade of Hong Kong's credit rating, affecting the cost of the city's fundraising.
In April, Hong Kong was downgraded to AA- from AA by Fitch Ratings, citing Hong Kong's gradual integration into China's national governance system and the associated rise in economic, financial and sociopolitical linkages as a reason for a closer alignment of their respective sovereign ratings. China is now rated by Fitch one notch below Hong Kong at A+.
Chin also said that the national security legislation may accelerate fund outflows from wealthy investors, who are moving their money because they "can't see a future [in Hong Kong]."
But Joseph Yam Chi-kwong, an executive council member and former chief executive of Hong Kong Monetary Authority, Hong Kong's de facto central bank, said that such worries were not due to the legislation itself.
"Rather, there are worries the US will use the legislation as an excuse to further attack China and weaponise the capital market," he said.
Under the
Hong Kong Human Rights and Democracy Act
passed last year, the US has until the end of May to decide if it will stop recognising the city's autonomy from China, which would allow Washington to revoke the current preferential economic and trade privileges. Currently, exports from Hong Kong are not subject to the US tariffs imposed on Chinese goods as part of the trade war.
US President Donald Trump said on Tuesday that his administration would announce a response to the legislation "before the end of the week – very powerfully."
"[It's] hard to see how Hong Kong can remain a financial hub if China takes over," said White House press secretary Kayleigh McEnany.
Calton from Carlton James Group said the discontent shown by the Hong Kong public raised questions among foreign investors about how the entire process was being handled, fuelling uncertainty of the regulatory and political risks in the city.
His preference for Hong Kong's level playing field for foreign firms comes from his tough experience in setting up a foreign-invested company in Shanghai in 2014. He learned of the difficulties foreign companies in China have in securing intellectual property protection and effective patents for his investment in a US technology company.
"It's not that we think that this law in itself is a huge problem from a business point of view," Calton said. "[But] that's an important problem because the step makes people worry that there is a risk that something beyond their control could cause them to lose money.
"This [new security law] is going to come up once we get to the feasibility study of the deals that we are trying to put together in Hong Kong."
Additional reporting from Sidney Leng