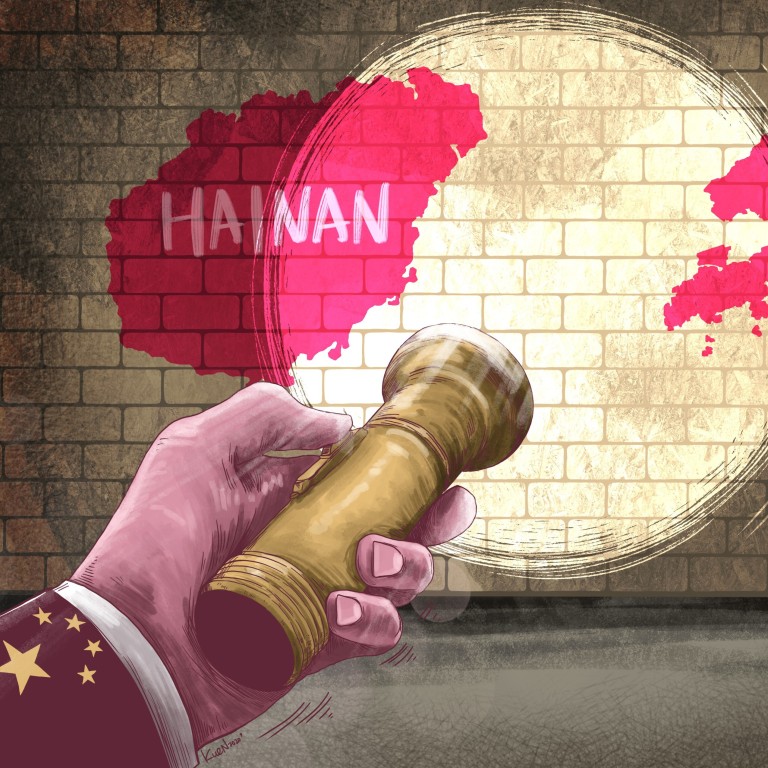 China unveils plan to make Hainan a free trade hub like Hong Kong, Singapore as risks of US decoupling loom
Beijing has outlined plans to turn Hainan into a 'free trade port' similar to Hong Kong, as China faces the risk of decoupling with the United States
The tropical island will benefit from a low income tax rate, freedoms in trade, investment, capital flows and an easier investment environment
China has unveiled a package of special policies for Hainan, including scrapping import duties, in an effort to turn the tropical island into the mainland's answer to Hong Kong or Singapore and dampen the risk of
decoupling with the United States
.
Beijing on Monday outlined its plan to make the 35,000 sq km island a "free trade port" by lowering the income tax rate for selected individuals and companies to 15 per cent, and relaxing visa requirements for tourists and business travellers.
The island province of 9.5 million people will also enjoy freedoms in terms of trade, investment, capital flows and the movement of people and data by 2035, as it moves toward becoming a hub of "strong international influence" by the middle of the century.
The project to make Hainan, which covers an area 30 times that of Hong Kong, into a regional trade, shopping and shipping centre has been "planned, arranged and promoted by General Secretary Xi Jinping personally", according to the government statement.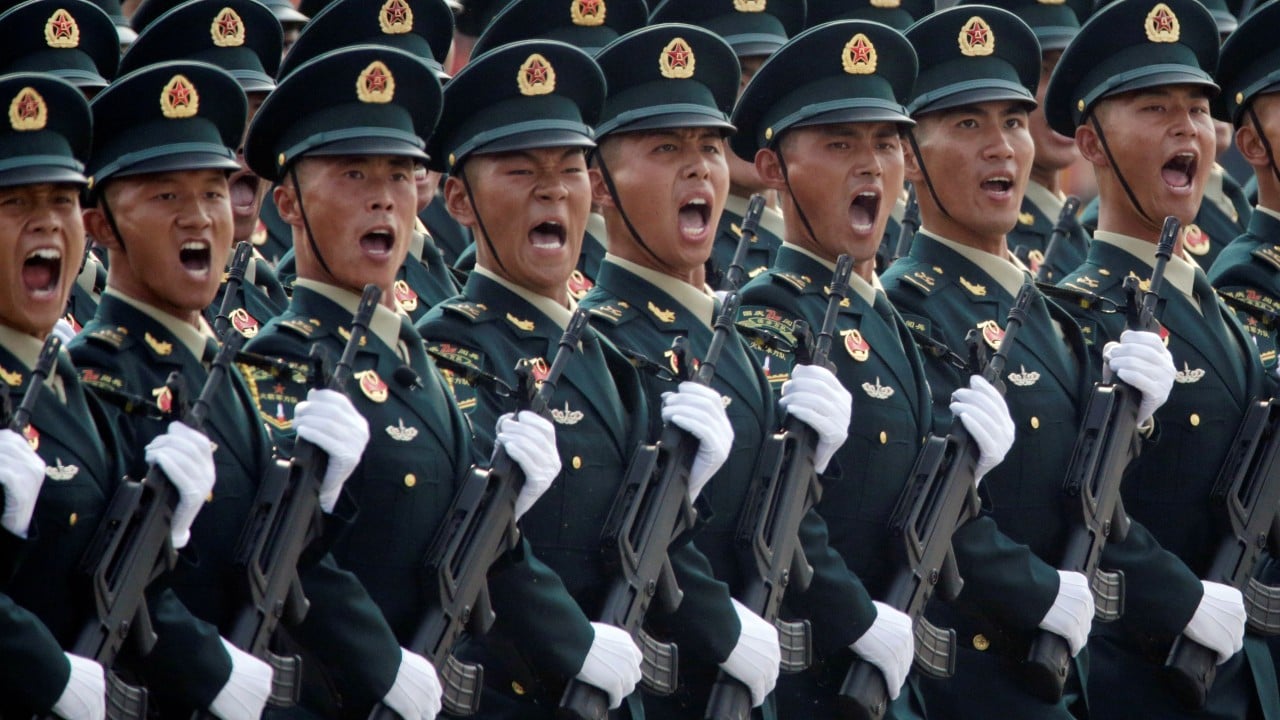 04:12
Are Xi Jinping's China and Donald Trump's US destined for armed conflict?
Are Xi Jinping's China and Donald Trump's US destined for armed conflict?
Xi announced in April 2018 that the island, a popular holiday destination sometimes referred to as China's Hawaii, would be made into the nation's largest free-trade zone. The Hainan government has sent delegations to Hong Kong, Singapore and Dubai to learn "free trade" practices.
The detailed blueprint has been released as the threat of decoupling between the US and Chinese economies grows, with tensions between the two nations escalating on multiple fronts beyond trade.
The removal of the designation could mean Hong Kong's exports will be subject to the same US tariffs as the mainland and threaten the city's port status and re-export businesses, which have benefited from low duties in trading with the US.
While there is no mention of Hong Kong or Singapore, it is clear Beijing is looking to replicate some of the policies that have made the cities successful, including an income tax rate capped at 15 per cent that is far lower than the mainland and closer to the 17 per cent level in Hong Kong.
Under the new plan for Hainan, some imported goods will be tariff free, including manufacturing equipment, vehicles, ships, aeroplanes, raw materials and consumer goods.
Chinese citizens will be able to spend as much as 100,000 yuan (US$14,000) per person every year at duty-free shops on the island, up from 30,000 yuan currently.
China will build a "second customs line" for products transported from Hainan to the mainland, with goods that have had 30 per cent value added on the island allowed to enter duty free.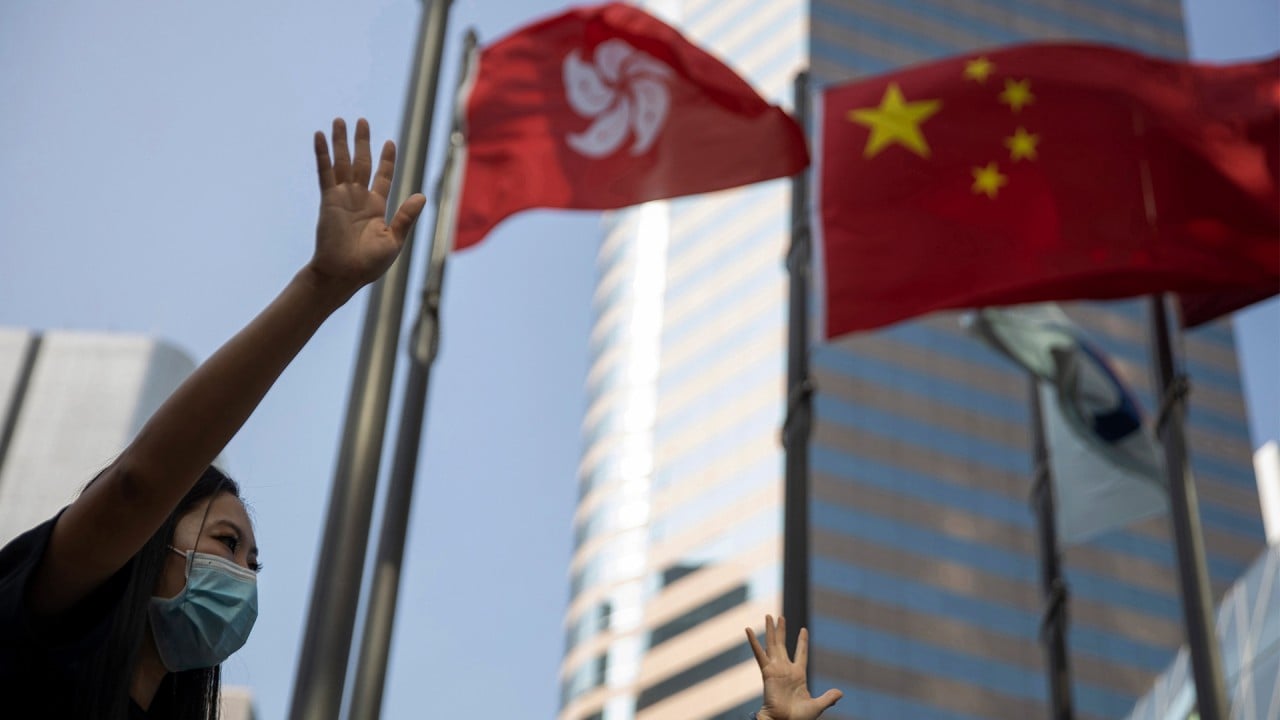 01:56
Hong Kong is no longer autonomous from China, US determines
Hong Kong is no longer autonomous from China, US determines
Investment approval will also be simplified in the province. In certain areas companies will not need to obtain government approval as long as they make promises to abide by regulations before operations begin.
Foreign nationals will be able to serve as legal representatives for state-owned enterprises, which is not allowed in the mainland, while tourists arriving on international cruise ships will be allowed to visit the island for up to 15 days without a visa.
The scope of the proposed policies for Hainan goes much further than Beijing's existing measures for other "free trade zones" in Shenzhen or Shanghai.
At the same time, the policies do not include any loosening of
China's capital account
and information flow controls, the pillars of a true free trade hub.
Fei-Ling Wang, a professor at the Sam Nunn School of International Affairs at the Georgia Institute of Technology, said the timing of the announcement of the Hainan plan shows Beijing strong desire to build an alternate free-trade hub amid the national security law tensions in Hong Kong.
"Hainan has had that kind of mission since the late 1980s with a couple of big ups and downs. It seems that the timing now is especially telling about Beijing's desires," Wang said.
But Wang believes that the chance that Hainan will become another Hong Kong or another Hawaii is "very slim, if any at all".
The key restriction, as usual, is political: there can be only so much 'freedom' of anything under the omnipresent party that has to control everything.
"Hainan cannot copy the critical advantages of Hong Kong without a fundamental political transformation [of China]: A well-established rule of law that protects property rights; individual freedoms; enforcement of contracts; and a good relationship with the West and the US in particular. The rest is just add-ons," Wang said.
Steve Tsang, director of the SOAS China Institute at the University of London's School of Oriental and African Studies, said Xi's plan for Hainan may be thwarted by a hostile international environment and a lack of rule of law on the island.
"Hainan can achieve a lot of what it sets out to do … [but] not make itself into a second Hong Kong," he said. "It does not have what makes Hong Kong what it is.
"The international backlash against aggressive Chinese propaganda … will not help Hainan to get a good start either."
China's former paramount leader Deng Xiaoping elevated Hainan to a stand-alone province in 1988 and made it China's largest "special economic zone" in the hope that the sleepy island could repeat some of the successes of Shenzhen, which turned from a small fishing village into a booming hi-tech hub.
The island was supposed to become an example for Taiwan that prosperity could be guaranteed if it chose to reunite with the mainland.
But instead of becoming a model of development, Hainan quickly turned into a haven for smugglers and property speculators in the early 1990s.
The burst of Hainan's property bubble is remembered as one of the biggest economic fiascos for Beijing since Deng's reform began in the late 1970s.
Even today, the main economic driver for the province is providing winter homes for mainlanders looking to escape the cold of the North.
Hainan's gross domestic product was just 530 billion yuan (US$74.5 billion) last year, or 0.5 per cent of the national total, according to the provincial statistics agency. The province's share of overall trade was less than 0.3 per cent in 2019.
The island's governments have also traditionally failed to perform. The province's fiscal revenue in 2019 was about a seventh of Shenzhen's, while residents are poorer than their mainland compatriots – the average per capita income in Hainan was 10 per cent lower than the national average.
A large portion of the policy document is dedicated to avoiding public health and environmental risks associated with the slated boost in trade and investment.
The import of solid waste has been banned and the Hainan government has been told to balance a more open investment environment with preventing national security risks by carrying out security checks on foreign investors.
One obvious omission in the 14,000-word document is mention of horse racing. There was speculation that Beijing might allow Hainan to establish a racing and gambling industry that rivalled Hong Kong and Macau
Instead, it says that the administration of the island will continue to follow "socialist values".
This article appeared in the South China Morning Post print edition as: A free-trade blueprint to dampen decoupling risk