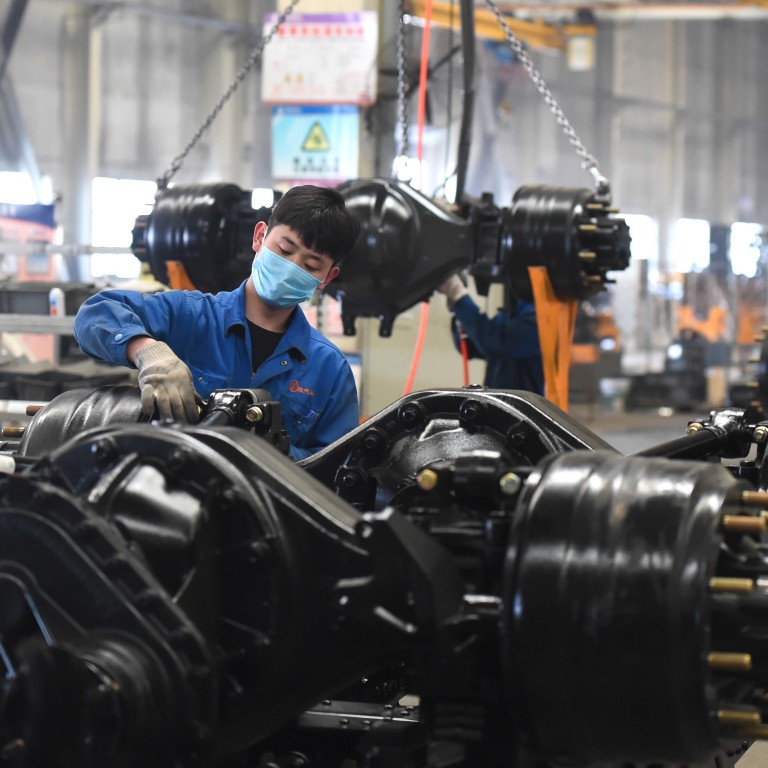 China's small factory activity continued to strengthen in June, but foreign demand remained subdued
Caixin/Markit manufacturing purchasing managers' index (PMI) rose to 51.2 in June from 50.8 in May. A reading above 50 signifies growth
Survey follows official PMI which showed positive outlook for larger Chinese manufacturers
China's economy showed a further rebound in June thanks to a faster recovery in manufacturing and services, but weak foreign demand and downward pressure on employment showed there is still some way to go to reach pre-coronavirus levels.
The Caixin/Markit manufacturing purchasing managers' index (PMI), released on Wednesday, rose to 51.2 last month from 50.8 in May, beating analysts expectations and showing production at smaller Chinese factories was improving. The 50-point mark separates contraction from growth.
The reading was another bright spot for China's economy following Tuesday's
official manufacturing PMI
that indicated factory activity among larger firms improved slightly to 50.9 in June, from 50.6 in May. The non-manufacturing PMI, also released by the National Bureau of Statistics on Tuesday, rose to 54.4.
"The June readings reinforced the trend of China's economic recovery, which could turn positive in the second quarter," said Liu Xuezhi, a senior analyst with the Bank of Communications. "It was mainly driven by government measures to resume production.
"The downside risk is the weak external demand owing to the coronavirus global pandemic, while domestic consumption of offline businesses, including catering and tourism, remains affected."
Though modest, the rate of expansion shown by the Caixin index was the strongest recorded since December last year, according to the data compiled by IHS Markit.
The upturn was supported by the easing of crippling coronavirus containment measures from earlier in the year, allowing more manufacturers to resume production and boosting demand.
"Overall manufacturing demand recovered at a fast clip, but overseas demand remained a drag," said Wang Zhe, senior economist at Caixin Insight Group.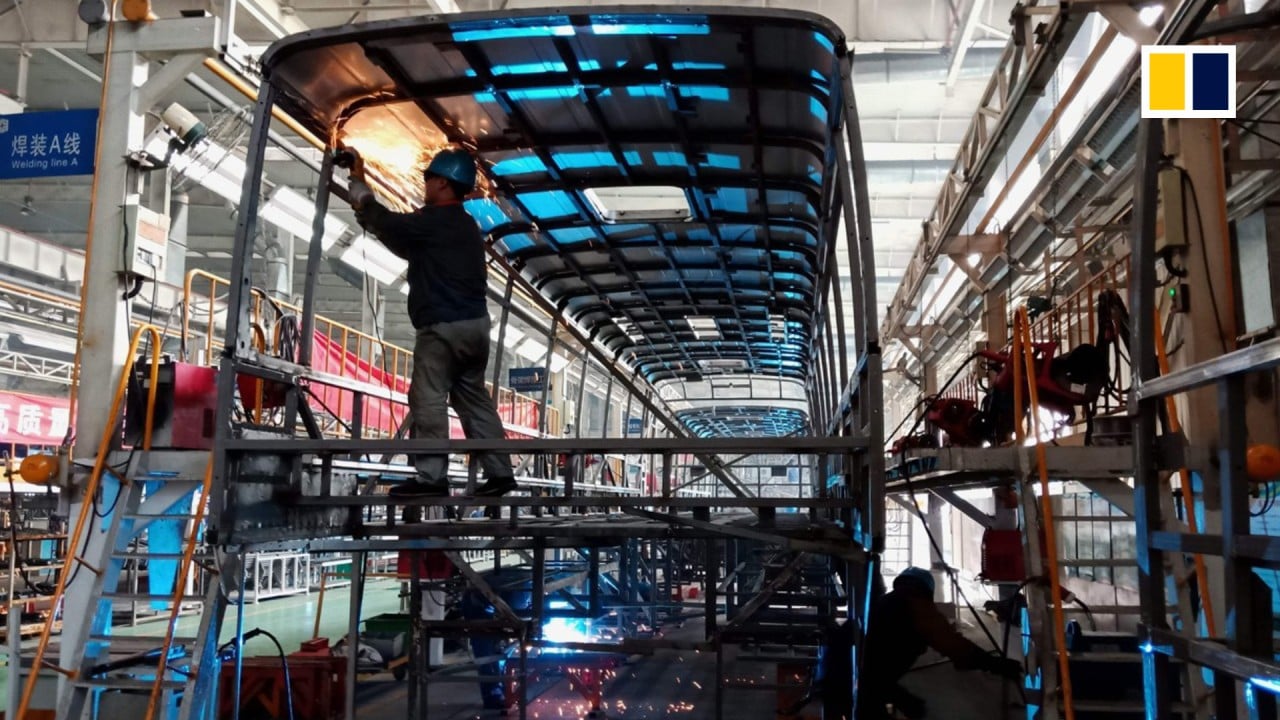 01:07
What is the purchasing managers' index (PMI)?
What is the purchasing managers' index (PMI)?
New export orders among smaller factories continued to fall in June, amid ongoing disruptions to demand in Europe and the United States.
Employment also remained on a downward trend last month, with staffing levels declining for the sixth month running, the Caixin index showed.
China's
economic growth tumbled by 6.8 per cent
in the first quarter from a year earlier, the first contraction since records began, prompting the government to drop its annual growth target for the first time since 2002.
Beijing has released a flurry of stimulus measures to revive the economy, including the issuance of special treasury bonds, lower lending rates, tax exemptions and lifting the fiscal deficit ratio to 3.6 per cent of gross domestic product.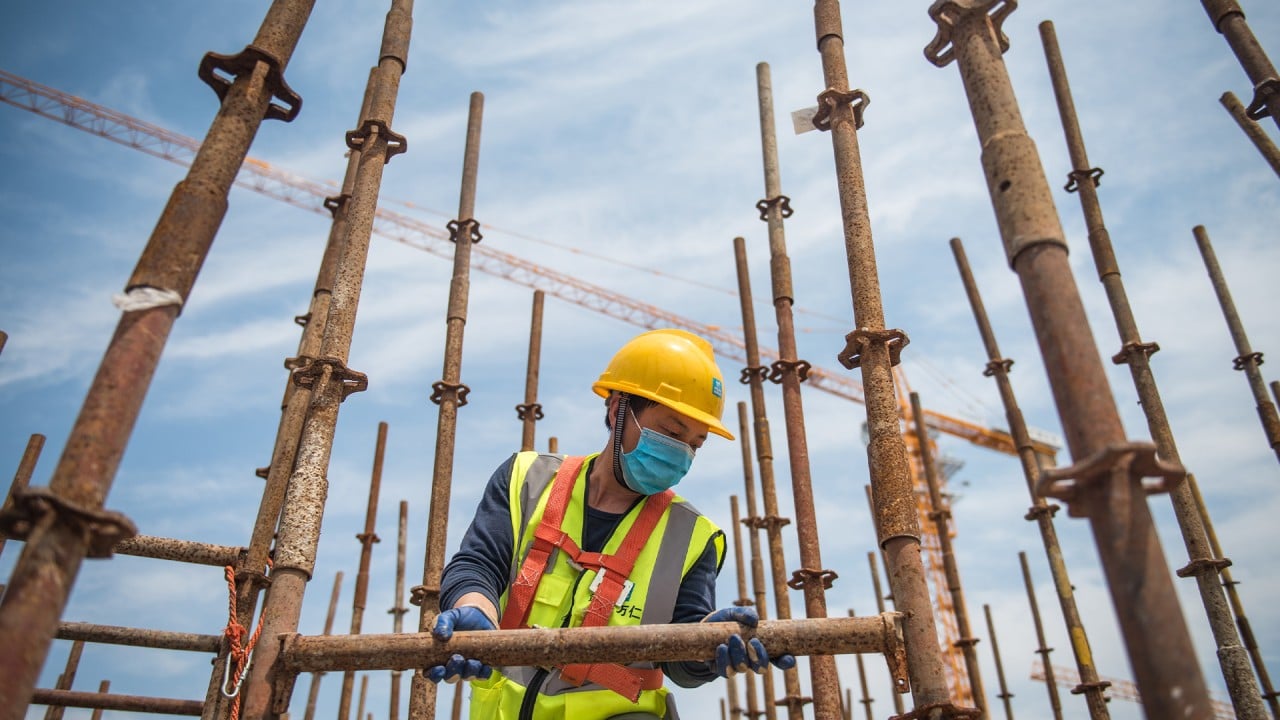 05:02
Coronavirus backlash further fraying China's ties to global economy
Coronavirus backlash further fraying China's ties to global economy
The government has indicated the proceeds from 1 trillion yuan (US$141.3 billion) worth of special treasury bonds will be pumped into infrastructure, rent subsidies, loan discounts for businesses, subsidies to help businesses stabilise employment, and basic living allowances for people in need.
"Despite the strong recovery between March and mid-June, we believe a full economic recovery remains distant. In our view, it is too early for Beijing to reverse its easing stance," Nomura analysts wrote in a note to clients.
Smaller manufacturing firms were confident that market conditions and demand would continue to improve as pandemic controls were relaxed, according to the Caixin index.
But China's economic recovery still faces a number of risks, including deteriorating relations with the United States. The two nations have clashed repeatedly in recent months over
Hong Kong
, the coronavirus and trade.
"China-US relations are the biggest uncertainty as further worsening could hit exports and force adjustment of supply chains," Liu said.
The pandemic has also thrown tens of millions out of work in China, piling pressure on the country's patchy social welfare system and the ruling Communist Party, which has staked its legitimacy on stability and economic rejuvenation.
"For some time to come, increasing employment will remain an arduous task," Wang said.
This article appeared in the South China Morning Post print edition as: Small factory production continues to strengthen