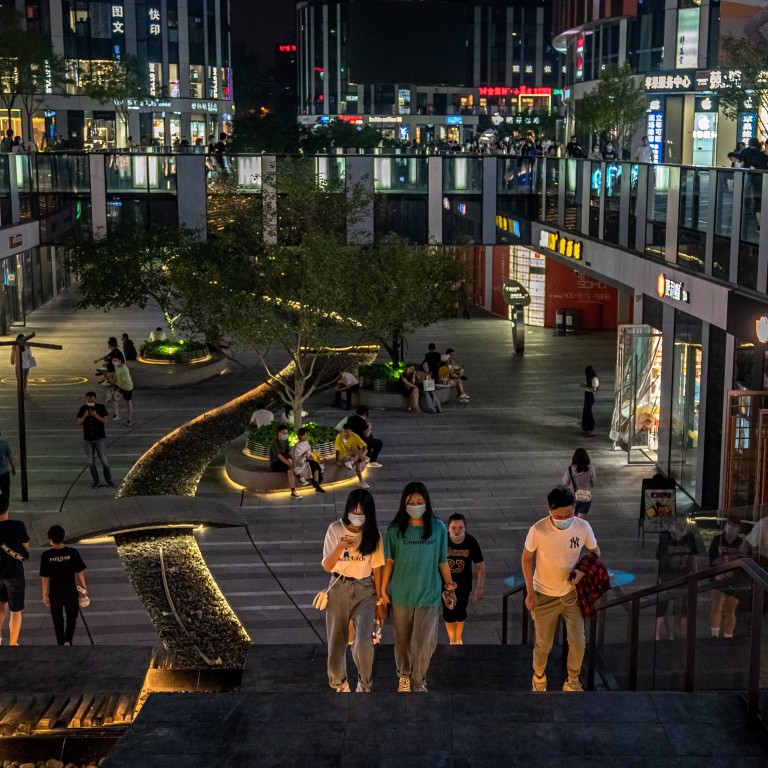 Coronavirus: Chinese consumers less willing to splurge, casting shadow over second quarter rebound
Chinese consumers were less willing to spend money in May than March, when large parts of the country were still under coronavirus lockdown, a new survey shows
The weak consumer sentiment has cast doubt over second quarter growth, which some economists expect to turn positive
Alex Shi had been eyeing a 400 yuan (US$57) rice cooker online for weeks, but she eventually abandoned the purchase after considering her cash balance for the rest of the year.
Shi, who takes freelance jobs in media and communication in Beijing, has felt increasing pressure on her income during the pandemic after some firms slashed their freelance budgets. With many of her projects having uncertain payment dates, she stopped buying big-ticket items, including cellphones and household appliances, as well as pricey imported snacks, and ate two meals at home every day.
"My next gig is probably this Chinese reality TV show at the end of July. I will be an executive producer. Just for a few days. I can get paid quickly," Shi said.
Apart from
government investment in infrastructure
, much of the world's second-largest economy is betting on the spending power of about 1.4 billion people to boost the economy. But some preliminary survey data showed that consumers were less willing to spend than earlier this year, when the outbreak was at its peak in China.
According to a roughly quarterly survey of 5,000 random Chinese households conducted by the Southwestern University of Finance and Economics, the proportion of people who expected to spend less on consumption increased from 40.2 per cent in March to 52.3 per cent in May.
The declining willingness to spend applied to all income groups. Compared with 39.6 per cent in March, 55.9 per cent of people with an annual income below 30,000 yuan said they would spend less in May, while the proportion increased by 8 percentage points among people with an income greater than 200,000 yuan, according to the survey.
"I don't think a rebound in consumption will happen in the near future. The key reason is expectations of lower income. There is less money for the poor. For the rich, 'precautionary' saving motives contribute to less consumption," said Gan Li, a professor from Texas A&M University who led the survey.
The survey also said that the proportion of respondents'
employers laying off people
or lowering wages almost doubled in May compared with March. In particular, 20 per cent fewer rural residents were employed in May as opposed to a year earlier, compared with a decline of 10 per cent for those living in urban areas.
Gan said one piece of evidence showing potentially lower spending power was the deterioration in consumption seen during the three-day Dragon Boat Festival holiday in late June compared with spending during the five-day Labour Day holiday in early May. Tourism revenue during the Dragon Boat Festival dropped 68.7 per cent from a year earlier, compared with a 59.6 per cent fall during the May holiday.
A UBS survey conducted in May and published this week, which polled 3,000 people from various backgrounds, also showed that while some young respondents expected to increase their consumption, more consumers living in rural areas, as well as mid- to low-income respondents, planned to decrease spending in the following three months.
"In light of the deep impact of the pandemic on the economy and persisting uncertainties, it is not surprising that fewer respondents than in the 2019 survey expected their future income (60 per cent vs 81 per cent) and consumption to increase, and more respondents expected a decline in both and plan to increase savings and insurance," UBS said.
For those with higher incomes, there is reason to expect some increase in spending.
According to the UBS survey, the pandemic had not reversed the consumption upgrade trend towards premium goods and more services, as 77 per cent of respondents said they would still pay more for better products, and more than half would choose spending on self-improvement, such as education and sports, over buying goods.
Having improved in May after consecutive months of decline, China's passenger car retail sales dropped 8 per cent in June from a year earlier, according to the China Passenger Car Association.
The divergence among consumption categories is likely to intensify into the third quarter, according to Thomas Gatley, an analyst with Gavekal Dragonomics.
"Supply-side restrictions will continue to bite on large swathes of consumer services, meaning job and income losses for the households they employ, and thus a drag on consumer-staples consumption," Gatley said in a recent report. "Higher-income households have had fewer employment problems and should see a more limited negative impact on their income.
"The sectors most likely to benefit from this pattern are household electronics, smartphones and autos. More affluent households have reduced their spending on travel, leisure and eating out by necessity and risk-aversion, so they will have more to spend on such items."
This article appeared in the South China Morning Post print edition as: Consumers less willing to spend amid job worries