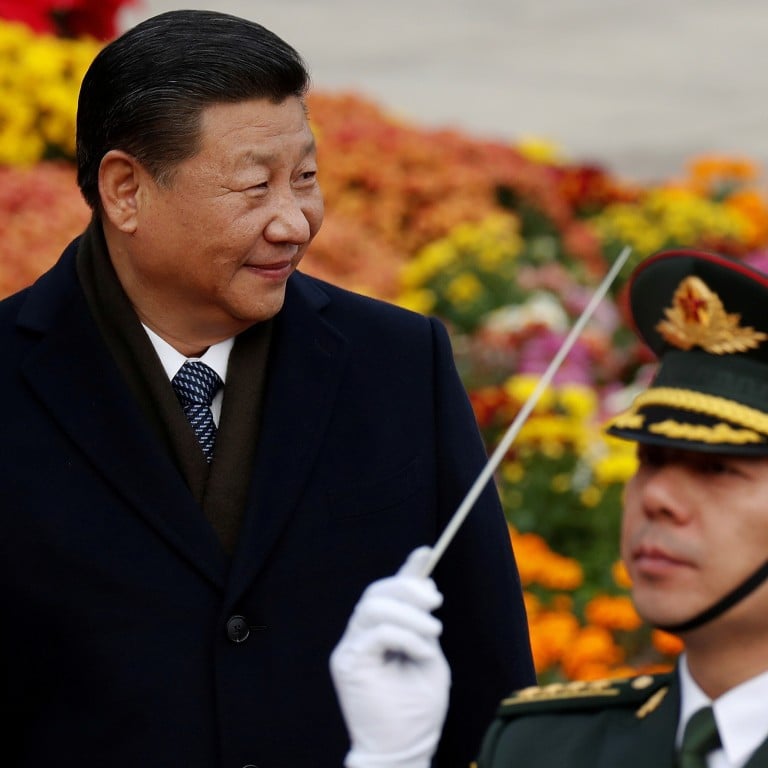 China's plan for economic self-reliance to offset rising geopolitical risk 'requires structural reform'
President Xi Jinping has in recent weeks called for greater economic self-reliance to offset global uncertainty
But economists say Beijing needs to embark on deep – and perhaps unpalatable – reform for this to work
China's plan to focus more on its huge domestic market to drive the economy amid rising protectionism and geopolitical risk will achieve little without further reform, economists say.
President Xi Jinping has in recent weeks called for greater economic self-reliance, including in a speech to
Chinese business leaders
and during a trip to the rust-belt province of Jilin, which borders North Korea.
Faced with headwinds from the coronavirus pandemic and rising China-US tensions, Xi has said China needs to prepare itself against the "reverse currents" of anti-globalisation.
But shifting focus to the domestic market requires an increase in Chinese consumption and investment from the private sector. And to turn this into a reality, Beijing needs to overcome deep-rooted obstacles, from the unfair distribution of wealth to the large presence of the state in the economy, according to analysts.
Michael Pettis, a professor of finance at Peking University, said the idea of creating a vibrant domestic consumer market required changes the central government was reluctant to carry out.
"After more than 10 years of trying, it's clear that to pull it off will require more than another exhortation," Pettis said. "What Beijing hasn't wanted to recognise is that this kind of reorientation of the economy requires a structural, and probably political, transformation of economic institutions, including large wealth transfers."
China's 1.4 billion-strong market may look strong on the surface, but it is restricted by the country's wealth gap.
Premier Li Keqiang
said in May that about 600 million people were living on a monthly income of 1,000 yuan (US$145).
In the United States, the richest 1 per cent own about 40 per cent of total wealth, while in China the top 1 per cent have amassed about 30 per cent, a gap that may be widening due to the coronavirus, according to Shen Jianguang, chief economist of JD Digits.
03:22
China's cinemas reopening after being closed nearly six months to fight Covid-19
China's cinemas reopening after being closed nearly six months to fight Covid-19
Shen said his research, which was based on e-commerce data from parent company JD.com, showed consumption in first-tier cities like Beijing, Shanghai, Guangzhou and Shenzhen rebounded faster than low-income regions after the pandemic was brought under control.
"In the past, we looked at small cities and thought that where per capita income was low, consumption grew faster. But it changed after the pandemic," Shen said.
"For the first time in 10 years, rural income growth has been slower than urban income growth, and this should also be the focus of policy. It is likely that low-income groups and labour-intensive industries will be more affected by the epidemic."
In the first half of the year, the median nominal disposable income level grew only 0.5 per cent, compared to average growth of 2.4 per cent, implying slow income growth among low-income people.
Major sources of employment in China have also struggled to recover from the virus. Exports from seven labour-intensive industries, including textiles and apparel, were down 1.4 per cent to 1.5 trillion yuan (US$213.7 billion) between January and June.
They accounted for 20 per cent of China's exports and were the second largest source of jobs behind mechanical industries in the trade sector, which employs about 180 million people, according to government estimates.
Despite a sharp rebound in the
second quarter
, some economists estimate China's economic recovery will plateau in the second half of the year because of weak private investment and consumption.
Household consumption – which differs from government consumption – as a proportion of overall gross domestic product has remained at around 38 per cent between 2016 and 2019.
Louis Kuijs, who leads Oxford Economics's Asia research, said while rebalancing of the economy towards greater household consumption has been an objective for some time, policymakers often fell back on investment and focusing on businesses when growth slowed.
Wealth transfers aside, structural reforms like reducing the prominence of capital intensive industries and cutting household taxes would boost consumption, he said.
"Where China can still make a lot of progress is paying less attention to helping and stimulating companies, [and] putting more resources on households," he said.
"It's true that the more advanced an economy is, the larger the share of consumption. In the US, the share of consumption is almost twice as high as China.
"China's share is low even compared to others with similar levels of development because of a strong emphasis on businesses.
"It's a bit ionic, in the capitalist West, much of Covid-19 stimulus has taken the form of supporting households. It's much less the case in China."
Even if China was to embark on significant reform, the pandemic and escalating tensions with the US could make things difficult, said Daniel Rosen, founding partner of Rhodium Group, a New York-based consultancy.
"We see signals of intention and high-level acknowledgement that Xi-era efforts have come up short," he said, adding "actual progress is scarce".
Rosen said one key reform China could improve was liberalising inbound investment.
"China needs to motivate inbound capital flows now more than ever," he said.
China announced 10 areas for reform in 2013, but little progress has been made in the fields of labour, land, cross-border investment, trade, state-owned enterprises and competition.
This article appeared in the South China Morning Post print edition as: boosting consumption 'requires' key reforms