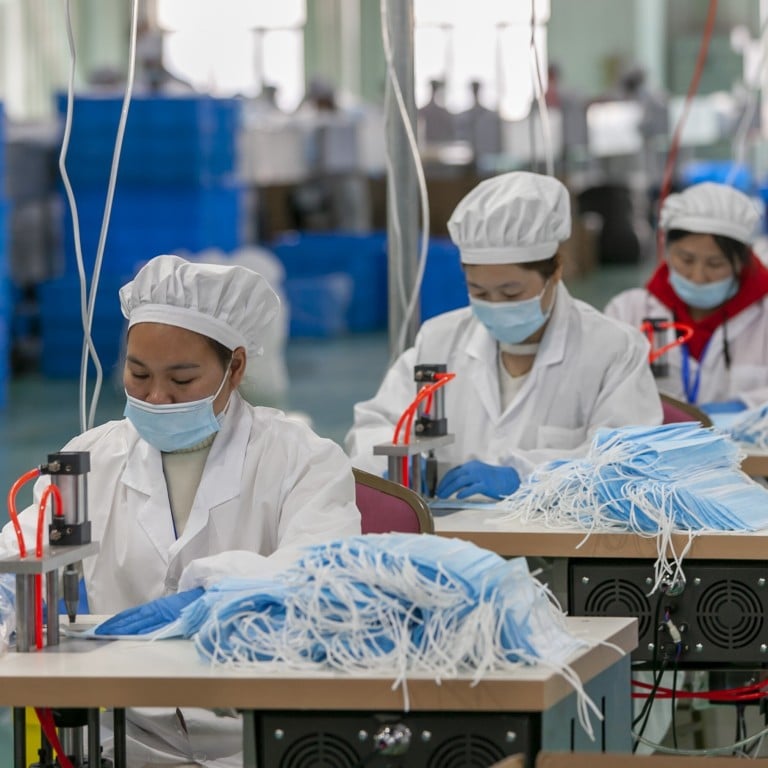 US mask and ventilator imports plummet despite soaring coronavirus cases, as China's PPE engine loses steam
After a roller-coaster few months, China's once-booming face mask market continues to cool, as demand starts tailing off from the United States
US seaborne shipments of ventilators, gowns, masks, and goggles all fell in July, even as coronavirus cases hit record levels, according to analysts at Panjiva Research
The United States' imports of personal protective equipment and medical supplies appear to have fallen in July, at a time when policymakers are pushing to reduce dependence on China, even as new coronavirus cases skyrocketed.
Inbound shipments of masks, goggles and gowns arriving by sea all tumbled this month compared to June, despite record levels of coronavirus cases nationwide. Only gloves remained on an upward trajectory, with sourcing experts confirming that in China and Malaysia, the market for rubber "gloves is still very hot, masks much less so".
Analysts at Panjiva Research calculated that more than 90 per cent of US seaborne shipments of face masks in the year to July 15 came from China and Hong Kong. The dramatic decline, therefore, is further evidence that the Chinese market, which was considered by many to be out of control, is finally cooling down.
Panjiva's analysis of shipping data found that ventilator imports by sea fell 26.6 per cent in July from June, after dipping 0.8 per cent in June from May.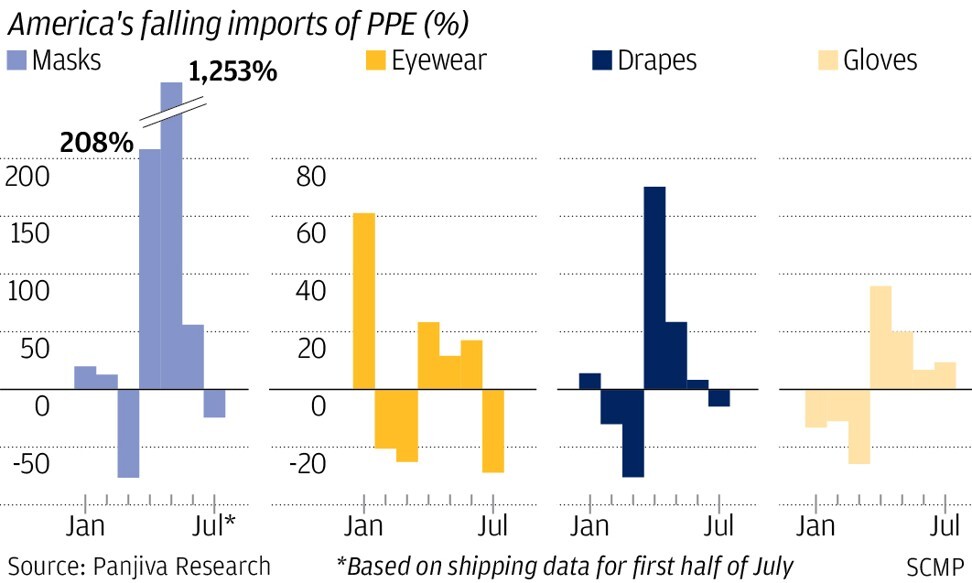 Personal protective equipment (PPE)
– a catchall term used for any equipment from headgear and aprons to respirators and safety glasses which have boomed through the pandemic – fell by 21.6 per cent in July, with official government customs data yet to be released.
Within that, mask shipments fell 24.0 per cent in July, with eyewear and drapes falling by 28.8 per cent and 5.8 per cent respectively. Mask imports by sea had surged by 1,253 per cent in May, emphasising that the recent decline is coming off an extraordinarily high base.
Makeshift production lines
had popped up all over China looking to supply other countries who were entering the pandemic later than the world's second largest economy. But even since May's peak, private manufacturers on the ground have realised that the gravy train is grinding to a halt.
Some sensed all was not right after Chinese company BYD ran into regulatory approval with US authorities, even after the firm had secured a US$1 billion deal with the state of California.
"In late-May, we had heard that 3M, as well as several other major American brands, had mass-produced PPE products in the United States and Mexico, so many of us already expected that demand and profits from the US market would soon drop sharply. Since then, many companies actually started to give up on the US market for PPE products," said Liang Xiong, a sales manager for a Guangdong-based foreign trading company.
Instead, many turned to exporting raw materials and equipment to the US and other foreign markets, such as
melt-blown fabric,
where the final product could be produced, said Liang, who no longer exports masks to the US.
"Lots of factories are already closed down," said Mickey Du, sales manager at JNEYL Medical Equipment in Changsha, Hunan province. "We have fewer orders now and we will keep making masks, but now we will focus more on our main products."
PPE shipments have been the strongest performing Chinese export category in recent months, leading to stronger-than-expected overall exports in June. Amid weak foreign demand for other Chinese exports due to the worsening global coronavirus pandemic, a decline in PPE exports could signal a weakening of overall Chinese exports, with a depressing effect on the Chinese economic recovery.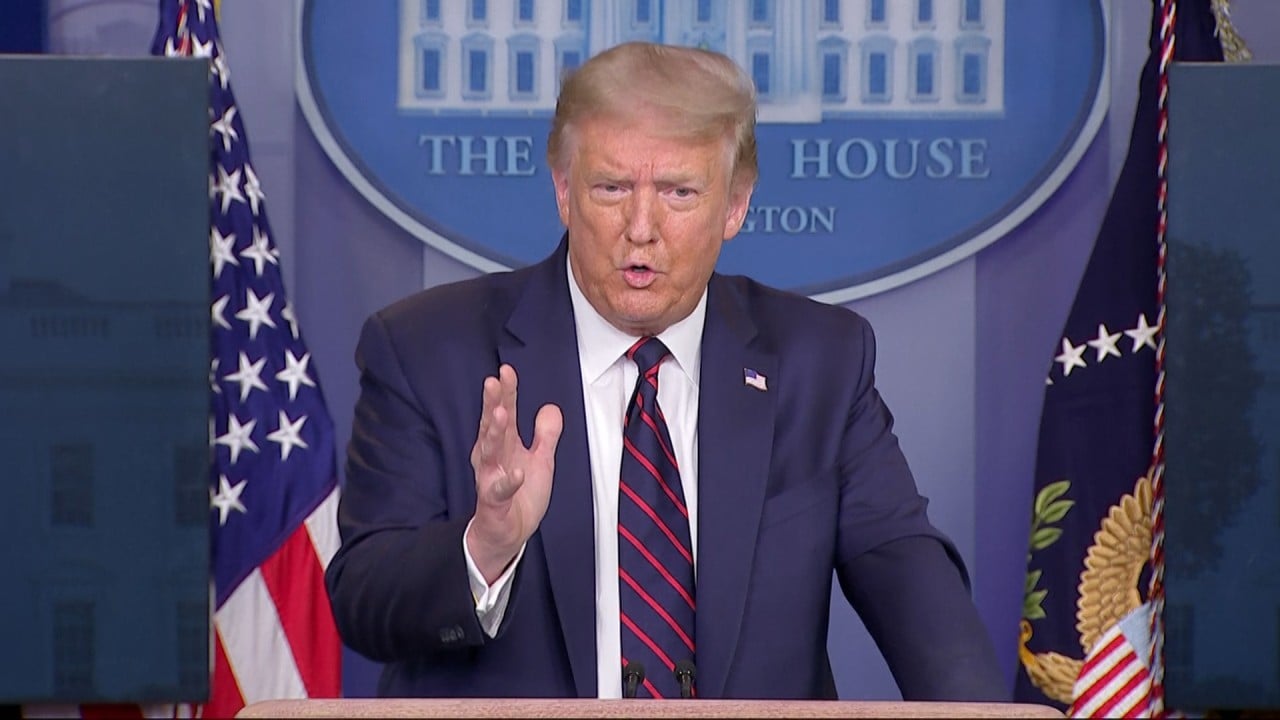 02:00
In first Covid-19 presser in months, Trump shifts tone and reverses stance on masks
In first Covid-19 presser in months, Trump shifts tone and reverses stance on masks
Since the start of January, 87,312 Chinese companies have registered to
make or trade face masks,
according to Tianyancha, a company registration information website. But the pace of registrations has slowed since more than 70,000 signed up in the first five months of the year.
One of those was a Dongguan footwear manufacturer run by Yang Xiaoying, who invested in two mask production lines with two other local manufacturers.
"We spent about 1 million yuan (US$142,000) on the production lines in March, but we were soon making a loss each month. We now only have orders from Japan, but even orders from Japanese buyers are dropping, so it is hard to support the production lines," Yang said.
Guangzhou-based industrial mould maker Longxiang Group also started making masks earlier this year, but they have no immediate plans to exit the market despite the decline in trade.
"Now is not as crazy as it was in April, but we still have demand and orders are more stable than before," said company sales representative Milan Chua. "It seems many people quit the market, so now the suppliers get more value and the buyers are also real too."
The cooling off also comes as policymakers in the US introduced legislation to "decrease US dependence on countries like China" for critical PPE and medical supplies.
The US MADE Act was introduced by Republican senators last week, with the sponsors saying that "the Chinese grip on this critical supply chain must come to an end and this legislation accomplishes that goal."
Renaud Anjoran, CEO at sourcing specialists Sofeast, said the decline in shipments to the US was due to "insufficient melt-blown" – a fabric crucial to making masks, "and too many mask factories".
"When you look at Europe, which started and cooled down much earlier [than the US], there were about six weeks when face masks were extremely sought after, then the market just collapsed immediately," Anjoran said.
"I would expect roughly the same pattern for the US. They look for [masks] like crazy, but especially with all the reusable fabric masks on the market, and then half the population don't want [masks] anyway, so it's finished."
The use of face masks has been hotly politicised in the US, with many blaming the surging cases on some Americans' failure to take preventive measures against the virus' spread.
There were a record 75,821 new cases reported on July 17, with a next highest daily rate of 74,360 reported last Friday, while more than 4.5 million out of a worldwide total of 17 million coronavirus cases have been in the US, resulting in more than 150,000 deaths.
This article appeared in the South China Morning Post print edition as: U.S. imports of protective gear fall even as coronavirus cases soar