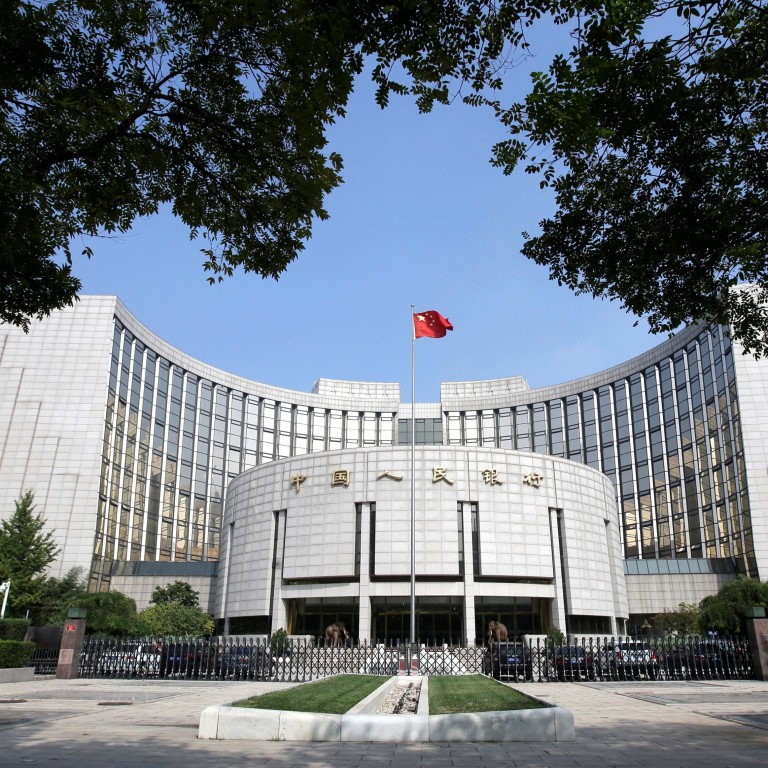 China's bank regulator moves to rein in small lenders as Beijing fears financial risks
After a number of easing measures during the pandemic, economic stability remains a concern in China as cheap funds flow into stocks and property
Some lenders have been told to stop issuing structured deposits, but curbing such products – popular at small banks – could trigger liquidity stress
China's regulators are reining in small banks as concerns grow over broad risks to the country's financial system that have been exacerbated in recent months by the
coronavirus pandemic
.
Many of China's small and medium-sized companies have been hit by the international health crisis. And as they struggle to repay debts, pressure is mounting on the country's small lenders.
"[Because of the] coronavirus epidemic and other factors, pressure is increasing on non-performing assets, due to the corporate governance of some small and medium-sized financial institutions and the return of disorder in markets. The potential risks and challenges remain relatively large," said a press statement on Tuesday by the China Banking Association, an organisation of Chinese banks supervised by the People's Bank of China (PBOC).
The latest moves by the China Banking and Insurance Regulatory Commission to rein in small banks include curbing the growth of structured products – pre-packaged financial instruments that combine traditional bank deposits with higher-return derivatives linked to currencies, commodities or stocks, to lure in more funds.
The PBOC said in March that the minimum rates of return on structured deposits provided by some banks should be regulated because they are higher than those of usual bank deposits.
What's more, China's central bank wants to reduce financial arbitrage – in which companies take advantage of lower interest rates to issue bills and/or short-term papers, then invest in structured deposits for yield pickup instead of using the cheap funding for commercial activity, according to a note published in June by Japanese firm Nomura.
While structured deposits typically make up about 5 to 6 per cent of China's overall bank deposits, they are popular with small banks, which have been offering such products in place of regular deposits in a bid to attract savers. A report by China Merchants Bank last year estimated that small banks accounted for more than 65 per cent of the total outstanding structured deposits last year.
In June, the total value of outstanding structured products plunged by 1 trillion yuan (US$143.27 billion) to 10.83 trillion yuan, according to a report by investment bank China International Capital Corporation (CICC) last week. Structured deposits at small and medium-sized banks decreased in value by 774.05 billion yuan, while at large banks the drop totalled 236.87 billion yuan.
CICC attributed the decline of structured deposits to both pressure from the regulators and less opportunity for arbitrage between savings and lending rates after the central bank guided money-market rates higher in June.
Caixin reported in June, citing unidentified sources, that the China Banking and Insurance Regulatory Commission had told some banks to stop issuing structured deposits.
A curbing of such products could trigger liquidity stress at some small banks. However, the central bank also channelled some funds to smaller banks by cutting reserve ratios this year to help relieve their potential liquidity problems, according to a report last month by investment banking company Natixis.
China's State Council also said last month that part of the local government special bond issuance quota would be used to replenish the capital of small and medium-sized banks.
While China's small banks might not be as systemically integral to its banking industry compared with big state banks and commercial banks, analysts said policymakers fear a contagion effect, which could weaken confidence in the financial market.
"So, if there's a larger scale of bankruptcies or restructuring in small banks, this would create a large shock to the system," Xia said, adding that such events may raise serious questions about the stability of China's banking system.
Wu Xiaoling, former deputy governor of the PBOC, said in an August 3 report about reforming the country's small banks that Beijing could allow foreign investors to take a stake to broaden the shareholder base.
"It is recommended that small and medium-sized banks should be actively promoting private placement, introducing strategic investors, deepening reforms in shareholder structure, and exploring the possibility of foreign investment," Wu said in the report, adding that it was also necessary to enhance oversight.
Xia said recent measures such as curbing structured deposits, targeting liquidity and increasing supervision at small banks showed that Beijing was taking a controlled and organised approach to defusing small-bank problems that have resulted from years of fast credit growth.
"I think Beijing wants to see the majority of small and medium-sized banks have a soft landing," Xia said. "They are not in a good position. They may have hidden problems in their asset quality, combined with the impact of the pandemic."
This article appeared in the South China Morning Post print edition as: Regulator reins in small lenders as Beijing fears risksRegulator reins in small lenders