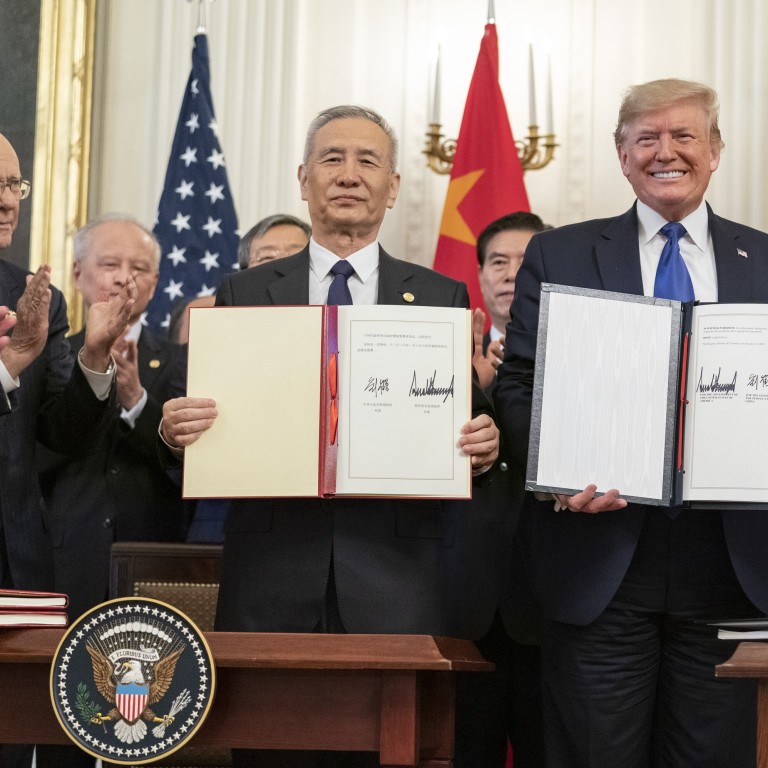 US-China trade war: Beijing will honour phase one deal by opening financial sector wider, its central bank chief says
Vice-Premier Liu He is expected to hold a video conference this week with US Trade Representative Robert Lighthizer and Treasury Secretary Steven Mnuchin to discuss the trade deal
Central bank governor Yi Gang says Wall Street's trading houses will be allowed to have exclusively owned brokerage operations in China
China will continue to implement its part of the phase one trade deal with the United States and will fulfil financial opening-up pledges despite worsening bilateral relations between the world's two largest economies, China's central bank governor said in an interview with the official Xinhua news agency.
"No matter how the international situation changes, the most important thing is to get our own things done and to firmly deepen financial reform and opening-up," Yi Gang, the head of the People's Bank of China, was quoted by Xinhua as saying on Sunday.
"First of all, we will continue to implement the phase one trade deal with the US."
The deal, signed at the White House in January and intended to serve as a truce in a bitter and protracted trade war between Beijing and Washington, has turned into one of the most stable elements in the broad bilateral relationship as the
technological and geopolitical rivalry
between two powers has intensified.
US Trade Representative Robert Lighthizer and Treasury Secretary Steven Mnuchin, who led the US negotiating team, are expected to hold a video conference with
Vice-Premier Liu He
this week to review the implementation of the deal. Liu headed China's trade negotiation team and is in charge of opening up China's financial sector as President Xi Jinping's top economic adviser.
Beijing's intention to continue honouring the trade deal, which requires China to significantly increase purchases of US goods and services and to enhance intellectual property rights protection, reflects the Chinese government's efforts to keep US-China ties from sliding further into direct confrontation.
At the same time, China's purchases of US farm and energy products are far behind schedule, partly due to the coronavirus, making it hard for US President Donald Trump to brag about the deal as one of his major achievements. US Democratic presidential candidate Joe Biden said last week that Trump's trade deal with China was "failing" badly, Reuters reported.
Yi reiterated Beijing's promises of opening up financially, such as by allowing Wall Street's trading houses to have exclusively owned brokerage and fund-management operations in China. In June, Beijing allowed Wall Street investment bank
JPMorgan
to operate the first fully foreign-owned futures business on the mainland. Also that month, China's central bank gave the final nod to a network clearing licence for an American Express joint venture, allowing it to be the first foreign credit card company to launch onshore operations in China.
Meanwhile, China's much-delayed financial opening measures, some of which were promised two decades ago as conditions for China's entry into the World Trade Organisation in 2001, are losing their appeal to potential investors.
For instance, Yi said China is encouraging foreign investors to put money into the country's onshore securities via the qualified foreign institutional investor programme – a scheme that started in the early 2000s as a way for Beijing to vet potential foreign portfolio investments – after having recently done away with financial limitations on the programme. But the value of the channel has diminished significantly, as there are now easier ways to access Chinese stock and bond markets, such as the Stock Connect and Bond Connect programmes that allow foreign investors to buy Chinese mainland securities via Hong Kong.
Yi did not mention the growing risks of financial decoupling between China and the US.
The central bank warned in its second-quarter monetary policy report published last week that China faces a sharp increase in external uncertainties and instability.
Yi was quoted by Xinhua as saying that China will continue to advance the use of the yuan overseas.
And in terms of the
domestic economy
, Yi predicted that China would report a positive economic growth rate for the full year.
This article appeared in the South China Morning Post print edition as: China 'will fulfil its part' of phase one deal with US