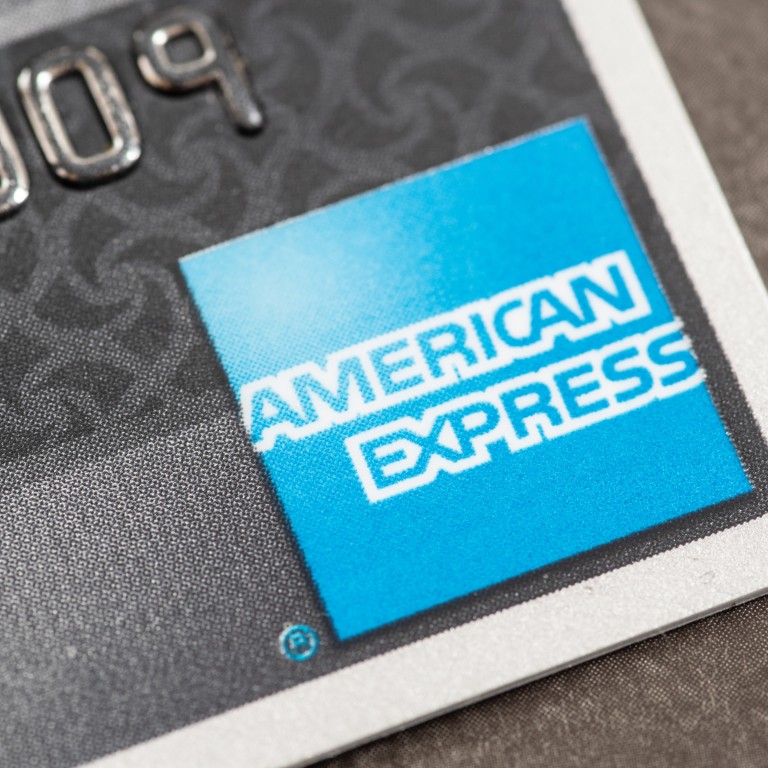 American Express: new yuan card settlement network promotes global use of China's currency
Beijing's decision to let American Express join national clearing network will boost the yuan's circulation and its role in global finance, analysts say
The move has the added benefit of reducing China's reliance on the US dollar payments system as bilateral relations between Washington and Beijing deteriorate
American Express' entry into China's US$27 trillion payment market may help increase the use of the yuan across borders amid worsening US-China tensions, according to analysts.
Since last week, Chinese commercial lenders Minsheng Bank, Guangfa Bank, Ping An, Shanghai Pudong Development Bank and China Merchants Bank have launched American Express cards whose bills can be paid in yuan both inside and outside China. Previously, offshore card transactions were allowed to be settled only in foreign currencies.
The joint venture between American Express and LianLian DigiTech, called Express (Hangzhou) Technology Services,
obtained approval in June
from China's central bank for a network clearing license, making American Express the first foreign company allowed to settle yuan-denominated credit card transactions both abroad and on the mainland.
The clearing of card transactions refers to the settlement of transactions and the transfer of funds from one bank to another, and by a bank to a merchant that accepts the card when someone uses it to make purchases.
Beijing's decision to let the American company participate in its clearing network will help channel more yuan funds abroad, boosting the yuan's circulation and its role in global finance, analysts said. The move has the added benefit of reducing China's reliance on the US dollar payments system amid worries that the United States could try to impose financial sanctions on the country because of
deteriorating bilateral relations
.
"If Chinese consumers can go to other countries, and their payments there can be cleared in yuan, then this would increase the use of the yuan and help with its internationalisation progress," said Nathan Chow, senior China economist at DBS Bank. "The move is also a signal that China is not sanctioning the businesses of American companies, despite tensions."
The People's Bank of China (PBOC) has also approved an application by Mastercard's China joint venture to conduct bank card clearing operations in the country, but the US credit card company has not yet received a yuan network clearing license. Rival card giant Visa submitted its application in early 2018 and is still awaiting approval.
China aims to integrate its domestic payment services into the world's financial system to create a global yuan clearing and settlement system for trade and investments. The development of domestic bank card firm Union Pay, as well as mobile payments apps from Alibaba's Alipay and Tencent's WeChat, have lowered the costs and increased the convenience of using the yuan. Alibaba owns the South China Morning Post.
"I'm already used to making purchases through mobile payments. Even when you go to Thailand for fun, it has been easy to pay with Chinese apps at the convenience and drug stores there," said Cat Xiong, 32, who works in the social studies education sector in southern China.
American Express said the bank card clearing network, being built by the joint venture, will process both online and offline payment transactions, and the company will cooperate with leading Chinese mobile wallet service providers, according to a statement in June.
Its advantage lies mainly in its expansive cross-border international network that can accommodate both Chinese travelling abroad and foreigners visiting China, analysts said.
"American Express is trying hard not to miss the second boat in China. They already did with the first wave as China blocked foreign credit card providers and developed Union Pay, followed by Alipay and WeChat," said Alicia Garcia Herrero, chief economist for Asia-Pacific at French investment bank Natixis.
Morgan Stanley chief China economist Robin Xing Ziqiang said that after the slow progress in yuan internationalisation in recent years, it has again become a priority for Chinese policymakers to increase use of the yuan in light of the emerging post-coronavirus "multipolar world" resulting from geopolitical tensions.
The ratio of China's foreign-related transactions conducted in yuan, excluding transactions via the
Stock Connect
and
Bond Connect
market-access initiatives, has surpassed its peak recorded in 2015. And the yuan's share in international foreign exchange reserves passed 2 per cent in the first quarter, doubling from 2015, largely supported by the
Russian government's purchases of Chinese government bonds
, Xing said.
Herrero cautioned that the growing sophistication of Chinese financial institutions did not necessarily mean that the yuan had reached a tipping point to become a fully fledged reserve currency. The hurdle to yuan internationalisation comes from getting sovereign wealth managers, merchants and consumers to accept the currency without China lowering its restrictions on capital flows while making the yuan freely convertible.
Ahead of the six-month review of the phase one trade deal by senior US and Chinese trade officials,
PBOC governor Yi Gang
said last weekend that China would fulfil its financial opening-up pledges agreed to in the deal, such as by allowing Wall Street's trading houses to have wholly-owned brokerage and fund-management operations in China.
Some of China's much-delayed financial opening-up measures were promised two decades ago as conditions for China's entry into the World Trade Organisation in 2001.
"It is certainly a breakthrough for a foreign company to gain entry into the previously untouchable Chinese payment market," said Allison Malmsten, a market analyst at Daxue Consulting. "It goes against the anti-globalisation direction of the Trump administration and represents the will of companies to collaborate across borders – creating an opportunity for finances to flow between the two countries."
This article appeared in the South China Morning Post print edition as: New Amex cards may boost global use of yuan