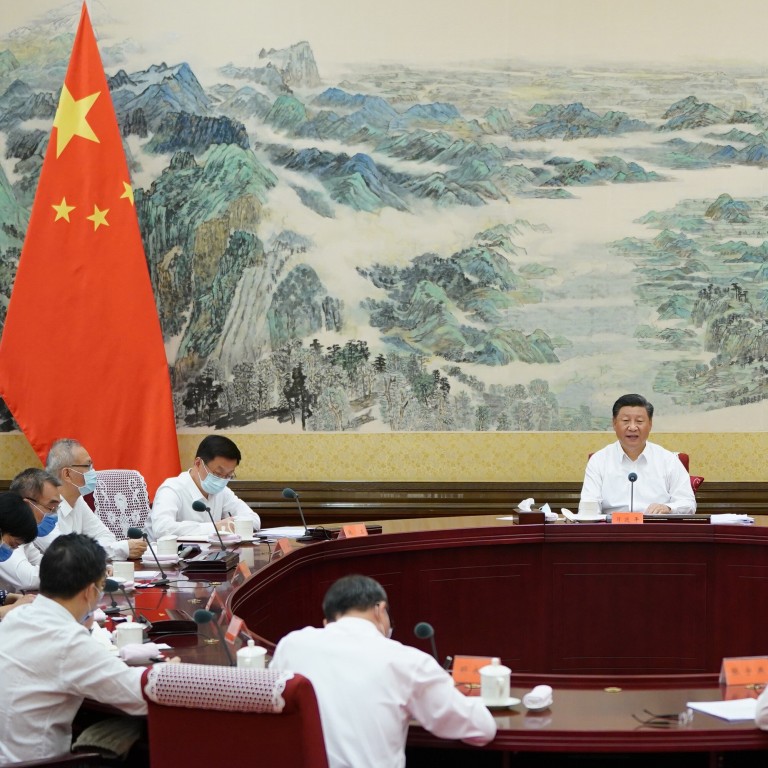 China keen to work with 'US states, local councils, businesses' despite Washington's hostility, Xi Jinping says
President Xi Jinping is keen to de-escalate rising tensions with Washington and ensure American companies continue to do business with China
China has had close ties with states on the west coast of the US, while purchases of agriculture products have also boosted interactions with Midwest farm states
President Xi Jinping has reaffirmed a commitment to cooperate with all countries, regions and businesses that are willing to work with China, including "American states, local councils and businesses".
Xi's comments underscore efforts by China's leadership to de-escalate rising tensions with Washington and ensure American companies continue to do business with China.
China will maintain its opening up policy to foreign businesses and investors and continue to boost exchanges with foreign countries, according to Xi, in a clear message that Beijing will try its best to prevent a decoupling with the United States and ensure that the new
"dual circulation" economic strategy
will not mean China will close its doors.
"Opening up is a key driver of China's fast and persistent growth. It is a basic national policy. We'll upgrade our opening level, foster international cooperation and seek new competitive advantages," Xi told a symposium with state economists and sociologists in Beijing, according to the official Xinhua News Agency on Monday.
"We will have closer ties with the global economy and our status in the global economy will keep rising.
"For all countries, regions and businesses that are willing to work with us, including American states, local councils and businesses, we must undertake cooperation proactively."
Xi announced the
"dual circulation" plan in May
as a way of offsetting external shocks and uncertainty by focusing on developing China's domestic economy, including a global economic recession caused by the coronavirus pandemic and increasing hostility from the US government.
Xi's message was delivered at a time when China and the US are moving closer to a
new cold war.
The relationship between the world's two largest economies built up over the past 40 years is eroding due to tit-for-tat retaliations over trade and technology, especially after China critics in Washington escalated efforts to isolate China from the rest of the world.
00:40
Donald Trump hails Apple Daily founder Jimmy Lai as 'brave man'
Donald Trump hails Apple Daily founder Jimmy Lai as 'brave man'
The unstable bilateral relationship with the US has become one of the biggest concerns casting a shadow over Xi's vision of China's "national rejuvenation".
His comments showed that Beijing is pinning its hopes on local governments and the business community in the US to avoid, or at least delay, a full-fledged confrontation.
Beijing used to have cosy relationships with Wall Street firms and American businesses with large operations in China, but that goodwill has thinned considerably in recent years.
Among US states, China has traditionally had close economic ties with the west coast – California, Oregon and Washington – while its purchases of
American agriculture products
as part of the
phase one trade deal
have also boosted interactions with Midwest farm states.
Vice-Premier Liu He, US Trade Representative Robert Lighthizer and US Treasury Secretary Steven Mnuchin held a conference call on Tuesday during which they agreed there had been progress in implementing the deal since it was implemented in February while also committing to further steps to ensure its success.
Xi's speech was the first major public statement from the Chinese leader about China's place in the future of the world economy after the Chinese leadership's annual policy review retreat at the Beidaihe seaside resort.
Many of the ideas in Xi's speech are expected to be included into official policies and measures in the coming months, culminating in the
14th five-year plan
for 2021-25 that is expected to be approved by the Chinese legislature next year.
Xi argued that domestic demand has played a dominant role in the Chinese economy since the global financial crisis in 2008, citing the recent drop in the current account surplus to less than 1 per cent of gross domestic product from 9.9 per cent in 2007 and the strong rise in the contribution of domestic demand to the nation's economy in the past decade.
"The dominance of the domestic market will become more apparent in the foreseeable future. We will insist on the strategic direction of supply-side structural reform, adapting production, distribution, circulation and consumption mainly to domestic needs," he said.
This article appeared in the South China Morning Post print edition as: Xi keen to work with US states despite rising tensions