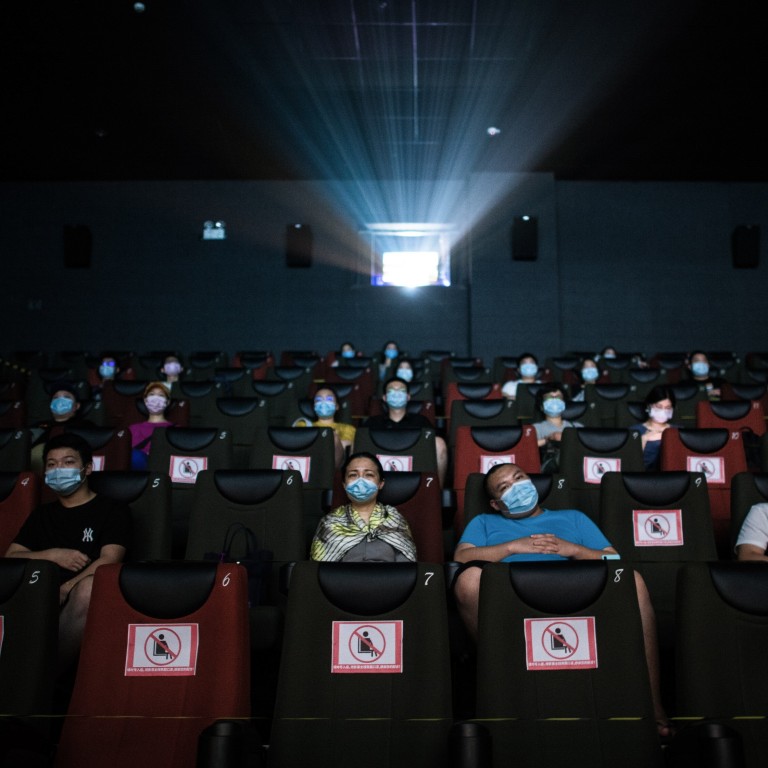 China's service industries catching up as life returns to normal after coronavirus shock wave slammed economy
August's official non-manufacturing purchasing managers' index (PMI) jumped to 55.2 from 54.2 in July, reaching the highest level since January 2018
The rise was driven by the service sector, which climbed to 54.3 in August from 53.1 in July as cinemas and hotels have slowly returned to normal operations
With a relaxation of rules for wearing masks and the loosening of social-distancing requirements, life has started to return to normal across China, allowing economic activities in the service sector to expand while offering a boost to balance the uneven recovery of the world's second-largest economy, analysts said.
China's official non-manufacturing purchasing managers' index (PMI) for August
jumped to 55.2
from 54.2 in July, beating expectations of an unchanged reading and reaching the highest level since January 2018, according to the data released by the National Bureau of Statistics (NBS) on Monday.
Within the non-manufacturing index, which measures sentiment among firms in the services and construction sectors, the rise was driven by the service sector, with its August reading climbing to 54.3 from 53.1 in July, while sentiment in the construction sector dropped slightly to 60.2 from 60.5 but remained strong.
Within the services PMI data, the subindices for the hotel, catering, cultural, sports and entertainment sectors were all above 57 in August, indicating strong expansion, according to senior NBS statistician Zhao Qinghe.
"The domestic pandemic situation has stabilised, meaning that the consumption demand of citizens has grown faster," Zhao said.
He also said that the activities in the leasing and business services sectors both rebounded this month into expansionary territory for the first time since January, thanks to the overall recovery of the economy.
"It's encouraging that the recovery is broadening out, with service sector activity now playing catch-up with industry," said Julian Evans-Pritchard, senior China economist at Capital Economics.
China's official manufacturing PMI, meanwhile, fell slightly to 51.0 in August, showing continued modest growth in the sector. The figure was below analysts' expectations, with the median result of a Bloomberg survey predicting it would stay unchanged from
July at 51.1
.
"August's PMI readings suggest that economic recovery has remained on track, as improving external demand and service sector activity have likely outweighed summer flood disruptions on construction and production," Morgan Stanley analysts said.
Having been the first country hit by the coronavirus, China is the first major economy to recover from the shock caused by the pandemic, rebounding to year-on-year growth of 3.2 per cent in the second quarter, up from a contraction of 6.8 per cent in the first quarter, mainly led by rebounds in investment and industrial production.
But a recovery in the service sector and domestic demand, which accounted for more than half of China's annual economic growth last year, has lagged behind as coronavirus lockdown measures have prevented consumers from shopping, dining out and taking holidays. In July, Chinese retail sales remained weak, with the year-on-year contraction of 1.1 per cent being worse than analysts had expected.
"The recovery was not satisfactory in June, since there were still many outbreaks, such as in Beijing and Harbin," said Wang Dandan, a hotel manager in Wuhan, where the virus was first identified.
"At that time, I was very worried about how long it would take to recover, about what the company should do, because so many employees have to eat. But now, we are very confident [about the outlook]."
According to entertainment data provider Maoyan, China's box office revenues reached 1.73 billion yuan (US$252.64 million) last week, up 84.4 per cent from a year earlier despite ongoing restrictions on the number of people allowed in theatres and the number of movies that can be shown.
"An investment-led rebound would eventually also shore up consumer sentiment and household spending, keeping the overall economic recovery on track," added Evans-Pritchard from Capital Economics.
The non-manufacturing PMI in August showed that both market supply and demand in the sector improved, said Cai Jin, vice-president of the China Federation of Logistics and Purchasing, which helps compile the official PMI data.
A total of 47.7 per cent of surveyed companies in the non-manufacturing sector reported insufficient demand in August, down 0.8 percentage points from the previous month.
"The rebound in demand is conducive to consolidating the foundation for economic development," Cai said.
Citing a stronger-than-expected rebound in the second quarter, Moody's last week raised its growth forecast for the Chinese economy this year to 1.9 per cent from 1 per cent. China's economy grew 6.1 per cent last year.
The third-quarter Global CFO Council Survey revealed by CNBC on Friday also showed that the world's leading chief financial officers have a more positive outlook for China's economy than they do for the US for the first time in the survey's history.
But Lu Ting, chief China economist at investment firm Nomura, said that the recovery of China's service sector will still face headwinds and uncertainties because of the coronavirus, and the recovery momentum could still weaken in the second half of the year.
"We expect China's official manufacturing PMI to stay around 51.0 in the coming months, while the non-manufacturing PMI could [fluctuate] from the 55.2 reading in August," he said.
The official manufacturing PMI figures also showed that small firms, which account for about 80 per cent of urban jobs, suffered a deeper contraction in business activities in August.
This article appeared in the South China Morning Post print edition as: Easing of pandemic rules 'spurs recovery'Loosened rules spurred recovery, data suggests