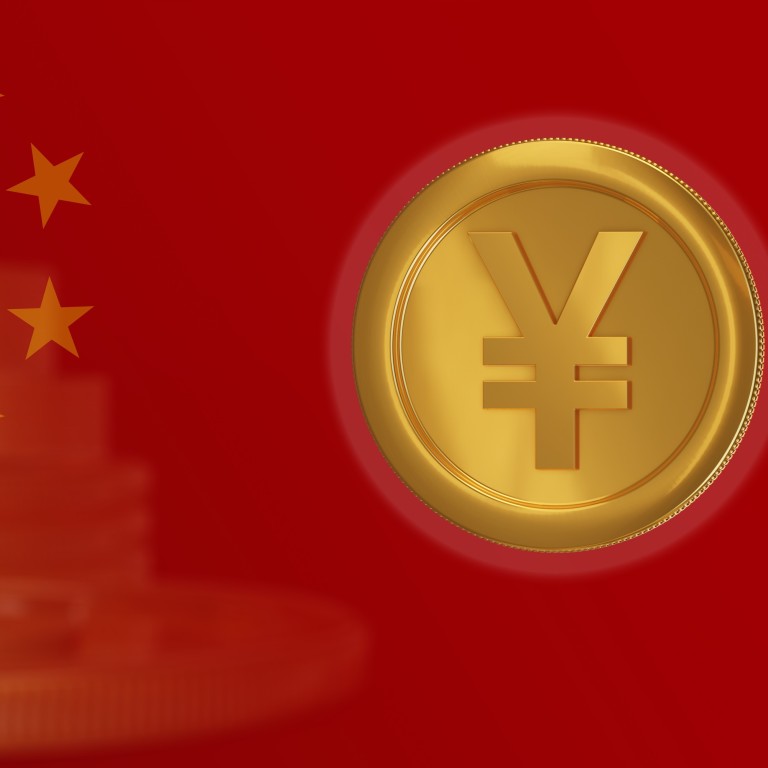 China's sovereign digital currency plans must be globally compatible to internationalise the yuan, analysts say
The 'interoperability' of the digital yuan with international payment systems and other central bank digital currencies will determine its use abroad
There is a sense of urgency to promote greater use of the yuan to help China offset threat of worst-case US sanctions that could cut it off from dollar payment system
China is set to expand the testing of its new sovereign digital currency later this year or in early 2021, but analysts say the design of its technological platform needs to be made compatible with those of other countries if the digital yuan is to play a role in international transactions.
China's sovereign digital currency testing plan comes amid a sense of urgency to promote greater use of the yuan as the threat of United States sanctions has sparked fears that Chinese financial institutions, in an extreme case, could be cut off from access to the
US dollar payment system
.
"Under the threat of US sanctions, the near-term goal is to minimise disruptions to China's trade and investment activities, [by promoting the use of the yuan beyond its borders]," said Jing Sima, a China strategist at BCA Research.
However, the People's Bank of China (PBOC), which is overseeing the digital yuan's development as the nation's central bank, has played down expectations that the digital currency will see a full roll-out any time soon, saying only that testing will continue.
China's expansion of the pilot programme for its digital currency is focusing on its use in the retail sector, the state-run China Daily reported last week, citing Li Lihui, head of the blockchain research group of the National Internet Finance Association of China.
Li, who is also a former president of the Bank of China, said the digital yuan has already been tested within a small scope. And in some cases, such as its use in retail, it has matured enough to go public on a wider scale.
"Trials of the central bank digital currency may be expanded within the year or early next year, but whether it will be introduced to the whole country remains to be seen," Li said.
Trial programmes of the digital currency are being implemented in four cities – Shenzhen, Chengdu, Suzhou and Xiong'an – along with some facilities to be used during the
2022 Winter Olympics
, according to the PBOC.
China Construction Bank said that it has completed tests on its mobile banking system, though this does not represent the official launch of the digital yuan, state broadcaster CCTV reported at the weekend, adding that the system would automatically cancel any digital yuan wallets that had been opened during the testing phase.
Screenshots posted by netizens last week showed that China Construction Bank's mobile banking page provided a new option to "create a digital currency wallet", as well as choices for "payments", "receiving", "scanning" and "transfers". After entering the "wallet management" page, there appeared to be options for depositing into the wallet, transferring out of the wallet, transaction details, viewing monetary gifts known as red packets, credit card repayments, wallet upgrades and wallet cancellations.
Yang Dong, head of the Financial Technology and Blockchain Research Centre under the Law and Technology Institute at Renmin University of China, said the central bank may coordinate with widely used electronic payment service providers, such as Alipay and WeChat Pay, to promote the new digital yuan in the initial stage and make its use in payments more acceptable to the public.
BCA's Sima said China's new approach to decouple from the US dollar and internationalise the yuan involves enhancing the yuan's use in international settlements, as a currency for commodity pricing and as an international reserve currency.
If China's digital yuan is to be used in cross-border transactions, a more complex technological platform must be adopted to connect with the outbound transaction systems, because different central banks have different plans and goals for their own sovereign digital currencies, industry players said.
The Bank of England, Bank of France and the US Federal Reserve all reportedly have plans for central bank digital currencies.
"Interoperability", or the ability to communicate with international counterparts and domestic industries and wholesalers, is likely to play a key role in determining which projects end up succeeding, given the number of trials taking place today, said Sky Guo, founder of blockchain company Cypherium.
"Central bank digital currencies are gaining momentum around the world," Guo said. "This means one of the biggest challenges to the adoption of the digital yuan is enabling its compatibility with different digital currencies. You will need new technology to facilitate cross-border payments and make the exchanges."
Guo, who has established partnerships with American tech giants Google, Microsoft, Amazon and IBM, signed a memorandum of understanding with the Suzhou municipal government in July to help with the technical development of blockchain infrastructure in the city.
If China wants to start a pilot programme in Hong Kong and Macau, then designers and supervisors would need to consider corresponding institutional arrangements, the National Internet Finance Association's Li said.
Depending on how the entire international financial system could be influenced by the birth of new central bank digital currencies, currency-swap arrangements may be required for their cross-border use, Li added.
A yuan swap line is an agreement between the PBOC and a foreign central bank enabling the foreign institution to borrow yuan as needed. Between 2009 and 2018, the PBOC created 38 swap lines, providing yuan lending of last resort to foreign firms through their central banks.
In a June working paper on "jump-starting an international currency", the Bank of England estimated that signing a swap line with the PBOC could raise by about 20 per cent the probability that a country would use the yuan for payments in the following months.
However, as with the number of new yuan swap lines, the internationalisation of the yuan has levelled off in recent years.
"It will not be easy for [the digital yuan] to enter the international market, and it is not designed, as of today, for financial assets trading or cross-border investment," Li said.
This article appeared in the South China Morning Post print edition as: Beijing to widen tests of digital currency