China exporters under pressure from soaring US shipping costs ahead of Christmas as demand outweighs supply
The cost of shipping by sea from Shanghai to the west coast of the US more than doubled between May to August, to the highest rate since 2009
Many shipping firms cut back their operations earlier this year due to the coronavirus, but are now struggling to meet demand as exporters worry about the escalating trade conflict
Concerns about the escalating US-China trade conflict and the reductions in available routes earlier in the year due to the coronavirus outbreak have sharply increased the cost of shipping by sea for Chinese exporters, who have been front-loading the export of their goods to the United States in recent months.
The cost of sending goods by sea from Shanghai to the west coast of the US, including the Port of Los Angeles, more than doubled to US$3,639 for every 40-foot container (FEU) between May to August, the highest rate since 2009, according to the Shanghai Shipping Exchange.
Rates from Shanghai to the east coast of the US, including the Port of New York and New Jersey Port Newark, increased by more than 65 per cent to US$4,207 per FEU during the same period, the exchange said.
The surging cost is partly due to worries over a potential escalation over trade conflicts between the US and China, which has led many Chinese manufacturers to speed up their production and subsequent shipments to avoid possible
new sanctions.
It is also due to the fact that shipping firms have not been able to readjust their capacities as quickly as the demand has returned having slashed routes during the height of the pandemic to lower operating costs.
The US government said on Tuesday that it would extend
exclusions to its trade war tariffs
for a range of Chinese goods, including smart watches, respirators and medical masks, but only until the end of the year rather than the one-year extension granted by Washington previously.
In a note in early August, the China Ports and Harbours Association said cargo volume bound for the US had picked up rapidly during the summer months, mainly because "traders are shipping in advance due to concerns about Sino-US trade friction".
The third quarter is typically a peak season for Chinese exports, as many importers start stocking up on goods for the festive holidays at the end of the year, including Christmas.
According to data from China's customs administration, exports to the US by sea started growing in June from a year earlier. In July, exports to the US rose by 7.8 per cent from a year earlier, while imports increased by 16 per cent.
Based on official data, the volume of cargo on containers from Shanghai to the west coast of the US was still down by double digits from a year earlier in May, but reversed to growth rates of 2.8 per cent and 1.9 per cent respectively in the following two months, while containers hauling cargo to the US east coast grew 4 per cent in July.
"Based on my current orders, we are at full production capacity until the Chinese New Year in 2021," said Ge Lei, general manager of Shanghai General Sports, which makes bicycles mainly for the US market.
China's week-long Lunar New Year holiday – when most businesses in China shut down – starts on February 12 next year.
Stefan Holmqvist, managing director of freight forwarding agency Norman Global Logistics in Hong Kong, estimated that around 5 per cent of sea cargoes from China to US currently consist of
personal protection equipment (PPE).
Most of the PPE products that were delivered by air earlier this year as demand soared amid the various outbreaks across the globe are now being shipped by sea, which has also increased demand for shipping capacity.
"The demand in the US has rebounded strongly, more than we expected. And I think for a lot of carriers, it's hard for them to adjust as fast as the market is adjusting," Holmqvist said.
"Uncertainty over the tariff exclusion extension also drove US importers to restock even more. Also, we have now come to the last month before the long holiday week in October in China, when factories are closed. All of these things are reasons why we have record-high rates at the moment," added Holmqvist, referring to the week-long National Day public holiday starting from October 1.
Ships docked at Shanghai ports heading to the US and Europe are almost fully loaded at the moment, according to the Shanghai Shipping Exchange, with delays possible due to overbooking.
"Because of better-than-expected market performance, even if shipping companies increase their capacities, they will not be able to completely ease the pressure from a shortage of [shipping] supply," said Shanghai Shipping Exchange analyst Zhu Pengzhou.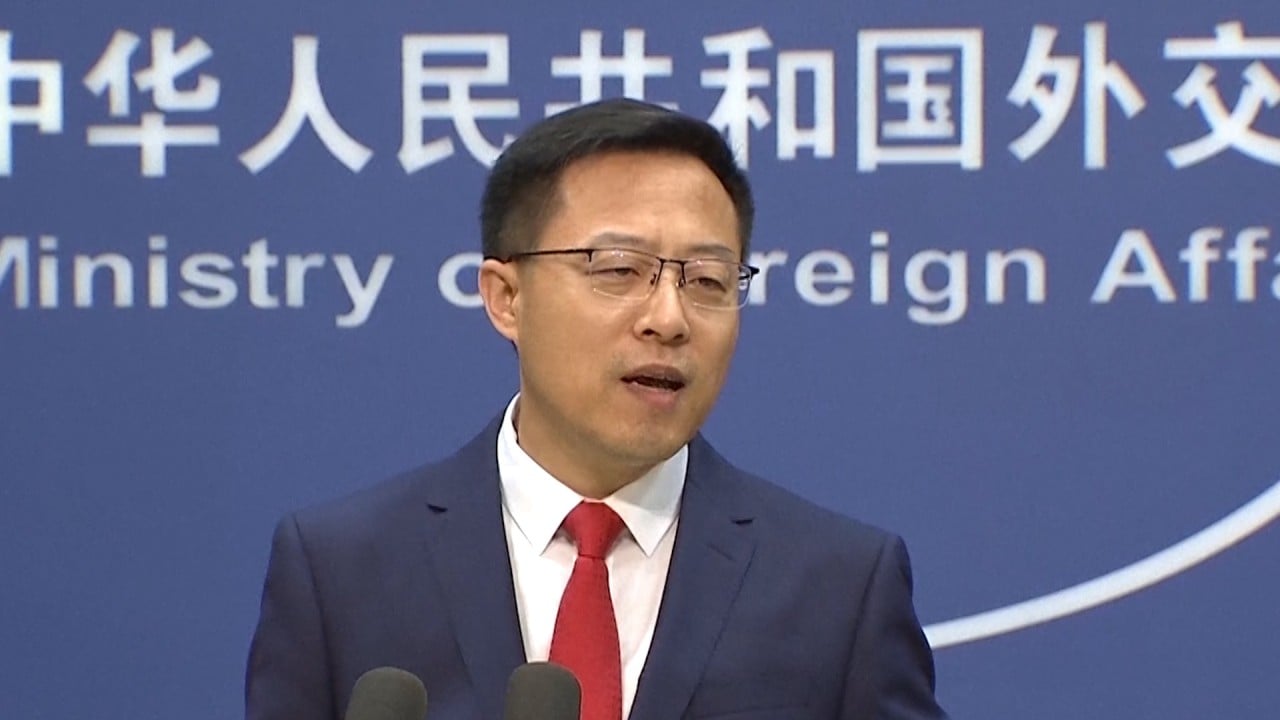 00:55
China says US sanctions of firms over South China Sea constructions are illegal
China says US sanctions of firms over South China Sea constructions are illegal
When the pandemic started spreading globally earlier this year, many shipping
firms sharply cut back their operations,
with the idle capacity of container ships worldwide rising to more than 11 per cent in May, according to shipping database Alphaliner. This was close to the level seen during the global financial crisis in 2009, although it has since fallen back to 5 per cent in August.
Container ship sailings from Shanghai to the US west coast in July recovered to the same level as the same period last year, while sailings to the east coast were still down 13 per cent, according to data by logistics analytics platform CargoSmart from tracking 15 shipping firms.
Shipping consultancy Sea-Intelligence estimates that container freight volumes in the third quarter will be largely the same as a year earlier due to growing demand.
Shanghai-based and Chinese government-owned China COSCO, one of the world's largest shipping firms, increased its transpacific shipping capacity by 13 per cent in July, 24 per cent in August and 24 per cent in September from a year earlier, according to Shipping Exchange Bulletin under Shanghai Shipping Exchange.
This article appeared in the South China Morning Post print edition as: Chinese exporters under pressure as shipping costs to US rise sharply