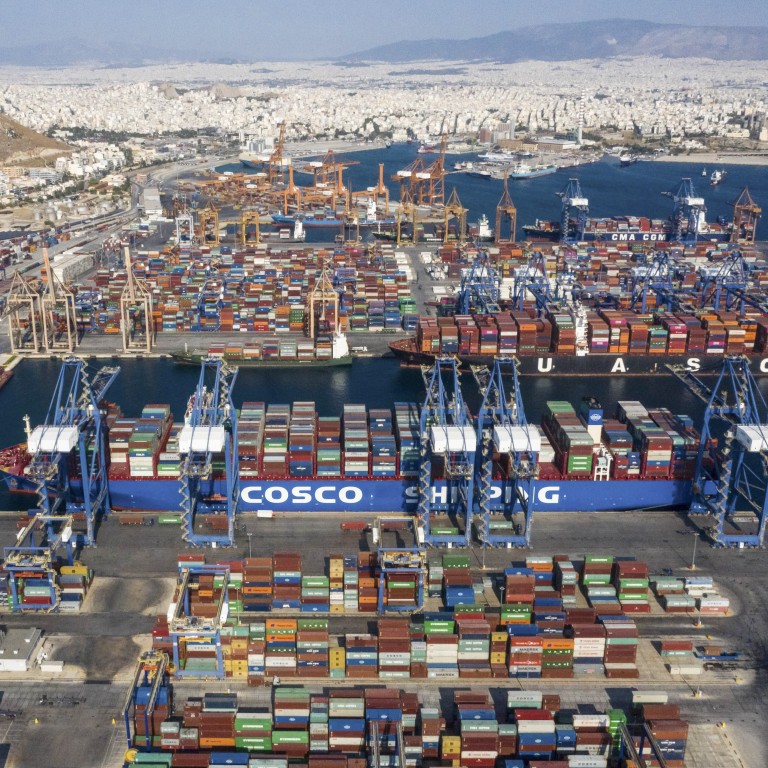 China's container traffic grows in early September as export orders recover from coronavirus supply chain shock
Container traffic at Chinese ports rose 9 per cent year on year in the first 10 days of September, while foreign trade grew 16.5 per cent during the same period
Number of containers handled by China's eight largest container ports in Shanghai, Ningbo, Shenzhen, Guangzhou, Qingdao, Tianjin, Xiamen and Dalian rose 7.4 per cent
The slump in China's worldwide trade showed further signs of recovery in the first two weeks of September as activity at major ports grew despite weaker global demand and the pressure of the relocation of supply chains, according to data from the China Ports & Harbours Association.
In the first 10 days of September, combined international and domestic container traffic at Chinese ports rose 9 per cent from the same period a year earlier, with international activity growing by 16.5 per cent.
In particular, the number of international and domestic containers handled by China's eight largest ports in Shanghai, Ningbo, Shenzhen, Guangzhou, Qingdao, Tianjin, Xiamen and Dalian rose by 7.4 per cent year on year.
International container traffic at China's eight largest ports grew by 6.3 per cent, with the rate of growth climbing over 10 per cent at the ports of Shanghai, Guangzhou and Shenzhen, the association said on Sunday.
"The manufacturing industry continues to improve. The August manufacturing [purchasing managers' index (PMI)] released by the National Bureau of Statistics recently showed that the new order index has rebounded for four consecutive months, of which the new export order index rebounded from the previous month," said the association.
China's official manufacturing PMI
for August was 51.0, with a reading above 50.0 signifying growth in factory output, while the sub-index for new export orders rose to 49.1 in August from 48.4 in July, although this still point towards contraction.
The growth of cargo traffic to and from international destinations in the first two weeks of September followed the acceleration of overall container traffic recovery in August, when activity rose by 3.7 per cent year on year, the association said.
In August, China's disjointed overall trade recovery continued, with exports growing for the third successive month, but imports continuing to disappoint.
Exports surged by 9.5 per cent
from a year earlier – the highest monthly export growth figure since March 2019, when exports surged by 14.2 per cent – but imports fell by 2.1 per cent compared with August 2019.
Cargo throughput for foreign activity only began to return to positive territory in July after traffic at China's key exports hubs, such as Shenzhen and Guangzhou, took a hit after overseas companies started cutting back orders and postponing the delivery of goods as stores closed in the United States and Europe following a surge in coronavirus infections.
However, the global recovery of shipping and container activity remains weak, and analysts expect that China's overall container throughput volume is likely to drop this year due to weaker appetite for Chinese exports, while the coronavirus will speed up the diversification of global supply chains and more manufacturing may move away from China.
US rating agency Moody's said in a report last month that container throughput volume in China would drop by 7 per cent to 10 per cent year on year in 2020.
"Recent signs of recovery in container throughput may not be sustainable because demand for Chinese exports remains weak and patchy. The weak global economy and continued sluggish demand for Chinese goods will result in lower cargoes and pose challenges for the pace of recovery in container demand over the next 12-18 months," the Moody's report said.
"Relocation of supply chains may depress container throughput volume handled in China and therefore demand for port services as trade patterns are likely to change.
"That said, any shifts that do occur will be a multi-year process and China's competitive edge is not easy to replicate over a short period of time."
This article appeared in the South China Morning Post print edition as: Strong export orders boost China's container traffic