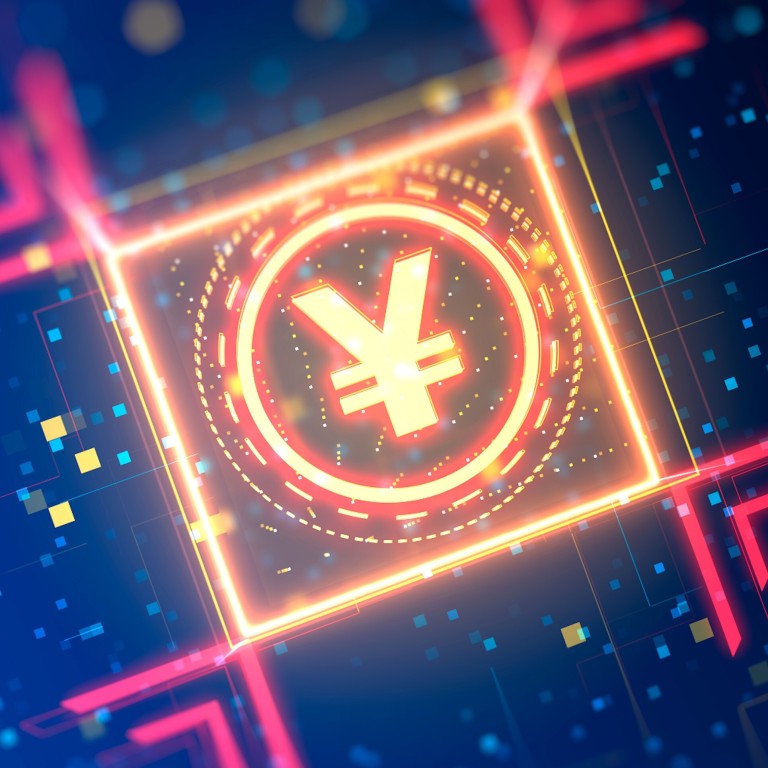 China's digital sovereign currency tests put it ahead of the global pack in push to adopt digital money
People's Bank of China started studying digital currency in 2014, but the pace picked up last year after Facebook omitted the yuan from a basket of currencies in its Libra project
European Central Bank warns of foreign providers taking the lead in digital currencies, while starting to examine the pros and cons of its own unit
China's central bank is moving closer to a full roll-out of its sovereign digital currency, with tests having already been conducted in pilot cities, though the formal launch date for the nation's new digital money remains unknown.
Meanwhile, other major central banks are warming to the idea of digital currency, with the European Central Bank saying last week that it would begin exploring the pros and cons of pursuing its own. Sweden's Riksbank has also been testing its e-krona for months.
But China is well ahead, having been testing its digital currency for most of the last year.
China's Digital Currency Electronic Payment (DCEP) system is being tested in the economically significant cities of Suzhou, Chengdu, Xiongan and Shenzhen, as well as at future Winter Olympics venues, with an expanding list of participants.
"Digital currencies have become a strategic height that major powers must reach to consolidate their lead in the global monetary area," Liu Yushu, a researcher with the Beijing-based Chongyang Institute for Financial Studies, wrote in an article published by the state-run Financial News last week. "Our lead in digital currency research would mean pre-emptive opportunities in international markets, and it could also facilitate regional cooperation."
China's central bank, the People's Bank of China (PBOC), started researching a sovereign digital currency as early as 2014 and established an institute in 2017 to study it in depth. The PBOC's work was largely unknown to the public until Facebook unveiled its Libra project in May 2019 to create a new digital currency backed by a basket of existing currencies, led by the US dollar. Because the Chinese yuan was not in the currency basket proposed for Libra, the Facebook project was seen in Beijing as enhancing the existing US dollar hegemony.
The subsequently disclosed details of the DCEP indicated a two-tier structure with central bank control – the PBOC would issue the money to commercial banks, which would then provide it to individuals through their e-wallet accounts. While the exact technical approach and privacy settings remain unclear, it is mainly designed to replace cash in retail transactions.
However, its launch has become a hot topic domestically amid fears that Washington could seek to deny Chinese financial institutions access to the Clearing House International Payments System (Chips), the US-based system for large financial transactions; as well as the Society for Worldwide Interbank Financial Telecommunication (Swift), the Belgian-based payments information system that underlies global financial transactions.
It is hoped that the digital currency will facilitate the yuan's use overseas, and accordingly lower its reliance on the US dollar.
The Switzerland-based Bank for International Settlements suggested in a recent report that the DCEP could potentially be used for trade invoicing with foreign parties in yuan. "But this is still subject to consultation with other central banks and entities. The exact launch date remains unclear," it added.
Wang Yongli, former deputy president of the Bank of China, said China should expand the implementation of its digital currency and make it an open-source system in which all individuals and institutions can open a "basic account".
"Otherwise, it won't have a real advantage over other central bank digital currencies, nor attract the participation of overseas users in yuan internationalisation," he said in an article last week.
Beijing is currently taking a cautious walled-garden approach in its initial tests, with participation by selected financial institutions, payment service providers and businesses.
China is not alone in viewing digital currency from a strategic competition perspective. Christine Lagarde, president of the European Central Bank, warned last week that Europe had fallen behind in the race to dominate payments on a global scale.
"We are seeing an increase in protectionist policies, as sanctions and even exclusion from payment systems in recent years have shown," she said during a Deutsche Bundesbank online conference on banking and payments in the digital world. "This presents new risks of payment disruption – especially for jurisdictions that are overdependent on dominant system providers."
A Eurosystem task force is currently exploring the pros and cons of introducing a digital euro to complement cash and will publish its findings in the coming weeks, followed by a public consultation period, Lagarde said at a press conference on Thursday.
The US Federal Reserve, the Bank of Japan and the Bank of England have also struck cautious tones on the notion of adopting a central bank digital currency.
Raymond Yeung, chief Greater China economist at ANZ Bank, said China can pioneer domestic use of its digital currency and accumulate technological expertise. However, its overseas expansion will face an inevitable test in terms of interest by commercial institutions, as well as the suspicion of foreign governments.
"A more feasible option is to join hands with other central banks or international organisations to create a global digital currency that is free from international politics," he said.
This article appeared in the South China Morning Post print edition as: digital yuan plan moving ahead