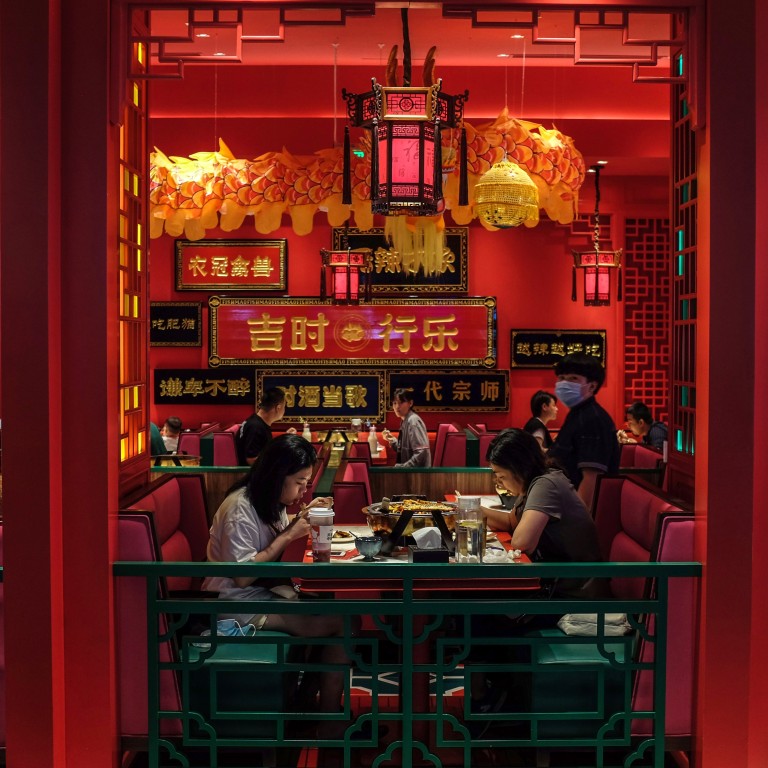 China's economic recovery continued in August, but analysts warn of 'pent-up demand' running out of steam
Consumer confidence is climbing as retail sector shows first growth of year
Industrial production remains one of the main drivers of China's economic recovery following its coronavirus lockdown measures
Better-than-expected economic data out of China reaffirms that the world's second-largest economy is continuing its strong recovery from the coronavirus health crisis, but analysts warn that household demand is likely to taper off in the near-term while tensions with the United States could put a dent in China's exports.
Industrial production, which gauges manufacturing and mining activity, grew in China by 5.6 per cent year on year in August, accelerating from 4.8 per cent in July.
And retail sales, a vital metric of consumption in the world's biggest market, grew by 0.5 per cent compared with the same month last year, up from a 1.1 per cent contraction in July and ahead of analysts' expectations of no growth. This marked the first growth in China's retail sector this year.
Fixed-asset investment, the value of spending on real estate, infrastructure and capital equipment, fell by 0.3 per cent from a year earlier in the first eight months of 2020. This was an improvement on the decline of 1.6 per cent in the January-July period, as investment edges back towards growth after collapsing earlier this year.
The surveyed jobless rate dropped to 5.6 per cent in August from 5.7 per cent in July. However, while this is an indicator of the unemployment rate in a certain segment of the urban population, it is not viewed as an accurate depiction of the overall employment situation because it does not include
millions of migrant workers
.
Even the government is trying to curb expectations about the pace of China's recovery.
"Regarding the situation in the second half of the year, there are indeed some risk factors," Fu Linghui, a spokesman for the National Bureau of Statistics (NBS), said at a press conference on Tuesday.
"Internationally, the recovery of the world economy as a whole is still relatively difficult. In particular, the spread of the pandemic has not been effectively contained … and the external economy is still unstable and uncertain. Domestically, during the economic recovery, some industries and companies are still experiencing difficulties, and there is an uneven recovery," Fu said.
Fu added that while the job market had improved, the unemployment rate among the country's
university graduates
aged between 20 and 24 was 5.4 percentage points higher than the same period last year.
Consumer confidence has been picking up lately, as seen in increased spending on cars, duty-free shopping and eating out. Auto sales increased 11.8 per cent in August from a year earlier, while sales of telecoms products jumped 25.1 per cent year on year, the NBS data showed.
Analysts said that investment and industrial production remain the main drivers of China's recovery from the pandemic.
"However, headwinds remain as pent-up demand will likely lose some steam, medical product exports may have peaked, Beijing is determined to cool property markets, some social-distancing measures within China are likely to extend into the second half of the year, and rising US-China tensions could dent China's exports and manufacturing investment," Nomura said in a research note on Tuesday.
Property investment grew 4.6 per cent in the first eight months of the year, according to the NBS data. Bank loans to households stood at 841.5 billion yuan (US$123.3 billion) in August, according to China's central bank, amid signs that some funds from China's monetary stimulus measures have been channelled into the housing market.
Because of policymakers' concerns about property market speculation, a growing number of analysts have said they think Beijing is unlikely to ease monetary policy further. Rather, amid the strengthening economy, Beijing's attention is likely to turn to tightening restrictions on the real estate market to avoid a further sharp rise in housing prices.
"Strong economic data paves the way for further policy normalisation," investment bank Macquarie said in a research note on Tuesday. "The odds for another reserve requirement cut or a rate cut are becoming smaller and smaller. Policymakers can afford to take more measures to cool down the property market. That said, it's still too early to really tighten, as the economy is still running below its trend growth."
Banny Lam, head of research at China Everbright Bank International Investment, said the country has been making up for the output lost since the start of the year, but economic growth has yet to return to the pre-pandemic level.
"August data showed that it's nearer to a full recovery, but I think we need to look out for [full] third-quarter data to justify that," Lam said. And provided that employment remains stable, Lam said domestic demand will increase.
"There is some uncertainty in exports and manufacturing [in the coming months], but at this point in time many countries are still not as close to China when it comes to getting their supply chains up and running at full capacity," Lam said. "In the short term, it's difficult to shift away from China."
This article appeared in the South China Morning Post print edition as: China's recovery on track but demand likely to wane