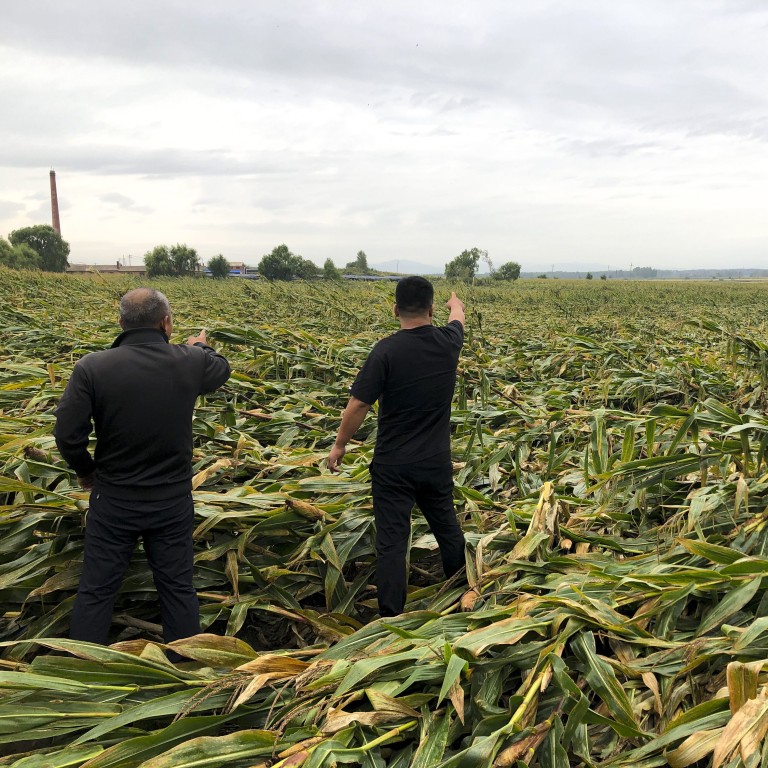 China's northeastern corn belt left flattened by typhoons, fuelling food-security concerns ahead of autumn harvest
Inland typhoon damage and flooding look to cause a big drop in corn harvest in China's northeast, according to a Post field trip spanning hundreds of miles
Reduced corn output could lead to price inflation in other grains such as wheat and might threaten China's overall grain supply sufficiency as state reserves dwindle
Farmer Zhao Ge lets out a series of sighs as he surveys the damage to his corn crops in China's northeastern province of Heilongjiang after three typhoons slammed the region in the past month.
With his farm located in Longjiang county more than 800km (497 miles) from the coast, Zhao says he never anticipated typhoons being a problem. But the climate abnormality – previously unheard of in China's main corn-growing region – looks to have a severe impact on output at a time when broader food-security concerns are rising across the country due to drought, flooding and crop infestations in recent months.
Standing amid rows of corn uprooted by strong winds, Zhao leans over to pick up a cob from a downed stalk and points to the kernels, noting that they are too small for this late in the growing season.
"My output is expected to fall by half this year," he laments.
Nevertheless, Zhao considers himself lucky. The 13.3 hectares (33 acres) of cornfields he manages were partially protected by small nearby hills and rows of trees. Some of his neighbouring farmers fared much worse. Many cornfields along the road from Yongfa village, where Zhao lives, to the town of Jingxing suffered much heavier losses. In some cases, entire fields lie flattened – with withering leaves indicating that the stalks are dead.
The local harvest season is supposed to start in about two weeks, and Chinese authorities are looking to allay concerns about the yield following the typhoons. On Wednesday, Minister of Agriculture and Rural Affairs Han Changfu said China should see a bumper grain harvest, owing to good growing conditions and an increase in planted acreage.
Han did not specify which crops he was referring to, but he said the overall planted acreage of autumn grain had increased by 8 per cent this year. Soybeans and rice are harvested in the autumn, in addition to corn.
Han also conceded that the trio of typhoons had knocked over corn in some areas, but he downplayed the impact on output, pointing to the maturity of the crop at the time of the storms. He said the storm damage would mainly increase the difficulty and cost of harvesting, but added that corn in northern China was showing "better than usual" growth.
However, a recent three-day tour by the Post of Heilongjiang – the largest corn-growing province in China, accounting for about 15 per cent of the nation's total corn output – painted a much bleaker picture for the upcoming harvest. Swathes of flattened fields span hundreds of kilometres, visible by car and train. Losses are widespread, but the damage varies among different parcels of farmland.
A survey by Sublime China Information, a Chinese commodity consultancy, estimated that corn output in Heilongjiang could drop by 20 per cent compared with last year.
The spate of natural disasters in Heilongjiang and neighbouring Jilin province came as concerns about China's grain self-sufficiency were already on the rise, despite Beijing's repeated assurances that there is nothing to be worried about. The price of corn, a key ingredient in animal feed, recently hit its highest level in five years in China.
During his trip to Jilin in late July, Chinese President Xi Jinping visited cornfields and spoke about the need for an adequate autumn harvest.
"I care about grain production and safety very much. The summer harvest proved to be a good one, and we must strive for a good harvest this autumn," Xi was quoted by the official Xinhua news agency as saying.
Vice-Premier Hu Chunhua visited Heilongjiang earlier this month to emphasise the importance of grain-supply security, urging local cadres to minimise the impact of typhoons, droughts and floods.
According to official data, China had bumper grain harvests for 16 consecutive years up until 2019. This year's summer harvest, which generally accounts for a quarter of full-year production, was also better than the summer harvest of 2019, the data showed. But an earlier trip by the
Post
to Henan province, a major producer of wheat, found that farmers there were
hoarding summer output
in anticipation of rising prices.
Wheat, corn and rice are the three "main grains" at the core of China's food-security policy, and the central government has maintained an annual import-quota system for the grains to ensure a high degree of self-sufficiency in their production.
For now, local governments have put on a brave face amid the corn situation. The agriculture department of Heilongjiang held a press conference on September 16 and attested that corn crops in the province were "growing well with high yields expected", while playing down concerns of a bad harvest.
But some analysts who have studied China's grain-output data say official figures could be inflated by local officials, since it is a "political" mission for local cadres to ensure adequate output. Like other local government data across China, grain-output figures rely on input by local officials and are usually shielded from independent auditing.
In April, a group of 11 central government agencies issued a joint circular reiterating that provincial governors must be held directly accountable for their provinces' grain output – a requirement that makes it "politically incorrect" to report declines in grain production.
One analyst attending China's annual corn and soybean conference in Harbin earlier this month told the Post on condition of anonymity that it would be a "political problem" if a local government reports a decline in grain output. She said this would be an admission of having failed, and it could cause a panic among the public.
The situation on the ground, however, does not seem to match the optimistic projections.
About 60km (37 miles) away from Zhao's cornfield, in the Meilisi Daur district of Qiqihar city, massive flooding has submerged hundreds of hectares of corn on both banks of the Nen River, with only the tops of stalks visible above the water. And in Yilan county, about 500km away, vast stretches of cornfields have been inundated by flooding, with leaves and stalks starting to turn yellow and black.
A local farmer, surnamed Bai, says some cornfields may not yield any harvest at all. And there is little he can do with corn stalks other than leave them lying on the sodden soil. He estimates that the final toll on the upcoming harvest could be much greater than 20 per cent, in part due to the spread of mould.
In Acheng district, on the outskirts of Harbin, the capital of Heilongjiang, and about 220km southwest of Yilan, the storm damage is less severe, but still visible, with countless corn stalks bent over to varying degrees. A local farmer surnamed Xu says this will make harvesting by machine more difficult, with inevitable losses.
The poor sentiment among local farmers has trickled down to local corn buyers, who are quickly adapting to the new reality. If a 20 per cent drop in corn output in Heilongjiang and Jilin comes to fruition, it would be a big supply shock to the entire Chinese market, since the two provinces jointly account for a quarter of China's total corn output.
Local private traders in Heilongjiang have already made offers to buy corn before the harvest, and the average bidding price from buyers is 31 per cent higher than it was last year. To keep the price rise under control, China has released much of its state reserves of corn, but these stocks are being depleted quickly.
Meanwhile, Chinese corn imports are surging. China set an annual corn import quota of 7.2 million tonnes for 2020, but Chinese commitments to purchase corn from the United States alone have already exceeded 9 million tonnes, showing that China's supply shortage is bigger than Beijing's earlier estimates.
Feng Jilong, general manager of the Dalian Northern International Grains Logistics Company, a corn trader, says the surge in corn prices across the country is partly a result of speculation. "Many people outside the corn community have seen the country stress grain security, so they see the chance to speculate," Feng says. "Many new players are entering the market to stock up on corn at auction."
Guo Yanchao, president of Zhongken Guobang, a state-owned soybean-processing enterprise in Tianjin, says a fundamental change is taking place in China's corn industry, where an overall supply shortage is looming. Guo is also critical of a government initiative from two years ago that encouraged farmers to shift from planting corn to soybeans, with an aim to reduce reliance on American soybeans. He says the short-sighted policy helped worsen the current corn-supply shortage.
And now, state support for corn is seeing a resurgence.
According to a notice issued by the local finance bureau of Kedong county, Heilongjiang, on Friday, the state subsidy for soybean planting will be cut to 3,570 yuan (US$526) per hectare (2.5 acres) from 3,825 yuan, while the subsidy for corn per hectare will be increased to 570 yuan from 450 yuan. No dates were given for the subsidy changes to take effect.
For his part, Farmer Zhao said the subsidy he received this year for growing corn had increased, but while that may help him make ends meet, there is no undoing the damage to his crops.
"At most," he said, "I can only break even this year."