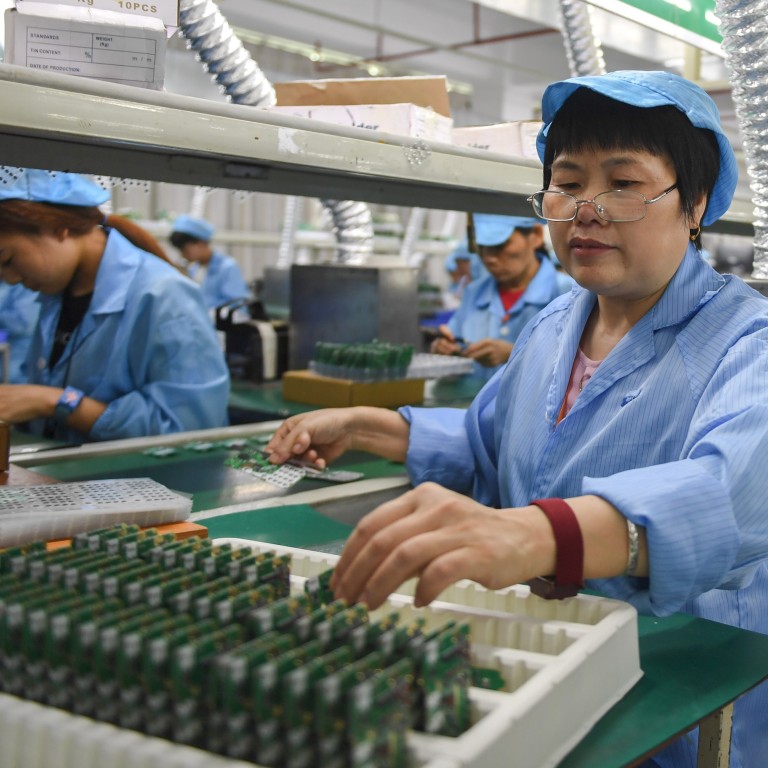 China's economy undergoing 'two very different recoveries', study that counters official data says
Independent research firm China Beige Book claims its survey shows an alternative narrative to Beijing's official economic recovery in the wake of the coronavirus
Survey of 3,300 firms across China shows a disjointed recovery away from the 'corporate elites' in the coastal hubs of Beijing, Shanghai and Guangdong
China has been heralded as the first major economy to recover from the impact of the coronavirus, but that resurgence has been patchy and overhyped, according to the authors of a new study.
A survey of Chinese firms conducted by China Beige Book, an independent analysis firm, showed that for "the corporate elite" – large firms in Shanghai, Beijing and Guangdong – the economy is accelerating, but that "most firms in most regions are seeing a far more muted recovery".
Official data showed that the economy grew by
3.2 per cent in the second quarter
of 2020 from a year earlier, having slumped by a record 6.8 per cent in the first three months of the year.
Some analysts are forecasting year-on-year growth of more than 5 per cent for the third quarter, but the study suggested a more uneven picture on the ground.
Growth in output and corporate revenues are expected to be weaker between July and September for firms in most regions than they were a year earlier, even if conditions have improved since the second quarter.
"There are two very different Chinese economic recoveries right now," the firm's researchers wrote. "Beijing is lying about at least one of them."
The firm used a diffusion index – a similar model used to calculate
purchasing managers' indices
that are seen as an advanced snapshot of the economy ahead of the release of official data.
In the case of China Beige Book, zero is the dividing line between expansion and contraction, on a scale that runs between plus 100 and minus 100. The firm subtracted the number of negative respondents from positive respondents to calculate an aggregate figure for eight bespoke regions in China, made up of between two and six provinces.
In output terms, the eastern industrial hub including Shanghai, Zhejiang and Jiangsu went from a score of 60 in the third quarter of 2019 to 49 in the third quarter of 2020, although this was much improved from a reading of 8 in the second quarter.
The southern industrial hub encompassing Guangdong and Fujian dropped 5 points year on year to 47 in the third quarter, but the reading was significantly up from minus 4 in the second quarter.
Further up the coast in the region combining Beijing, Tianjin, Shandong and Hebei, the output index stood at 48, down 28 points from 67 a year earlier, but again, the index looked significantly better compared to the second quarter.
However, some regions did not even report improvement in output from the second to the third quarter, mostly the inland and remote areas to the north and west. For firms in Tibet, Gansu, Qinghai, and Xinjiang, output was 30 points worse in the third quarter of 2020 than in the second three months of the year.
The authors pointed to discrepancies between the survey data and the
official numbers,
which they said were "the public face of Beijing's recovery narrative".
"For the corporate elite – large firms and those based in the big three coastal regions – the economy is accelerating. This is the rebound Beijing wants to highlight and most foreign observers can see," said Derek Scissors, chief economist at China Beige Book, and a self-described China hawk.
"But the rest of China – most firms in most regions – are seeing a far more muted recovery."
China Beige Book quizzed 3,300 firms across 34 sectors in all of China's provinces and regions, interviewing a combination of state-owned and private sector firms.
The survey found that across the eight bespoke regions, sales revenue growth was reported to be softer in the third quarter than a year earlier, even if it had improved in all but two regions since the second quarter.
In a trend that corresponded with official data, the manufacturing sector was better off than any other, pointing to the two-speed recovery in China's economy. Demand has lagged behind supply all year, with
retail sales
and imports trending much lower than industrial production and
exports.
The firm also polled 160 bankers, and found that while borrowing was flat in many inland regions, it soared in the "big three" coastal regions – at a rate "double or triple" that seen in other parts of China.
While China Beige Book's research may jar with official data, the imbalances in China's economic recovery have been apparent since the early part of the year, when factories were quick to open and exports got back on track, even as many restaurants, cinemas and other
service sector
vendors were forced to stay closed.
In February and March, large manufacturers were quicker to return to near full capacity, while smaller factories struggled to man production lines due to travel restrictions placed on migrant workers.
Patchiness persists across other data points, too. Even as the economy is forecast to be larger in the third quarter than a year earlier, subway passenger trips across major cities remained significantly lower than a year earlier, according to Nomura. In the week to September 20, trips were down 11.1 per cent in Shanghai, 18.2 per cent in Beijing and 10.9 per cent in Guangzhou from a year earlier.
Catering industry research cited by Nomura showed that over the same week, restaurant revenues were down 28.6 per cent from the start of January, before coronavirus lockdowns were in place, even if the number of restaurants that were open had increased. Box office revenues, meanwhile, were down 48.6 per cent in the week to September 19 from a year earlier.
Nonetheless, the investment firm raised China's growth forecast for the third quarter to 5.3 per cent, up from a previous estimate of 4.2 per cent.
"China's recovery is undoubtedly impressive, especially when compared to other major economies that remain mired in the pandemic. Still, we should not downplay many of these headwinds and roadblocks," wrote researchers led by the bank's chief China economist Lu Ting.