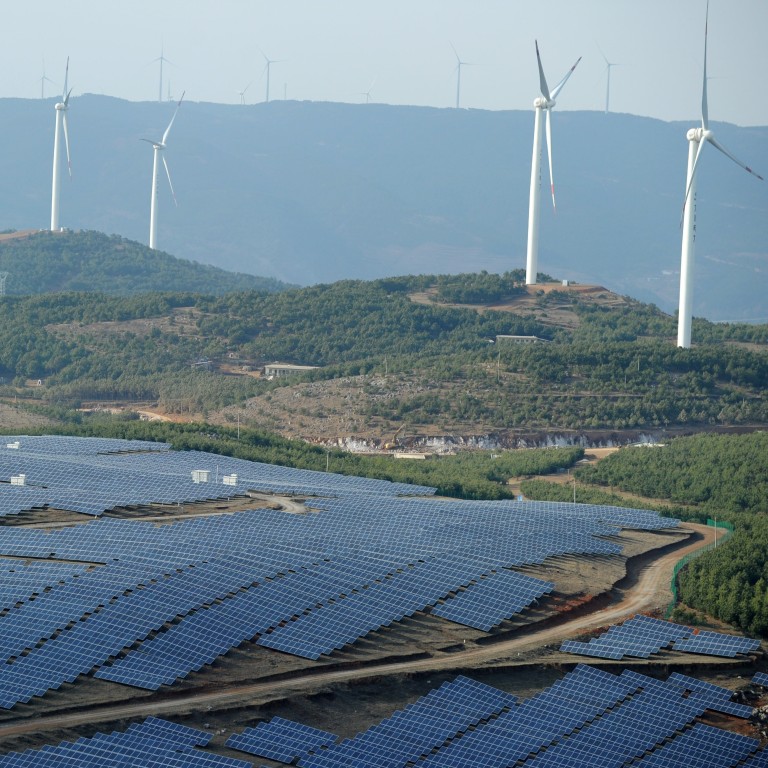 China's carbon neutral pledge: will Beijing's 14th five-year plan offer a blueprint for zero emissions?
Xi Jinping's pledge at the United Nations General Assembly this week for China to be carbon neutral by 2060 offers few details on how it will be achieved
Experts say clean energy targets in China's next five-year plan for the period covering 2021-25 will be critical in reaching the goal in bid to fight climate change
China's pledge to become carbon neutral by 2060 has been hailed as a critical step towards slowing global warming and one that could turn the nation's next five year plan into "the most crucial document in global energy market history".
But how China will achieve the goal and whether it will reign in support for coal-fired power at home and abroad remains unclear.
President Xi Jinping's
announcement on Tuesday at the annual meeting of the United Nations General Assembly would require China to reach net zero carbon emissions in four decades, a goal some analysts have labelled an unprecedented transformation given the nation's dependence on fossil fuels and huge contribution to global emissions.
China accounts for nearly 30 per cent of global greenhouse gas emissions, making it crucial to limiting global warming to below two degrees Celsius (35.6 degrees Fahrenheit) above pre-industrial levels, targets that were agreed to under the 2015 Paris Agreement on climate change.
Though welcomed by environmentalists, analysts have pointed out Xi's speech was frustratingly light on detail, including on how carbon neutrality would be defined and achieved.
"No road map was offered as to how this will be achieved. 2060 is a long time out and immediate, concrete steps have yet to be announced," said Gavin Thompson, Asia-Pacific vice-chairman for energy at Wood Mackenzie.
"China's upcoming 14th five-year plan has the potential to be the most important document in global energy market history," Thompson said. "Increased investment in wind, solar, electric vehicle and battery storage technology deployment will almost certainly feature, and we can expect support for green hydrogen and carbon capture technology."
China is already the world's largest investor in renewable energy, including solar and wind power, and the global leader in manufacturing electric cars. But it is still heavily dependent on fossil fuels, with coal, natural gas and oil accounting for around 85 per cent of its energy mix, according to the BP Statistical Review of World Energy 2019.
In 2015, the country set a goal of deriving 20 per cent of its primary energy supply from non-fossil fuels by 2030.
If China wants to reach its ambitious net zero emissions goal, it will need to redouble efforts to transition to clean energy in the next five years, said Kevin Tu, non-resident fellow at the Center on Global Energy Policy.
"The key question is how ambitious the government will be," said Tu, who is also adjunct professor at the School of Environment at Beijing Normal University. "The potential of deploying additional renewable capacity across the country is huge, but because of the vested interest groups, there is strong resistance to the development of renewable energy in the country."
Li Shuo, senior climate and energy policy officer for Greenpeace East Asia, said Xi's announcement needed more detail.
"How do you reconcile a zero carbon future with China's ongoing coal expansion?" he said.
The calculation will be complicated by rising concerns over energy security in China, especially its dependence on oil and gas imports, which have been stirred up by escalating tensions with the United States and supply chain disruptions caused by the coronavirus pandemic.
Tu said Chinese decision makers' anxiety over energy security has "increased drastically" over the past two years – something that could be positive for both the coal and renewables industries.
"That's very good news for renewables because they are an indigenous resource," he said.
"On the other hand, in China dirty coal is affordable. Because Chinese manufacturers and contractors are very good in coal mining, transport and energy use, China has a significant cost competitiveness throughout the entire coal value chain."
"Of course, big questions remain. But if any country can achieve such ambitious goals it will be China," said Thompson from Wood Mackenzie.
"Strong state support and coordination have proven extremely effective at reaching economic goals; if this is now directed towards climate change, then China is capable in transforming its carbon emissions trajectory over the coming four decades in exactly the same way it has transformed its economy over the past 40 years."