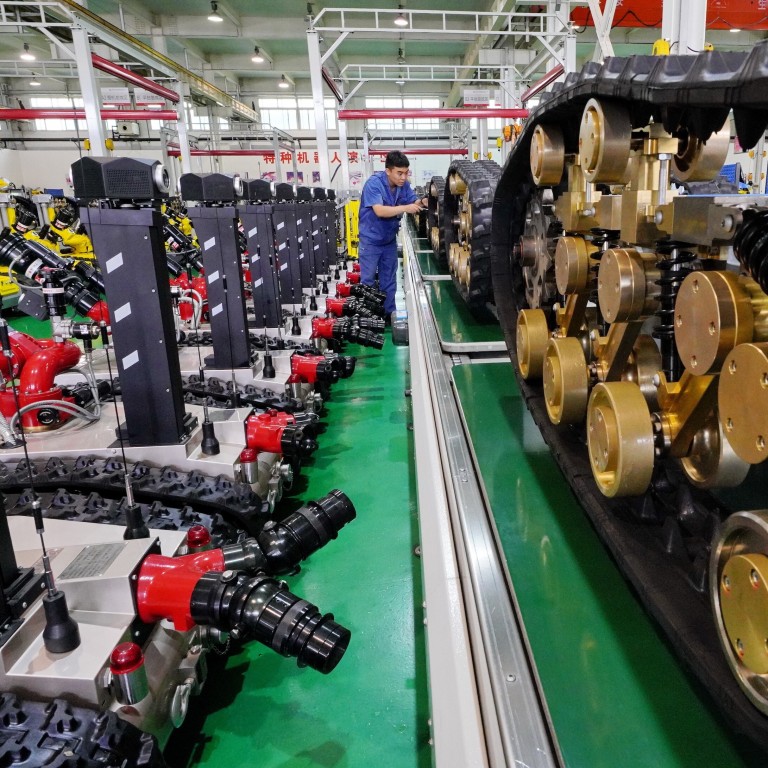 China unveils 'strategic emerging industries' plan in fresh push to get away from US technologies
Beijing goes a step further in identifying specific products that China has to develop in industrial blueprint
Central government authorities will ask local governments to play a bigger role in 'guiding' funds into strategic emerging industries, while encouraging banks to lend more
Beijing has released an ambitious plan to boost the development of "strategic emerging industries", from the buildout of 5G mobile networks to industrial robotics, in the latest move to counter Washington's expanding technological embargo while elevating the national economy.
In a joint circular released on Wednesday by the National Development and Reform Commission (NDRC); the Ministry of Science and Technology; the Ministry of Industry and Information Technology; and the Ministry of Finance, the country vows to build a complete strategic industrial system via state planning and state investments.
China's aim is to build up "10 strategic emerging industrial bases with global influence, 100 strategic emerging industrial clusters with international competitiveness, and 1,000 strategic emerging industrial ecosystems with unique advantages" through the plan.
China launched a similar strategic plan focused on emerging industrial development in 2009, splashing out cash and state support to develop seven industries, but this resulted in several instances of duplicated construction, with excess capacity in the production of solar panels and new energy vehicles.
Compared with previous plans, the new one is more detailed and targeted – it identifies not only the areas to invest in general, but also names specific products that China must develop.
In advanced manufacturing, for instance, the four ministries said China will pour resources into developing industrial robotics, aerospace equipment, computer chips, energy-saving motors and five-axis machine tools, to name a few. It will also look to develop new materials such as high-temperature-resistant alloys; and heat- and corrosion-resistant components for planes.
While the plan did not mention the United States, it made clear that the plan was designed to help China avoid being "strangled" by its dependence on imports for key technologies and components.
"This year is extraordinary. The sudden coronavirus pandemic has accelerated protectionism and unilateralism. The global economy is weak, while the global industrial chain has been impacted," the NDRC said in its online statement. "The profound changes in the environment have brought huge challenges to our development."
According to official statistics, "strategic emerging" industries accounted for 11.5 per cent of China's gross domestic product last year – an increase of 3.9 percentage points from 2014. As traditional labour-intensive manufacturing is being increasingly discouraged, China is pinning its hopes on these new areas for growth.
To spur development of the targeted areas, central government authorities will ask local governments to play a bigger role in "guiding" funds into strategic emerging industries, while encouraging banks to lend more.
In addition to more promised funding, the authorities have ordered state-owned enterprises to play a leading role, while encouraging a variety of enterprises to undertake research, innovation and industrialisation of national strategic projects.