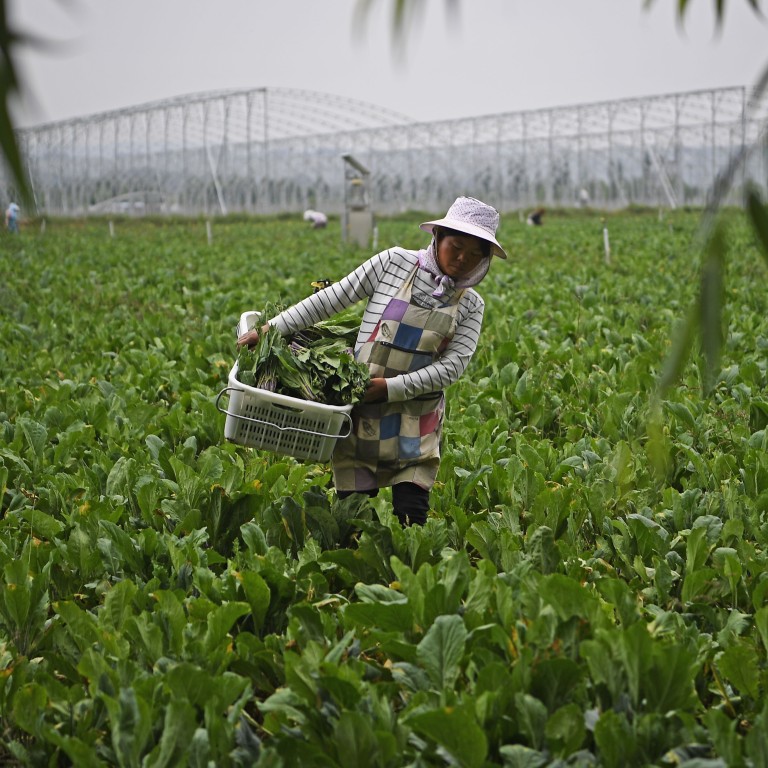 China's Xi urges revival of old rural distribution system to boost economy and enhance 'ties with rural masses'
From the days of Mao Zedong until the late 1970s, rural cooperatives were the only place where peasants could access daily goods and farming supplies
Renewed call is in line with president's recent push for China to embrace an inward-facing 'dual-circulation' strategy of domestic development
President Xi Jinping has renewed his call for a revival of an old state-run distribution system to boost the rural economy, unite farmers and strengthen the ruling Communist Party's power base in the countryside.
In a note to a conference hosted by the All China Federation of Supply and Marketing Cooperatives – also known as China Co-op, which supported the party's rule in the countryside during the command-economy era from 1949-78 – Xi urged government officials to revamp the system to help modernise rural villages and to consolidate the party's governance in rural areas, according to the official Xinhua news agency.
Xi said the cooperatives, which throughout their long history have been a driving force in the country's agricultural and rural development, need to "become a comprehensive platform for farmers' production and lives, as well as a bridge for the Communist Party to maintain close ties with the rural masses".
The renewed attempt to inject new life into the decades-old co-op system came after Xi introduced a new
dual-circulation
strategy in May to rely more on the domestic economy as the country's diplomatic relationship with the United States deteriorates. The model focuses on internal circulation – the domestic production and consumption cycle supported by innovation – while trade with other countries and regions, or external circulation, is regarded as secondary for economic growth.
Revitalising the China Co-op – a cabinet-level agency – was also in line with Xi's campaign to reform and expand the co-op system since he became president in 2013. Under the China Co-op system, there were 2,762 cooperatives at the county level or above by the end of last year, with close to 90 per cent fully funded by the central government, according to government data.
At more local levels, there were more than 32,000 cooperatives at the end of 2019, and almost all rural towns have at least one cooperative at the moment, compared with slightly more than 50 per cent in 2012. In addition, there are nearly 180,000 farmers' cooperatives that specialise in a variety of agricultural products, from cotton and tea to seafood and vegetables.
From the days of Mao Zedong until the late 1970s, these cooperatives were the only place where peasants were able to access daily consumer goods and farming supplies, thus serving as an important institution in a Soviet-style command-economy system.
The role of China Co-op as the sole retail outlet for rural residents diminished in the 1980s as private producers, wholesalers and retailers mushroomed in the country. Xi, who became the party secretary in late 2012, has tried to remake the China Co-op system to serve the country's rural development in a market economy and lift the rural population out of poverty. The primary objective of many rural cooperatives today is to help farmers find customers for their products by building e-commerce platforms and logistics centres.
In 2016, funding to the China Co-op tripled from a year earlier to more than 2.3 billion yuan (US$337 million) and continued upwards to 2.7 billion yuan last year, accounting for 90 per cent of its revenue, according to its final account report from 2019.
However, China Co-op's budget report for 2020 shows that this year's funding shrank sharply to 340 million yuan – a mere 12.6 per cent of last year's total – mainly because the central government cut back sharply on expenses as economic growth slowed amid the pandemic.
Cooperatives are not state-owned enterprises but "collectively owned". And unlike in other countries, where cooperatives are characterised by their democratic management and profit-sharing systems, in rural China they operate more like state-owned businesses.
A paper published in 2017 by Forrest Zhang, an associate professor of sociology at Singapore Management University, found that only two out of 50 Chinese rural cooperatives he visited and tracked from 2009 to 2016 were genuine. The rest were either private businesses controlled by individual owners rather than member farmers, or fronts for fraudulent operations set up for the sole purpose of cheating the state out of its money.
This article appeared in the South China Morning Post print edition as: Xi calls for revival of co-op system