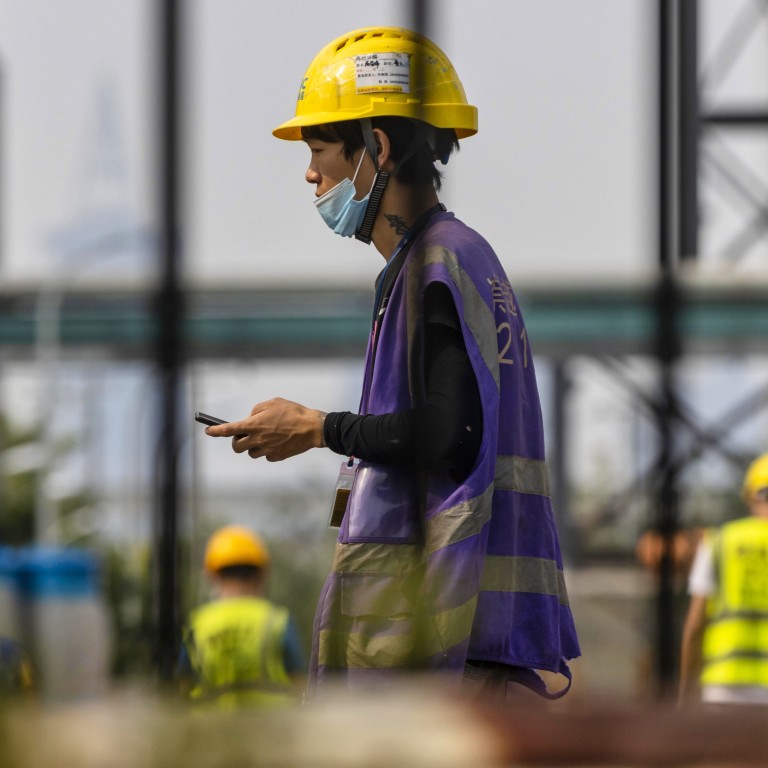 Chinese city seeks technological breakthroughs to help nation survive restrictions imposed by United States
Massive construction boom in Chengdu is the epitome of China's push to counter rising external hostilities, particularly with United States
The notion of a whole-nation mechanism, which worked well in developing atomic bombs, satellites and manned space missions, has returned
Chengdu, the capital of Sichuan province, used to be known as a laid-back city full of teahouses and mahjong – a food paradise with a particular chilli flavour and plenty of cute pandas.
But bustling construction in the far south urban area tells another story – the city is building itself into a national innovation centre that will help tackle technological bottlenecks hampering China's development.
Dozens of crane operators are busy working amid autumn rains as new buildings appear on the horizon, and excavation efforts are under way to build a planned science city on the shores of Xinglong Lake, about 31km (19 miles) from Tianfu Square in central Chengdu.
Government blueprints indicate that 99 sq km (38 square miles) of land, larger than the size of Manhattan, will be the starting zone to rival California's Silicon Valley, especially with the presence of eye-catching enterprises such as UK-based chip designer ARM and Tsinghua Unigroup, as well as a handful of heavyweight research institutions.
The undertaking represents the epitome of a nationwide technological push to counter rising external hostilities – particularly from the United States.
Beijing has tasted the bitterness of being "strangled" by Washington in the past two years. The tension arising from the bilateral trade imbalance has spilled over to finance, media and technologies, while disputes over the origin of coronavirus pandemic, Hong Kong's national security law and the South China Sea have pushed bilateral ties to the brink of a new cold war.
Chengdu, in the eyes of many analysts, is well-positioned to help.
The city, with nearly twice the population of New York, reported a gross domestic product of 1.7 trillion yuan (US$249 billion) last year. The country's seventh-largest city economy is particularly strong in terms of its electronics information industry and scientific research. And this has helped it emerge quickly from the impact of the coronavirus.
Economic output rose 0.6 per cent year on year to 830 billion yuan in the first half of this year, compared with a national decline of 1.6 per cent, government data shows.
"I'm very optimistic," said Zhang Xiaomei, a professor at Southwestern University of Finance and Economics and a provincial government adviser. "Unlike other places that use hi-tech parks as a gimmick for property development, Chengdu's science city has learned the lesson and [will] tackle bottleneck technologies."
After a dozen local entities, including Huawei's Chengdu subsidiary and the University of Electronic Science and Technology of China, were blacklisted by the US, the municipal government is looking to lure top-notch external talent and technology firms to the science city to fuel the innovation drive.
"We used to take the lift [created by other countries], but now it's time for us to have our own ladder and keep climbing," Zhang added.
Wu Qi, a senior fellow with the Beijing-based Pangoal Institution, said Chengdu's secret weapons would be its solid "new economy" foundation, and more importantly, its strong government planning and initiative.
"It is already one of the leading cities in the current technological innovation drive, given the inflow of talent, existing research capabilities and expanding information-technology-related clusters," he said.
The local government mapped the industrial chain chart and existing strength of artificial intelligence, big data, 5G, semiconductor and other key sectors, and tried to build a whole set of industrial chains and ecosystems, according to its 2019 work report.
Leung Chun-ying, former chief executive of Hong Kong, said on Monday at the Global Innovation and Technology Forum, sponsored by the Post, that "there are political, legal and policy barriers on the country level that hinder or prohibit the international transfer and global sharing of [technologies]".
"We must unlock the potential of innovation and advancement in technology … and facilitate better international collaboration on a global scale," Leung said. "We need to overcome apprehensions about sharing new technology among nations."
However, there are also lingering concerns over the city-level technology frenzy, which some have described as a variation of past local races to build skyscrapers or become financial hubs.
About 79 semiconductor-related firms have been set up in Chengdu so far this year, according to Qichacha, an enterprise information inquiry platform . And nationwide, nearly 10,000 companies have expanded their business scope to include semiconductors or integrated circuits.
"It won't work well for governments to optimise industrial chains in the dual-circulation strategy and take the technological high ground with public funding," former finance minister Lou Jiwei said at an internal conference of the Chinese Economists 50 Forum in mid-September, according to a transcript of his speech online. "It would result in more losses than gains, and could cause misunderstanding at home and abroad."
Some of China's chip-making projects have hit the rocks because of poor planning, market fluctuations or funding shortfalls.
A plant operated by Wuhan Hongxin Semiconductor Manufacturing in the central province of Hubei was revealed in July to have ground to a halt as a result of being underfunded. In the eastern province of Jiangsu, a US$3 billion government-backed chip plant owned by Tacoma (Nanjing) Semiconductor Technology went bankrupt in the same month after failing to attract investors.
Chengdu has also seen some setbacks, as the GlobalFoundries semiconductor manufacturer ceased operation of its US$100 million manufacturing joint venture earlier this year.
Zhang blamed many of the previous failures on a lack of due diligence, risk control and project management, and she insisted that the whole-nation mechanism is important to help correct market failures.
"The government must step in to break the bottlenecks in case no market entities are willing to invest," she said. "We must … build our own ladder rather than rely on external environment changes."
This article appeared in the South China Morning Post print edition as: Chengdu meets US tensions with hi-tech response