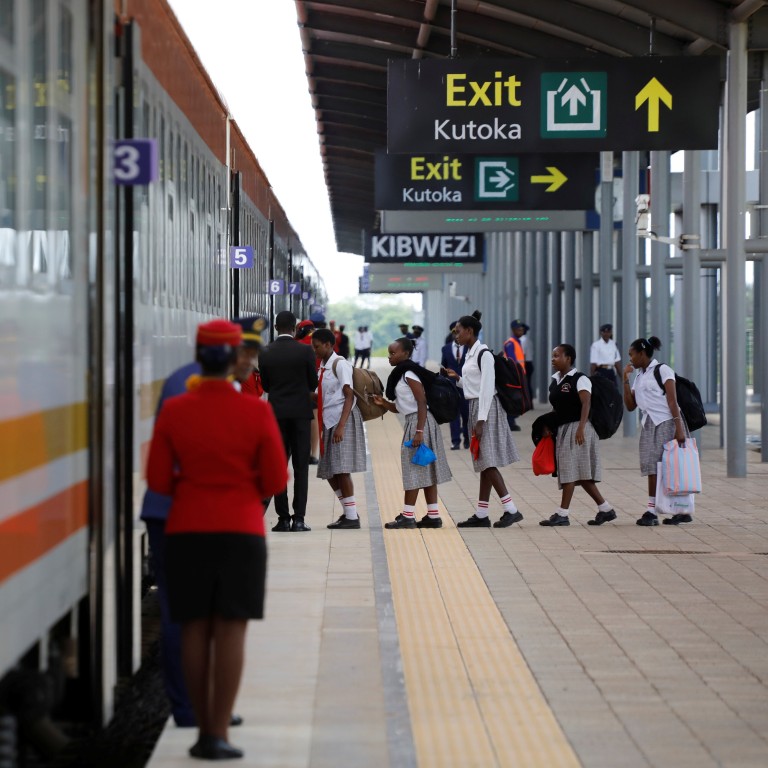 Kenya keen to renegotiate debt, fees with China as coronavirus hits unprofitable Mombasa-Naivasha rail line
State-owned engineering giant China Communications Construction Company and its subsidiary built the Mombasa-Naivasha Standard Gauge Railway line
The 580km (360 mile) line, which was completed in 2017, cost US$4.7 billion as part of China's Belt and Road Initiative
Kenya's debt troubles on its Chinese-built Mombasa-Naivasha Standard Gauge Railway line underline an endemic problem with large-scale Belt and Road projects that have been made much worse by the coronavirus pandemic.
These ambitious, and often ill-conceived projects, are brought to reality with generous Chinese funding, but unravel due to poor management by local governments, sometimes through misconduct, trade lawyers and analysts said.
Poor profitability, made worse by tough Covid-19 economic conditions, were the main cause for Kenya last week to call for a renegotiation of its loan from China used to fund the 580km (360 mile) rail line, rather than the US blacklisting of Chinese state-owned engineering giant
China Communications Construction Company (CCCC),
which helped build the line.
"The inherent problems of the project, coupled with short-term pressures arising from Covid-19, are much more likely to explain Kenya's attempts to renegotiate than any US pressure. It's just too simplistic to attribute everything to cunning geopolitical statecraft," said Lee Jones, a political economy and international relations expert at Queen Mary University of London.
The project was completed in 2017 but last week, the Kenyan transport committee recommended the government renegotiate the terms of the loans from China Exim Bank.
The committee said the government should also ask the railway's management company, Africa Star Railway, a subsidiary of another of the rail line's builders, China Road and Bridge Corporation (CRBC), to take a 50 per cent cut on its US$10 million monthly management fee.
Africa Star Railway runs the passenger and cargo train line, while Kenya Railways supervises the project on behalf of the Kenyan government.
Relaxing the loan terms would give the Kenyan government breathing space as it grapples with falling tax revenues as a result of the economic downturn caused by the coronavirus outbreak, the committee said.
02:09
Kenya opens massive US$1.5 billion railway project funded and built by China
Kenya opens massive US$1.5 billion railway project funded and built by China
CRBC, itself a subsidiary of CCCC, was awarded the US$3.2 billion contract in 2014 to build the Mombasa-Nairobi phase of the rail line. CCCC later stepped in to build an extension from Nairobi to Naivasha for another US$1.5 billion, although a further extension of the line to Malaba, on the border with Uganda, hangs in the balance due to a lack of commercial viability.
Kenya has two interest bearing loans from China Exim Bank with 20-year repayment terms, a US$1.6 billion loan at a commercial interest rate and an extended US$1.6 billion loan at a discounted interest rate.
Despite successfully paying the first interest payment of US$350 million in January, the next payment could be in limbo as the rail line is unprofitable. Last year, it generated US$130 million in revenue but incurred running costs of more than US$170 million, resulting in a US$40 million shortfall, government data showed.
It is also behind on its management fee payments to Africa Star Railway, with an outstanding debt of US$380 million.
The Kenyan government has tried to force importers to use the rail line, but while it cuts the journey time between Nairobi to Mombasa by more than half, the freight costs are higher.
"Kenya will be spending almost 12 per cent of its foreign debt obligation on the [Standard Gauge Railway] rail line alone. Against the backdrop of dwindling tax revenue collection due to the Covid-19 pandemic economic disruption, it's prudent for Kenya to engage China for renegotiations … since the project isn't financing itself," said Kenyan-based economist Tony Watima.
This adds to the railway line's prior woes, including a
court ruling in June
that the rail contract between Kenya and CRBC was illegal because Kenya Railways, which acted for the government, violated the nation's laws "in the procurement of the [Standard Gauge Railway] project". Kenya Railways is appealing the verdict.
Fortunately, despite coming under scrutiny after the United States Department of Commerce blacklisted the last month five of its dredging subsidiaries, CCCC's association with the rail line has not had any negative impact on train operations or its relationship with Kenya, trade lawyers said.
The US Department of Commerce has placed around 300 other Chinese entities on its Entity List, including telecommunications company Huawei, forbidding American firms from doing any business with them or exporting products to them unless they receive a special licence. CCCC's subsidiaries were blocked due to their roles in helping China "militarise" island outposts in the contested South China Sea.
Trade lawyers who previously confirmed the sanctions were unlikely to cause widespread reputational damage to all CCCC businesses, said the same for CCCC's African deals.
"My sense is that [the Kenyan call for loan renegotiations] probably does not have anything to do with the Entity List issue since that wouldn't affect the payment of management fees. It's plausible that the pandemic is driving the request if it is putting a strain on Kenya's state finances," said Steptoe & Johnson lawyer Nicholas Turner, who specialises in economic sanctions and export controls.
CCCC have shrugged off the impact of the blacklisting on its business and pushed on with its overseas projects, including
its belt and road activities.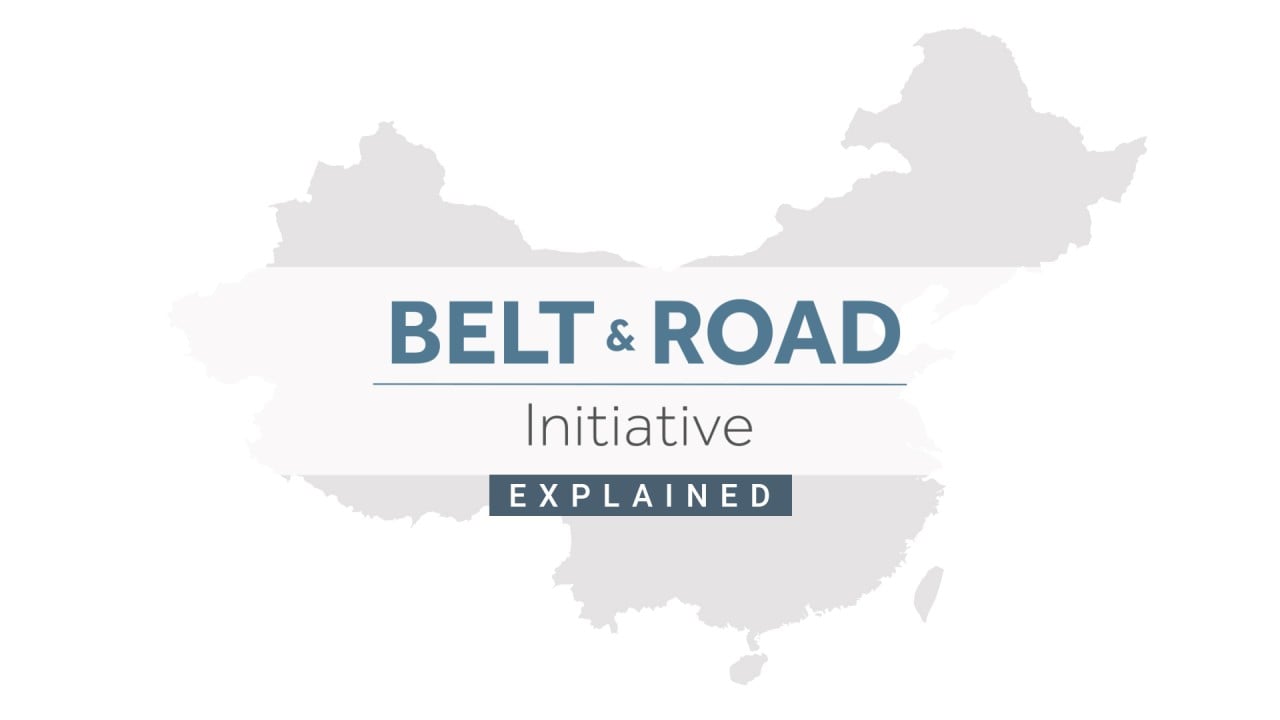 02:35
Belt and Road Initiative explained
Belt and Road Initiative explained
But bigger problems of poor local management and project due diligence loom, according to a Chatham House report by Queen Mary University of London's Jones and The University of Queensland's political science expert Shahar Hameiri.
"Political-economy dynamics and governance problems on both sides have led to poorly conceived and managed projects," the report said.
"The Belt and Road Initiative is frequently portrayed as a geopolitical strategy that ensnares countries in unsustainable debt … however, the available evidence challenges this position.
"In Sri Lanka and Malaysia, the two most widely cited 'victims' of China's 'debt-trap diplomacy', the most controversial [Belt and Road Initiative] projects were initiated by the recipient governments, which pursued their own domestic agendas. Their debt problems arose mainly from the misconduct of local elites and Western-dominated financial markets."
China too had a part to play in potentially raising bad debts in belt and road projects as its fragmented development financing system failed to conduct proper due diligence and risk assessments of many target projects, Hameiri added.
"[The Chinese system] is designed to externalise China's [industrial] overcapacity problem, and due to the desire of state-owned enterprises to implement projects, the underlying tendency on the Chinese side is to approve projects and financing," said Hameiri.
Almost every belt and road loan now requires some form of renegotiation, although asset seizures or debt forgiveness are rare, Jones said.
In Africa, Ethiopia, the Republic of Congo and Angola have already succeeded in renegotiating their debts to China. Aside from specific renegotiations on its Mombasa – Nairobi line, Kenyan Treasury officials said they had also sought general debt relief from China.
CCCC, CBRC and the Chinese Embassy in Kenya did not respond to requests for comment.
This article appeared in the South China Morning Post print edition as: Nairobi seeks to renegotiate debt, fees on rail project