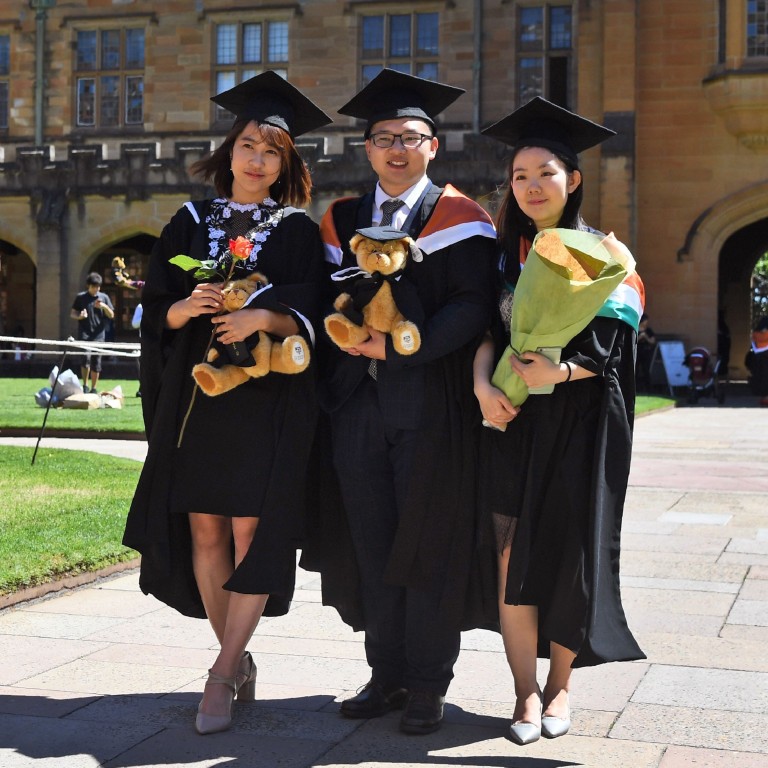 Chinese families shun Western universities as coronavirus, strained ties are 'scaring middle-class families'
Four out of five affluent Chinese parents with children studying foreign curriculums and taking foreign examinations say they have postponed plans to send kids abroad
Concerns mounted among wealthy and middle-class mainland Chinese after the US recently revoked more than 1,000 visas of graduate students and research scholars
After being inundated with news about the worsening coronavirus pandemic and rising tensions between China and the West for months, Beijinger Joe Gao was compelled to make a difficult decision regarding his six-year-old daughter's future education.
Rather than pay 300,000 yuan (US$44,000) in annual tuition for her, as he does for her nine-year-old brother who is studying at an international school in the capital, Gao has had to change his plans and is now looking to send his daughter to a public school in mainland China.
"Until this summer, I had been working hard with the aim of earning enough to send both of them abroad for secondary school. But things change so fast, and so we must, too," he said. "I'm not that rich like a tycoon with strong anti-risk capabilities. I think the economic uncertainty, the pandemic and the growing negative perception of China are actually scaring many middle-class families of my kind."
Gao, who runs an investment and services start-up, said he is still going to send his son abroad for schooling, but now prefers that be in an Asian country such as Singapore, instead of the United States or Australia, in case China's relations with the West continue to deteriorate in the coming years.
"If China and the West face a long-term confrontation into the future, trade between China and the [Association of Southeast Asian Nations] will increase, and studying in developed Asian areas would be safer for, and more friendly to, Chinese," he said.
Gao is not alone in his rationalisation. A large and growing number of Chinese parents are cancelling or at least suspending plans to send their children to study abroad – a strong signal that wealthy and middle-class Chinese families are becoming less interested in sending their kids to study overseas.
About 81 per cent of affluent Chinese families whose children study foreign curriculums and take foreign examinations have decided to postpone plans to send them abroad for undergraduate or graduate studies, according to a survey released last month by Babazhenbang, an education start-up with a database of more than 400 schools preparing Chinese students for overseas high schools and colleges.
Among 838 respondents, the survey found that worries about the pandemic (82.6 per cent) and possible discrimination due to political tensions (60.9 per cent) were the top reasons for the postponements, followed by personal financial difficulties (43.5 per cent) and the fading advantages for overseas-trained talent in the domestic job market (21.7 per cent).
When all is said and done, the pandemic and increasingly rigorous visa checks could end China's overseas schooling boom end much earlier than expected, according to Cao Huiying, founder of Babazhenbang.
"A lot of parents, especially among those middle-class families in second- and third-tier cities in China, have reconsidered and put their children back into the domestic education system," she said.
Liu Shengjun, head of the China Financial Reform Institute, a Shanghai-based research firm, also pointed to the combination of factors leading to a rethink about overseas education options for Chinese families.
"Under the impact of the epidemic and the deterioration of Sino-US relations, which may last for years, there is expected to be a decline in both the number of Chinese students studying overseas and Chinese shopping abroad," Liu said. "But the size of the decline cannot be predicted at this time.
"I think this trend will contribute to China's domestic education market, but not sufficiently enough to offset weak domestic spending."
According to a 2017 report by Union Pay International, Chinese students abroad spent more than 380 billion yuan (US$55.7 billion) annually — 80 per cent of which was on tuition and daily expenses.
Public concern among wealthy and middle-class mainland Chinese increased after the US confirmed last month that it had
revoked more than 1,000 visas
held by Chinese graduate students and research scholars. Escalating tensions between China and Australia have also fuelled concerns.
The two countries had been among the top overseas schooling destinations for Chinese students until recently.
"Last year, more than 90 per cent of our graduates applied only to American universities, while all graduates this year applied to more universities outside of the United States than American ones," said Lion Deng, a counsellor with the international department of the Affiliated High School of Guangzhou University.
"All parents think the current conflict between China and the US is a direct and intense head-on collision that cannot be resolved in the short-term. Risks such as visa checks, as well as political and diplomatic uncertainties, are very likely to affect [students'] lives in college. It will definitely have a big impact on curbing their desire to educate their children in the United States," Deng added.
"The number of students from our school applying for admission to high schools in the United States this year has dropped by 75 per cent compared with last year."
Jade Zheng, who owns several flats in Shenzhen and runs a cafe, originally planned to send her seven-year-old son to Canada for school next year or the year after, and she had hoped he would adapt to the Western environment at an early age.
"In March, we decided to keep him in Shenzhen to study until at least high school, and currently we are going to delay the plan until he is an undergraduate," she said. "The news is getting worse and worse, and we are feeling increasingly insecure, and [we feel] that things are getting out of control with regard to investing and living outside of China."
Zheng's brother and his wife sold their only apartment in 2018 and raised 5 million yuan (US$733,400) to send their son to high school and college in the US. "They were very happy back then but now are very worried about the safety of the 16-year-old boy," Zheng said. "Additionally, the apartment they sold is now worth 8 million yuan."
"Even if my son studies abroad, I hope he will return to Shenzhen to live in the future, because in the next 10 or 20 years, Shenzhen will definitely have more vitality and better prospects than any other areas, in terms of economic development," Zheng added. "Maybe it would be a good idea to just go to college in Shenzhen in the future."
Similar sentiment was echoed by Alice Chen, whose 18-year-old daughter started this autumn at a US Ivy League university but is studying remotely from Beijing due to the coronavirus.
"Our children born after 2000 are very different from us," Chen said. "They feel that New York and London are not much different than Beijing and Shanghai. And they are satisfied with China's economic development with a strong Chinese national identity."
For many rich Chinese families and their children who have no plans to stay in the US or to visit for an extended period in the future, negative sentiment in the US about China is no longer important to them, Chen said.
"Their generation believes that China's economy and society are better than most other countries," she said. "When a company or a country becomes very strong, it will definitely be contained by competitors."
This article appeared in the South China Morning Post print edition as: Mainland families rethink plans for foreign schooling