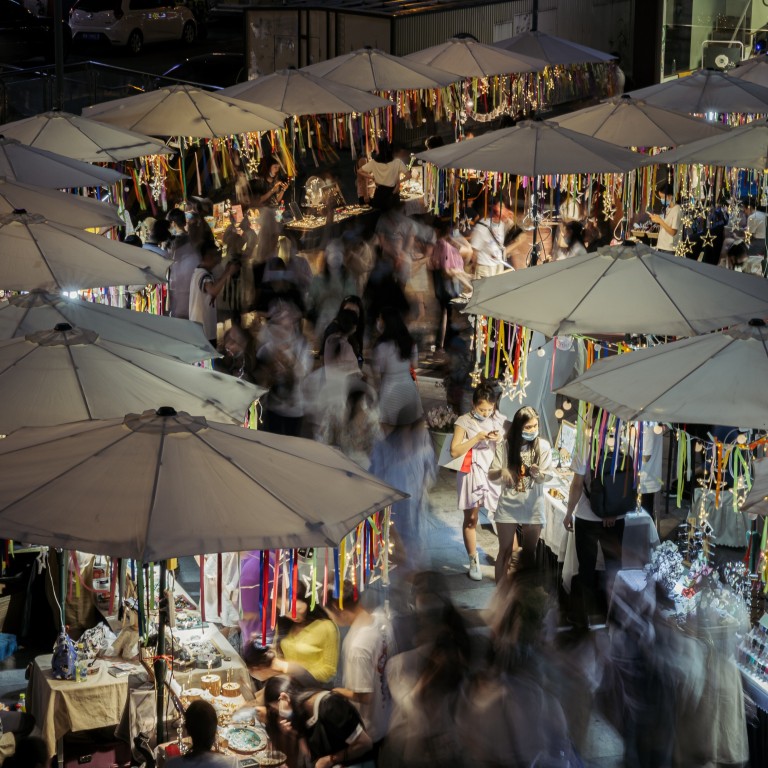 Will Chinese consumer spending catch up to support a broad economic recovery from coronavirus?
Rebound in retail sales and household consumption in China lags behind investment, production and exports, fanning concerns that a broader economic recovery could be unsustainable
Consumer spending accounted for 56 per cent of China's gross domestic product last year
Shoppers and diners have returned en masse to Chunxi Road, the busiest commercial pedestrian street in Chengdu, the capital of the southwestern Chinese province of Sichuan.
Outside a hotpot restaurant, hungry patrons are turned away in the middle of the working day as the wait for a table surpasses 30 minutes. "The slots have run out," the receptionist at Houtang repeatedly shouts at would-be walk-ins.
The scene stands in sharp contrast to the situation across the country in recent months, with coronavirus crackdowns taking a heavy toll on businesses' bottom lines.
Face masks are still mandatory at most indoor venues in Chengdu, but the impact of the pandemic is gradually fading. At Taikoo Li, an open-plan, lane-driven mall near Chunxi Road, consumers line up to get their body temperatures checked.
The return of shoppers and diners in the Chinese city, famous for its pandas, spicy food and laid-back lifestyle, offers hope that the world's second-biggest economy has put the coronavirus behind it, and that consumer spending – the weak link so far in the nation's post-coronavirus economic recovery – is catching up.
China looks to be the
only Group of 20 economy
to report positive economic growth for 2020, according to a recent forecast made by the Organisation for Economic Cooperation and Development. And the World Bank predicted this week that China's gross domestic product (GDP) is expected to rise 2 per cent in 2020 thanks to state-led spending.
But given that consumer spending accounted for about 56 per cent of China's GDP last year, the domestic economic outlook depends on whether consumers start reopening their wallets. In the first eight months of 2020, the rebound in retail sales and household consumption in China lagged behind investment, production and exports, fanning concerns that a broader economic recovery could be unsustainable if incomes and consumer spending fail to return to pre-coronavirus levels.
However, as the central government has moved quickly to quell new clusters of Covid-19 and reopen the service industry – from cinemas across the country to Beijing's
Xinfadi wholesale food market
where the coronavirus was found in June – there are signs that domestic consumer spending is recovering.
"Demand for discretionary purchases, as well as services consumption, should continue to improve due to higher consumer confidence … and some recovery in income," HSBC economists Shanshan Song and Erin Xin wrote in a recent note.
Preliminary indicators of Chinese consumer spending paint a relatively rosy picture. Car sales by volume rose 12 per cent in the first 20 days of September from a year earlier, according to data from the China Passenger Car Association. Cinema box office revenue in September also rose thanks to theatre reopenings and new blockbuster hits such as The Eight Hundred.
Premier Li Keqiang said this week that the number of registered businesses in the country has been rising steadily since April, after declining in February and March.
"In the first eight months, on average, China added about 12,000 businesses every single day," Li said, according to the official Xinhua news agency.
The central government, which is refraining from giving cash handouts directly to households, is exploring various options to encourage consumer spending, such as by offering free tickets to tourism hotspots and consumer coupons to boost sales. The Ministry of Commerce, for instance, is promoting a "China Consumption Promotion Month", from September 8 to October 8, by organising sales activities across the country.
Chengdu has been among the most aggressive in boosting local consumption by encouraging its "nighttime economy" and street vending, as authorities say the city has been coronavirus free since March.
China's National Day and Mid-Autumn Festival holiday period, from October 1-8, offers another chance for the government to gauge the country's consumer spending potential.
Although China's retail sales – a barometer of consumer spending – rose only 0.5 per cent in August compared with a year earlier, after contracting in each of the previous seven months, economists are expecting sales growth to accelerate in the coming months.
China's statistics agency is due to release data on September's retail sales performance, as well as overall economic growth for the third quarter, on October 19.
Meanwhile, it is too early to declare a full and complete recovery in China, since many low-income groups – including many of the country's 290 million migrant workers – were hit hard by the economic slowdown, according to some economists.
"A full economic recovery [in China] remains distant, especially as it relates to consumption," economists led by Lu Ting at Nomura recently wrote in a note. The Japanese investment bank estimated that China would see a 3 per cent rise in retail sales in September, year on year, but noted that the growth would be "still well below the average growth pace in 2019".
Last year, China's retail sales rose 8 per cent compared with 2018.
This article appeared in the South China Morning Post print edition as: mainland outlook rests on consumers spending again