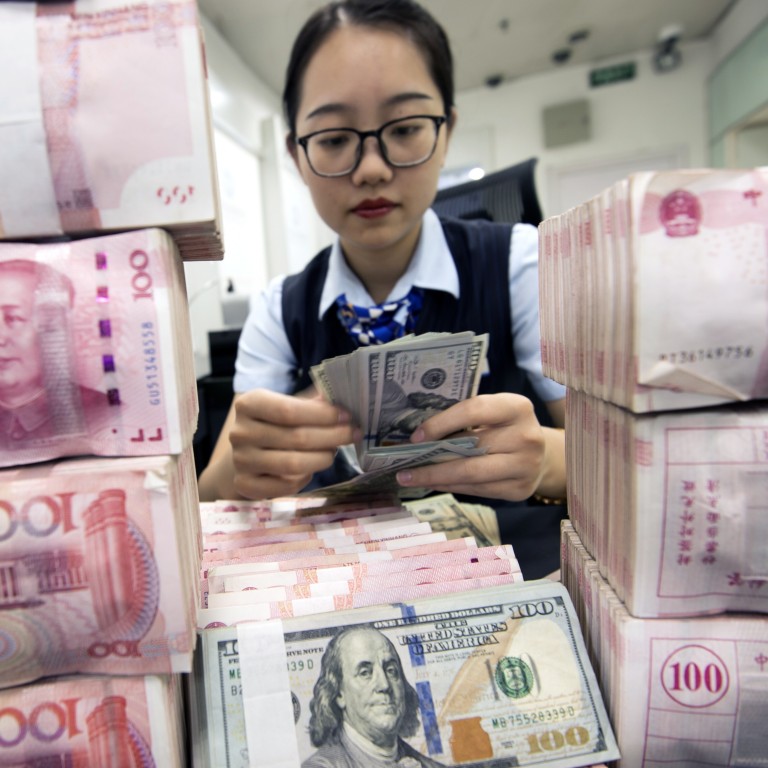 Explainer

|
What does China's September loan data mean for the economy and the yuan?
Banks in China extended 1.9 trillion yuan (US$283 billion) in new yuan loans in September, up from 1.28 trillion yuan in August
China is projected to be the only Group of 20 nation to record positive economic growth in 2020, according to the International Monetary Fund
China's central bank published its monthly money supply and bank lending data on Wednesday, showing the People's Bank of China's efforts to walk a delicate balance between facilitating an economic recovery and avoiding excessive stimulus.
What was September's monetary and credit data, and why does it matter?
Banks in China extended 1.9 trillion yuan (US$283 billion) in new yuan loans in September, with banks having been instructed to help the "real economy" hit by coronavirus.
The amount of loans in September marked a significant increase from 1.28 trillion yuan in August and 1.69 trillion yuan from a year earlier.
Aggregate financing, which measures fund flows from the financial sector to non-financial sectors in forms of loans, bonds and trust investment plans, amounted to 3.48 trillion yuan last month, only slightly lower than August's figure of 3.58 trillion yuan.
China's broad money supply of M2 expanded 10.9 per cent last month.
These figures combine to paint a broad picture of how easy or difficult it is for Chinese companies, households and local governments to obtain credit support.
Why is China's central bank not being as aggressive as its peers?
Beijing has learned its lesson about excessive monetary easing from the global financial crisis in 2008 when a massive amount of money was unleashed into hands of local governments and state enterprises, resulting in a mountain of debt.
For now, China's economic recovery from the impact of the coronavirus is the strongest among major economies.
On Tuesday, the
International Monetary Fund
revised up China's 2020 gross domestic product growth projection to 1.9 per cent, making it the only economy among Group of 20 nations expected to report positive growth in 2020.
China's central bank governor Yi Gang also wrote in an article this month that China will keep its monetary policy normal and not follow the aggressive actions employed by the likes of the US Federal Reserve and the European Central Bank.
What does China's latest loan data mean for investors?
If China's central bank is disciplined in handing out money while other banks are adopting monetary easing, it means the yuan appreciation against other currencies, including the US dollar, is likely to continue.
An appreciating yuan, despite the lack of full convertibility, could lure capital inflows into yuan assets, and Beijing has been taking measures to encourage such portfolio inflows.
At the same time, China's central bank has signalled that it does not want sharp yuan appreciation and removed the required 20 per cent reserves for US dollar purchases in the derivative market, putting a brake on the yuan rally after it gained around 4 per cent against the US dollar in the third quarter.
What was said about China's September loan data?
"Broad credit growth hit is highest level in nearly three years as growth in direct financing and shadow credit picked up amid stable bank loan growth. We think this acceleration should continue until early next year," said Julian Evans-Pritchard, senior China economist at Capital Economics.
"We expect credit growth to remain strong in the near-term. Admittedly, net new lending is likely to slow in the coming months given that quantitative controls on bank lending are being tightened. But with improving sentiment boosting bond and equity issuance among private firms, lending should remain strong enough to keep growth in outstanding credit rising until the turn of the year."
What else is China's central bank doing?
The central bank is speeding up the process for launching the country's
sovereign digital currency.
A pilot programme is currently under way in Shenzhen, with 50,000 digital 'red packets', each containing 200 yuan (US$30), distributed on Monday to be spent this week at participating outlets.