Asean
Get more with myNEWS
A personalised news feed of stories that matter to you
Learn more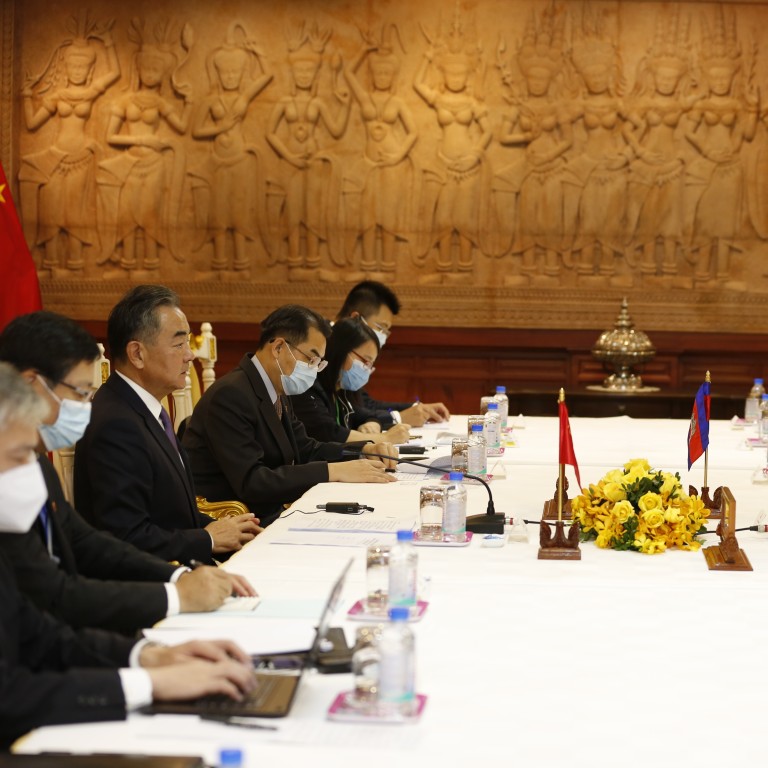 China-Cambodia free trade deal highlights Beijing's push for economic influence in Southeast Asia
Cambodia, which is among Asia's poorest countries, has been an important ally to China in recent years, but trade volume between the two is relatively small
New trade pact between Beijing and Phnom Penh came together in less than a year without 'much political interference'
The relatively speedy free trade deal that China sealed with Cambodia this week to cut tariffs and boost investment highlights Beijing's intention to strengthen its economic influence among Asean members amid a growing rivalry with the United States in the region.
However, the full scope of the trade pact, put together in less than a year, has not yet been unveiled.
China already has existing trade agreements with the 10-member Association of Southeast Asian Nations, which includes Cambodia. And many of China's and Cambodia's exports have already been tariff-free as a result of the 2010 Asean-China Free Trade Area agreement.
The Ministry of Commerce said on Monday that China will extend its zero-tariff policy to 97.53 per cent of imported goods from Cambodia, while Cambodia will not impose tariffs on 90 per cent of all Chinese imports.
The negotiations have been under way since December after the European Union, a major market for Cambodian products, suspended some of Cambodia's special trade preferences as punishment for human rights violations.
The new pact was agreed to so quickly because the trade volume between China and Cambodia is relatively small, said Xu Liping, director of the Centre of Southeast Asian Studies at the Chinese Academy of Social Sciences, a think tank affiliated with the State Council. Total trade between the two countries grew 27.7 per cent from 2018 to US$9.43 billion in 2019, according to figures from China's Ministry of Commerce.
"When it comes to trade deal negotiations, it's not just about commerce – political issues are also very important," Xu said. "The trade talks between China and Cambodia didn't have much political interference – this is why the deal could be achieved quickly."
Despite the economic downturn brought by the coronavirus pandemic, for the first eight months this year, trade between China and Asean rose 3.8 per cent over the same period last year, hitting US$416.6 billion and making Asean China's biggest trading partner so far this year, according to the Ministry of Commerce.
As China and the US clash over a wide range of issues including trade, technological dominance and the South China Sea, pressure is mounting on Asean states to take sides, according to Xu.
The Chinese government's top diplomat, State Councillor Wang Yi, urged Asian countries on Tuesday to remain "vigilant" over the risk of US strategy stoking geopolitical competition in the South China Sea and other parts of the region.
Overlapping territorial claims in the South China Sea involve mainland China, Vietnam, the Philippines, Taiwan, Malaysia and Brunei, and the conflicts have gone unresolved for decades, with China maintaining sweeping claims of sovereignty over the sea and its resources.
The US has accused China of trying to build a "maritime empire" in the disputed waters, which Beijing has denied. Washington has also imposed sanctions on dozens of Chinese companies for helping Beijing advance its territorial claims.
"For Southeast Asia, it's hard to avoid being affected by the competition between China and the US," Xu said. "For Asean states, it's not beneficial to take sides. [They take] a balanced foreign policy strategy."
Xu said it is "unquestionable" that China's influence has been growing in Asean following years of rapid trade and economic development, but he said the US presence is still prominent in countries such as Cambodia, where the US dollar remains widely used.
"I don't think it's China's strategy to coerce Asean countries just to target the US," Xu said. "I think China will focus on the existing partnership.
"But in terms of responding to US measures in the region, I don't think it is necessary for China to retaliate. China will still focus on its projects and its policies."
Additional reporting by Reuters