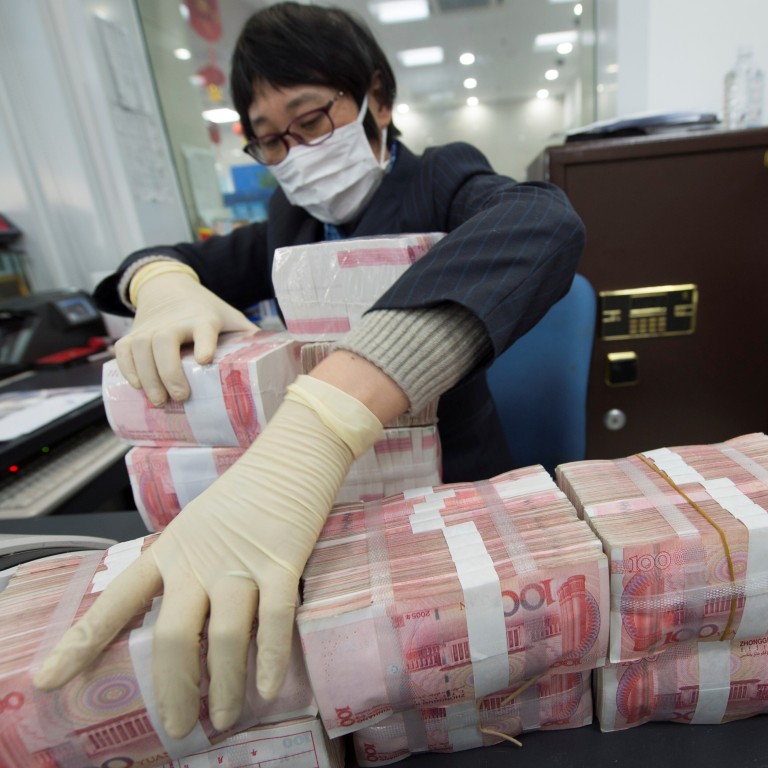 China 'unsurprisingly' keeps loan prime rate steady for sixth straight month amid economic recovery
The one-year loan prime rate (LPR) was kept unchanged at 3.85 per cent, while the five-year LPR remained at 4.65 per cent – as widely expected by the market
Official data on Monday showed China's economic recovery accelerated in the third quarter as consumers shook off their coronavirus caution
China kept its benchmark lending rate for corporate and household loans steady for the sixth straight month at its October fixing on Tuesday, encouraged by an extended recovery in the world's second-largest economy from the coronavirus shock.
The one-year loan prime rate (LPR) was kept
unchanged at 3.85 per cent,
while the five-year LPR remained at 4.65 per cent – as widely expected by the market.
Most new and outstanding loans are based on the LPR, while the five-year rate influences the pricing of mortgages.
Twenty-five out of 28 traders and analysts, or nearly 90 per cent, in a snap Reuters poll had predicted no change to either the one-year or the five-year LPR.
The rate decision came after the People's Bank of China (PBOC) kept borrowing costs on the medium-term lending facility (MLF) unchanged for the sixth month in a row last week.
The MLF, one of the PBOC's main tools in managing longer-term liquidity in the banking system, serves as a guide for the LPR.
Recent data pointed to improving economic fundamentals. Official data on Monday showed
China's economic recovery
accelerated in the third quarter as consumers shook off their coronavirus caution.
The LPR is a lending reference rate set monthly by 18 banks. The PBOC revamped the mechanism to price LPR in August 2019, loosely pegging it to the MLF rate.
"It is not surprising that the LPR was left unchanged since the PBOC had not adjusted the rate on its medium-term lending facility this month as it did ahead of the past three LPR moves," said Julian Evans-Pritchard, senior China economist at Capital Economics.
"Economic growth continued to accelerate going into quarter four, with the recovery broadening out and becoming less reliant on investment-led
stimulus.
Given that fiscal policy is set to remain supportive until at least the start of next year, the PBOC appears to see little need for further rate declines and has instead shifted its focus back to containing financial risks.
"We think the next move in the LPR will likely be an increase. But the PBOC will probably wait until early next year and room to push up rates will be limited by a strengthening renminbi and the withdrawal of fiscal support."