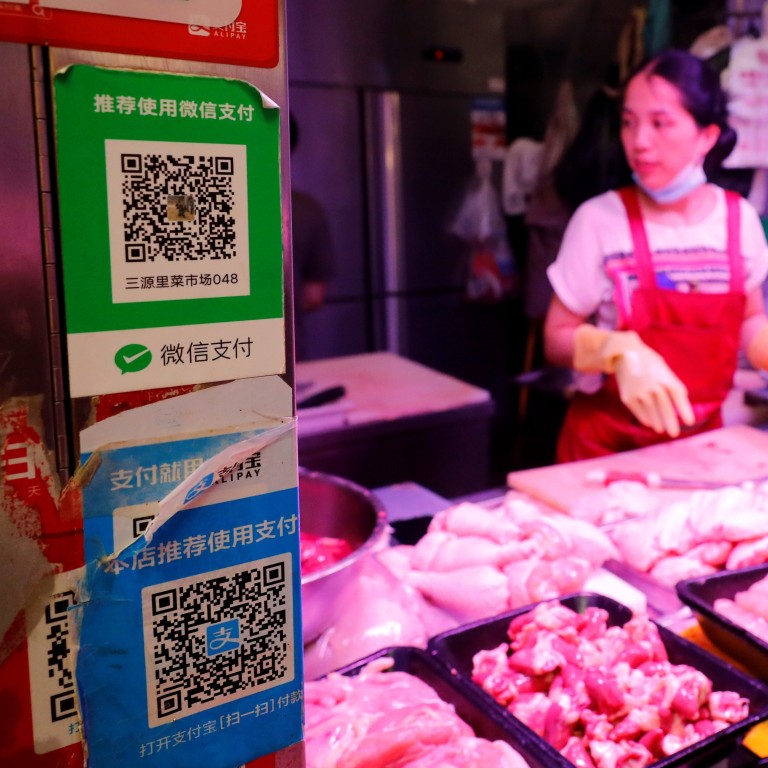 China digital currency: Shenzhen consumers spend 8.8 million yuan in largest trial of digital yuan
Over 47,000 consumers in the Luohu district of Shenzhen spent 8.8 million yuan (US$1.3 million) during a week-long trial of China's sovereign digital currency
A total of 1.9 million applicants had applied for 50,000 digital 'red packets' each containing 200 yuan (US$30), with 62,000 transactions taking place overall
China's largest test of its sovereign digital currency ended with 8.8 million yuan (US$1.3 million) being spent in over 62,000 transactions during the week-long trial in Shenzhen.
The Shenzhen government confirmed 47,573 people from the 50,000 selected by lottery received the digital 'red packets', each containing 200 yuan (US$30), after a total of
1.9 million residents
applied to take part in the 10 million yuan (US$1.49 million) giveaway.
In total, 62,788 transactions were made at the 3,389 designated shops in the Luohu district of the city last week.
"I received a text message every day urging me to spend the red packet before the trial deadline, so I spent the entire 200 yuan in a department store last Friday," said one female user on Weibo, China's answer to Twitter.
A total of 901,000 yuan of additional credit was also transferred into the official Digital Renminbi app, which is not yet available to the public, with users still able to use any of the extra funds they added to their accounts at the designated shops even though the trial has finished.
More than 110 petrol stations in Shenzhen will also be able to process payments made in the digital currency later this month, according to the state-backed 21st Century Business Herald newspaper.
The sovereign digital currency is entering an already very crowded payments market in China, with smartphone apps WeChat Pay and Alipay already dominating the electronic payments sector.
"There is not much difference compared to WeChat Pay and Alipay when I pay with this [digital currency] app, but I feel the digital currency is more reliable and much safer, and I look forward to more features with this app in the future," according to another Weibo post, with the participant saying she spent the money in a hotpot restaurant.
Businesses reported minimal differences in processing payments with the digital currency compared to existing mobile payment products, according to reports by Chinese media, although they did note that it does not cost them an additional service fee unlike both WeChat Pay and Alipay.
Huang Yiping, a professor of economics at Peking University, said there is a fundamental difference between the sovereign digital currency and existing mobile payment services, such as WeChat Pay and Alipay, as there is "zero cost" when making payments via the digital yuan and they can be made without connecting to the internet.
Huang also said, in a recent interview with the state-backed China National Radio, that the digital yuan will definitely overlap with the existing mobile payment providers, or even replace them to a certain extent.
The Chinese sovereign digital currency, known as
Digital Currency Electronic Payment,
has been in the works for several years, with several trials already taking place in four cities, namely Suzhou, Shenzhen, Chengdu and Xiongan, as well as at the venues for the 2022 Winter Olympic Games in Beijing.
A total of 3.13 million transactions in the sovereign digital currency had been processed before the Shenzhen trial, according to Fan Yifei, deputy governor at the People's Bank of China.
This article appeared in the South China Morning Post print edition as: Shenzhen residents spend 8.8m yuan in trial project