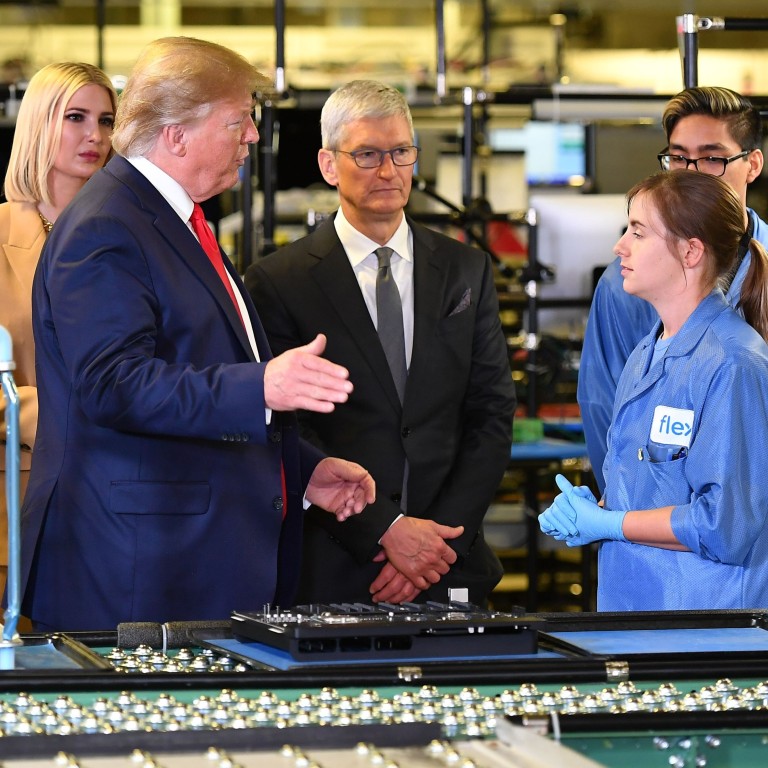 US-China tech war: can Washington take a leaf out of Beijing's plans on strategic technologies?
Analysts say the Trump administration's new strategic plan reads like a wish list to maintain American advantages in the face of mounting competition from China
Washington's unhappiness with China in the technology sector is laid bare in new strategy, but document offers no concrete plans to achieve the desired results
The White House has published a National Strategy for Critical and Emerging Technologies as a road map to ensure that the United States protects its "technology advantage" across a wide range of fields, from artificial intelligence (AI) to quantum information, in the face of challenges from China and Russia.
But analysts say the US strategy, which includes 11 pages of generalised statements, is more of a wish list from the Trump administration to maintain American advantages. And they say this reflects Washington's increasing uneasiness with Beijing's drive to boost
home-grown technological innovation
, rather than serve as a concrete plan like those introduced by Beijing that mention specific targets, detailed project lists and massive government funding.
Andy Mok, senior research fellow at the Centre for China and Globalisation, a Beijing think tank, said the new strategy was unsurprising given the recognition from the US that China has become a "strategic competitor", in particular with technology being the main sector of competition.
"The question is, to what degree is the government structured and able to actually implement it? Structurally, China can do these kinds of things because it's a single-party authoritarian system, but the US is actually designed to prevent this kind of top-down policy implementation," Mok said, adding that, "It's a bad way to try to win any competition by trying to copy what your competitors are doing."
The 20 "critical and emerging technologies" defined by Washington in the strategy published last week include advanced manufacturing, autonomous systems and human-machine interfaces, overlapping with Beijing's list of "new and emerging technologies" for which China is mobilising resources to seek a global edge. President Xi Jinping urged the country last week to make progress on quantum technologies and to "make the first moves" in key technology areas.
Washington has been accusing China of stealing American technologies. In its new strategy, the White House said: "China is not only dedicating large amounts of resources in its pursuit to become the global leader in science and technology. It is also targeting sources of United States and allied strength."
The document further criticised China for "promoting authoritarian practices that run counter to democratic values".
At the same time, while Washington's unhappiness with China in the technology sector is laid bare, the strategy offers no concrete action plans to achieve the desired results. For instance, key actions recommended by the White House to "promote the national security innovation base" include "attract and retain investors and innovators", "leverage private capital and expertise to build and innovate", and "encourage public-private partnership", to name just a few.
And to "protect [the US'] technology advantage", the recommended actions include ensuring "that competitors do not use illicit means to acquire US intellectual property, research, development and technologies".
Richard Upchurch, Asia and US policy manager at Access Partnership, a public policy consultancy, said many of the goals listed by the White House are not new but are existing efforts or commitments by the US government. The Trump administration has reiterated them in a national strategy to reinforce their importance and to seek greater government coordination in carrying them out, Upchurch said.
Calling for the need to take the lead in the development of technology norms, standards and governance models is not new, either, but it is an area in which the Trump administration has been less active than previous administrations.
"The action that calls for building tech partnerships with allies and promoting democratic values and principles reflects the Trump administration's increasingly aggressive efforts to persuade allies to ban Huawei and keep their communication networks free from Chinese influence," Upchurch said.
Upchurch said the US strategy is not as robust nor as detailed as China's, as the US government has to rely on the market to deliver, while China's plans feature more details as the country relies heavily on state subsidies and promotes state ownership and control.
The strategies have different purposes as well, with the US document "aimed in large part at protecting American technology from exploitation by China and Russia, while promoting democratic values and principles", whereas the Chinese plans are aimed at "advancing China's national development goals and global economic position with specific goals and objectives".
In a statement following the report, White House press secretary Kayleigh McEnany said that the US "will not turn a blind eye to the tactics of countries like China and Russia, which steal technology, coerce companies into handing over intellectual property, undercut free and fair markets, and surreptitiously divert emerging civilian technologies to build up their militaries".
With its AI plan, released in 2017, China set out a goal to be the world leader in the field by 2030 after catching up with the US on AI technology and applications by this year.
Wang Yong, an associate professor of economics at Peking University, said the US is trying to "suppress" China's advancement, out of geopolitical concerns.
"Any country has the right to pursue industrial modernisation, and that pursuit shall not be blamed nor deprived," Wang said.
This article appeared in the South China Morning Post print edition as: US strategic plan aims at protecting lead in technology