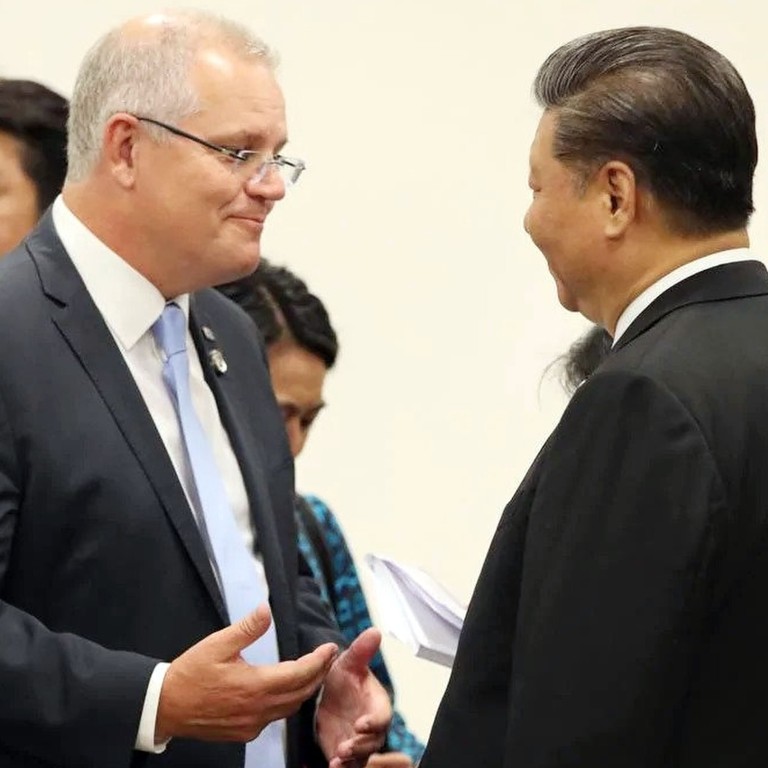 Explainer

|
What happened over the first year of the China-Australia trade dispute?
China has targeted Australian barley, beef, wine, coal and cotton since Australia led calls for international inquiry into origins of the coronavirus in April 2020
Two-way trade between China and Australia is worth around A$240 billion (US$171 billion), while China buys around 39 per cent of Australia's merchandise exports
Click here for a new version of our China-Australia relations explainer, marking the one-year anniversary of the trade dispute. 
What is happening between China and Australia?
The dispute also spread to other areas, with both countries warning their citizens about travelling to the other country. China warned about studying in and visiting Australia due to alleged rising racism and discrimination against people with Chinese and Asian ethnicities, while Australia warned its citizens about arbitrary detention in China.
China also visited two Australian citizens in Beijing and Shanghai in September for questioning, while Australia raided the homes of Chinese journalists in Sydney during an alleged foreign interference investigation into a local politician and cancelled their visas.
No formal notice on the bans was issued by the Chinese government, and most traders heard the news from their agents, brokers and local commerce chambers and customs consultants.
Trade in these products has since ground to a halt with many orders cancelled.
Why is the relationship between China and Australia important?
The two-way trade between the countries is worth around A$240 billion (US$171 billion), while China buys around 39 per cent of Australia's merchandise exports, including iron ore.
China buys just over 80 per cent of Australia's iron ore, while Australian iron ore makes up 60 per cent of China's supply. The value of that supply is likely to hit A$80 billion in 2020.
How did tensions between China and Australia escalate?
China and Australia have been locked in a heightened geopolitical dispute since April 2020 after Australia pushed for an international inquiry into the origins of the coronavirus. Australian media reports indicated Australia Prime Minister Morrison wrote to Group of 20 leaders to galvanise support for the probe. The push came after a phone call between Morrison and US President Donald Trump and just after evidence emerged Chinese authorities initially covered up the existence of the virus.
Australia also did not consult China about plans for the inquiry before pursuing it internationally, which offended the Chinese government, according to a speech made in August 2020 by Wang Xining, the deputy head of mission of China's embassy in Australia.
Soon after the call for an inquiry, when asked if that would result in any consequences to Australia, China's ambassador to Australia, Cheng Jingye, said the Chinese public might think twice about visiting Australia or buying its products.
How did China react?
While the duty and investigation were in line with World Trade Organization (WTO) rules, lawyers said the duty could have been lower. Australia responded to the outcome of the investigation by saying Australian farmers were among the least subsidised in the world.
In June 2020, more friction ensued when China warned its citizens against visiting and pursuing their studies in Australia due to rising racism and discrimination against people with Chinese and Asian ethnicities. Chinese tourists and students are the biggest contributors to the Australian tourism and international student sectors.
What do the tariffs on Australian barley exports mean?
China is Australia's largest barley export market, buying around 70 per cent of Australian barley.
Between 2014–15 and 2018–19, Australia sold an average of around A$1.2 billion (US$855 million) of barley to China a year.
The diverted Australian barley trade after the imposition of the duties will result in a A$750 million (US$534 million) fall in the average Australian barley exports due to lower selling prices, according to Australian Bureau of Agricultural and Resource Economics and Sciences, with China seen as a premium market for Australian barley.
What do the bans on Australian beef exports mean?
China is Australia's number one market for beef by volume, accounting for around 25 per cent of Australia's total beef exports.
In 2019, Australia exported about 300,000 tonnes of beef to China, worth A$2.67 billion (US$1.9 billion).
The four banned abattoirs banned in May 2020 were major producers of beef and are said to have accounted for around 35 per cent of beef exports to China.
Queensland abattoir John Dee was also blocked from sending beef to China in August 2020 due to excessive levels of chloramphenicol in its products, according to Chinese authorities.
Did Australia respond?
Australia disagreed it had dumped cheap barley in China, saying it would seek resolution at the WTO. It also said it was helping the beef industry to investigate and discuss the bans and denied the accusations of racism.
Was there an ensuing trade war?
In trade terms, Australia did not respond with any specific sanctions against China, so a "formal trade war" did not take place.
After duties were imposed on barley, Australian agriculture minister David Littleproud put to bed the idea of a "war" because other exports, such as iron ore, continued to go from strength to strength.
Did the tensions between China and Australia stop there?
Imposing the temporary duties ahead of the conclusion of the anti-dumping investigation due to finish in August 2021, the commerce ministry said "there is a causal relationship between [wine] dumping and material damage".
The Chinese commerce ministry asked for duties to be collected starting from November 28, 2020, as security deposits, in line with WTO rules. 
What does the investigation into Australian wine exports mean?
China imports nearly 40 per cent of Australia's wine exports worth around A$1 billion (US$712 million) a year. The Chinese wine industry is pitching for a duty of 202.7 per cent to cover losses, a tax that could effectively "close the market", according to many Australian winemakers.
But under the temporary anti-dumping measures announced in November, those not specifically listed will have to pay an interim duty of 212.1 per cent. Casella Wines, known for its well-known label in China and Asia, Yellow Tail, will face a 160.2 per cent duty, while Accolade Wines, owner of Hardys Wines, will face a 160.6 per cent levy. Other well-known wine exporters such as Australian Vintage and Brown Brothers will face roughly the same duty.
This was increased to total temporary duties of up to 218.5 per cent in December 2020after the Chinese Ministry of Commerce imposed temporary countervailing duties on Australian wine on top of the provisional anti-dumping duties 
Did Australia and China try to call a truce?
Then Australia trade minister Birmingham did not speak directly with his Chinese counterpart, minister for commerce Zhong Shan, since the trade sanctions started in May 2020.
In general, diplomatic relations between the two countries have nosedived in the past five years. What occurred in April was triggered by the coronavirus outbreak, but before that, China and Australia had been at loggerheads.
This particularly focused on alleged Chinese foreign interference in Australia, with many people, particularly Chinese Australians in public service, accused of having links to the Chinese Communist Party.
China revealed its displeasure with Australia in November 2020 - nearly eight months after the conflict started - with the "release" of a list of 14 grievances to Australian media outlets, saying the actions by Australia had "poisoned" bilateral relations.
The grievances extended to as far back as five years ago, when the relationship between the two parties began to sour. Then, Australia began to visibly reinforce its alliance with the US, while China faced strong international criticisms for its aggression over territorial disputes in the South China Sea.
All this prompted Australian Prime Minister Morrison to take a stronger stance saying it would not give ground to any of the grievances and trade away Australia's values.
What else has been happening between China and Australia since April?
Birtles and Smith left China over fear of being detained after unannounced visits by Chinese state security officers.
Were any more trade or products blocked between China and Australia?
What does the 'block' on Australian coal exports mean?
So far, as the "block" on coal is not formal, the Australian government is still trying to confirm its existence.
There has, however, been evidence of Chinese buyers turning away Australian iron ore orders including those already at sea, while mining giant BHP confirmed it had received "deferment requests" for its coal shipments.
Instead Russia and Indonesia are likely to benefit from the increased quotas, according to commodities analyst S&P Global Platts.
What does the 'block' on Australian cotton exports mean?
Like coal, the "block" on cotton exports is also verbal and is still being investigated by the Australian government.
Will China ever target Australian iron ore?
There is no guarantee in this tit-for-tat rally between the two countries despite how much they need each other, especially for the supply of iron ore.
A big clue about whether China will target Australian iron ore can be gleaned from the state-run , which said in June 2020 that despite the rapid deterioration of China-Australia relations "some observers believe that Beijing is unlikely to target Australian iron ore exports due to China's heavy dependence on this imported commodity".
Analysts such as S&P Global are of the view that Australia will continue to supply most of the iron ore that China needs even if trade tensions between the two countries intensify.
Former Singaporean diplomat Kishore Mahbubani, who studied China in his book , said in September that he was not fully convinced China would spare Australian iron ore imports.
An analysis by Goldman Sachs said, however, both sides were too reliant on the trade to give it up.
China relies heavily on Australia's iron ore which accounts for around 60 per cent of its imports, while Australia sells 80 per cent of its iron ore to China.
But if China were to solely buy iron ore from non-Australian producers, it could only get around 56 per cent of its current import volume, Goldman Sachs said.
Want to know more?