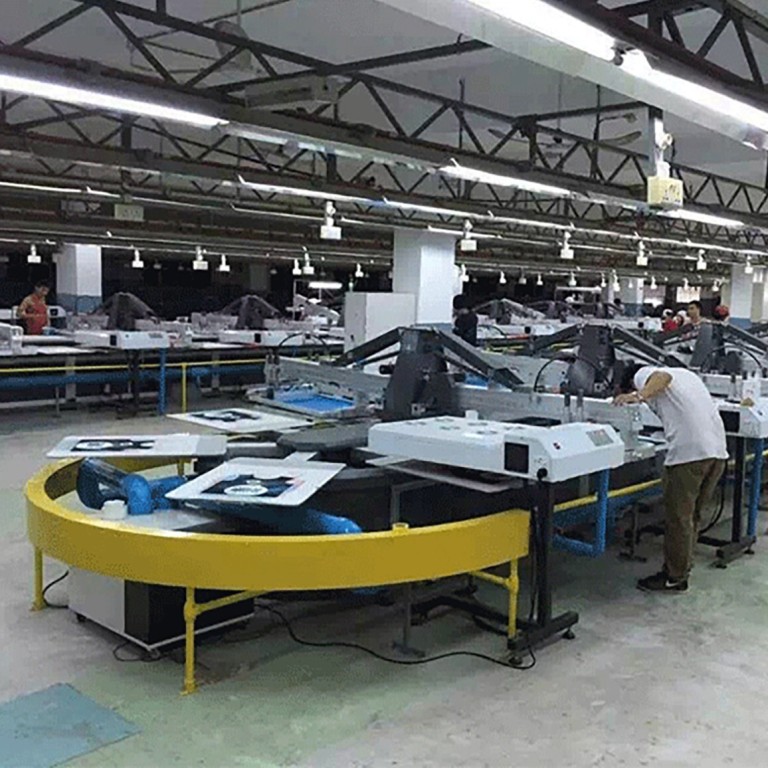 China's manufacturers embrace 'smart shops' to address rapidly changing, and increasingly pickier, consumer tastes
Hi-tech digital garment printers are helping some industry players churn out a wider variety of clothing options on demand
Inkjet printing technology also replaces the traditional method of dyeing fabric with harsh chemicals – a major source of water and soil pollution in China for decades
Digital garment printers are helping China's clothing manufacturers meet the demands of fickle young consumers who want it all in the era of internet shopping: unique designs, fast delivery and low prices.
Cntop, a subsidiary of the Hanglory Group in Shenzhen, is one such company making these printers. The devices are becoming increasingly indispensable in today's garment value chain, as rapid printing helps clothing manufacturers respond to sudden changes in demand, with a garment's design and colours determining whether consumers will buy it.
But the market for industrial printing equipment in China is a tough one – many
clothing and garment factories
across the country are small producers that cannot afford the hi-tech devices, which can cost up to a million yuan (US$149,000).
Meanwhile, the average order size is gradually shrinking for Chinese garment producers – a T-shirt factory may need to produce thousands of designs every year to test the market, and each design may result in a few hundred pieces, or even just a few dozen. Gone are the days when a factory could churn out shipping containers full of the same design.
Cntop, which was incorporated in 2016 by its parent company, a business created by a former Huawei Technologies engineer, is trying to capitalise on this shift from mass production to a new mode of faster and more flexible manufacturing.
To that end, Cntop is investing heavily in a new project with the aim of becoming a printing hub for thousands, if not tens of thousands, of clients. Stephen Zhang, the company's general manager, told the Post during a recent visit to his factory that Cntop has connected 10 digital printers to a "digitalised" production scheme on a new platform called Xunxi, which translates to "fast rhino". The platform was developed by Alibaba, and the factory eventually plans to increase the number of printers connected to the system to 300.
Alibaba, which owns the South China Morning Post, unveiled the Xunxi platform and a few model factories last month. Similar to Tmall, which provides an online platform for Chinese retailers, the Xunxi platform links factories to a system in which sales data can be instantly translated into production orders.
In an ideal scenario, for instance, every sale of a jacket in an online store automatically triggers orders to the factory – from the sewing workshop where the base garment is prepared, to Zhang's centre where the desired design and colours are printed.
The Alibaba initiative, in turn, is the latest development in a massive and ongoing process that aims to turn China's factories into clean, intelligent and connected producers. And an army of third-party companies, including Black Lake Technologies in Shanghai and Inovance Technology in Shenzhen, are emerging to help traditional manufacturers better adapt to business in the e-commerce era.
Local governments in
China's traditional manufacturing hubs
are rushing to roll out plans to encourage smart production, with generous fiscal subsidies doled out for key projects. A three-year plan released by the Suzhou municipal government for 2020-2022, for instance, says smart-production experts from across the country will be invited to draft proposals to upgrade at least 20 factories and 300 workshops each year in Suzhou, located west of Shanghai.
China's inland province of Shaanxi also said in a plan released earlier this year that it wants to develop "100 intelligent manufacturing models" by 2022 and then take what it learns from that initiative to upgrade other manufacturers in the province.
Considerable effort and investment go into making a factory "smart" by connecting it to the Xunxi platform, Zhang said. But it speaks to the future of Chinese manufacturing, offering an option that is more feasible than relocating a factory to a developing country in pursuit of cheaper land and labour costs, he said.
The factory floor at Cntop looks like a mechanical engineering lab at a hi-tech company in Shenzhen, with most employees being engineers and technicians.
"It's a question I've been thinking a lot about: 'What's the future for factories?'," Zhang said.
Traditional methods of production are increasingly difficult to sustain in China amid rising labour costs, growing inventories of unsold products, uncertainty in key export markets and fierce competition both at home and abroad. As the demands of Chinese consumers become more individualised, factories are under pressure to make more products at a faster pace.
Li Zhiguang, the founder of Guangzhou-based Looksee, which specialises in men's underwear, knows that Chinese consumers are picky. And he has created a thriving business by staying "innovative" to meet evolving consumer demands.
Li said that his company's 600,000 "VIP members" look to regularly update their wardrobes with the latest designs Li can offer.
"Many of them used to buy brands such as Calvin Klein, but we have won them over with innovation," Li said.
Embracing a broad-based supply chain, featuring multiple factories linked by technology, can help small shops and merchants rapidly turn their designs into products – with production runs as small as 100 pieces.
And this approach, Zhang said, also gives Chinese consumers an abundance of new options, creating demand that did not exist before.
Industry insiders say such changes could be the future in China's new inward-facing national strategy known as
dual circulation,
championed by President Xi Jinping to keep China's economic engine running.
And there are other positive side effects from these types of efforts to upgrade manufacturing across China.
The marrying of colours and patterns with cloth is an old trade, but the traditional method of dyeing fabric with harsh chemicals has been a major source of water and soil pollution in China for decades. Inkjet printing technology offers a much cleaner alternative.
Among all of the garments produced in China, about 10 per cent were made using inkjet equipment last year, up from 0.9 per cent in 2011, according to data from the China Dyeing and Printing Association.
Cntop's parent company has thrived amid the shift to digital printing devices. Founded in May 2012 with an investment of just 1 million yuan, Hanglory has grown into a major player in the industry, with 881 million yuan (US$131.4 million) worth of sales in 2019 and nearly 1,000 employees. The company says it has exported its printers to more than 60 overseas markets. In April, it floated shares on China's "STAR Market", a technology innovation board designed for upstart companies.
The ability of Chinese factories to remake themselves is one reason China is unlikely to lose its leading role in
global value chains
any time soon, despite efforts by Washington and some of its allies to sideline China in future global manufacturing, according to analysts.
China remains "the world's best manufacturer", and "any movement of supply chains out of China will be a gradual affair", Dan Wang, an analyst with economic research firm Gavekal, wrote in a recent note.
"Even if workers in Vietnam or India are cheaper than in China, they are not as productive because they are not embedded in the same ecosystem with high-quality infrastructure and [closer] proximity to suppliers," Wang said.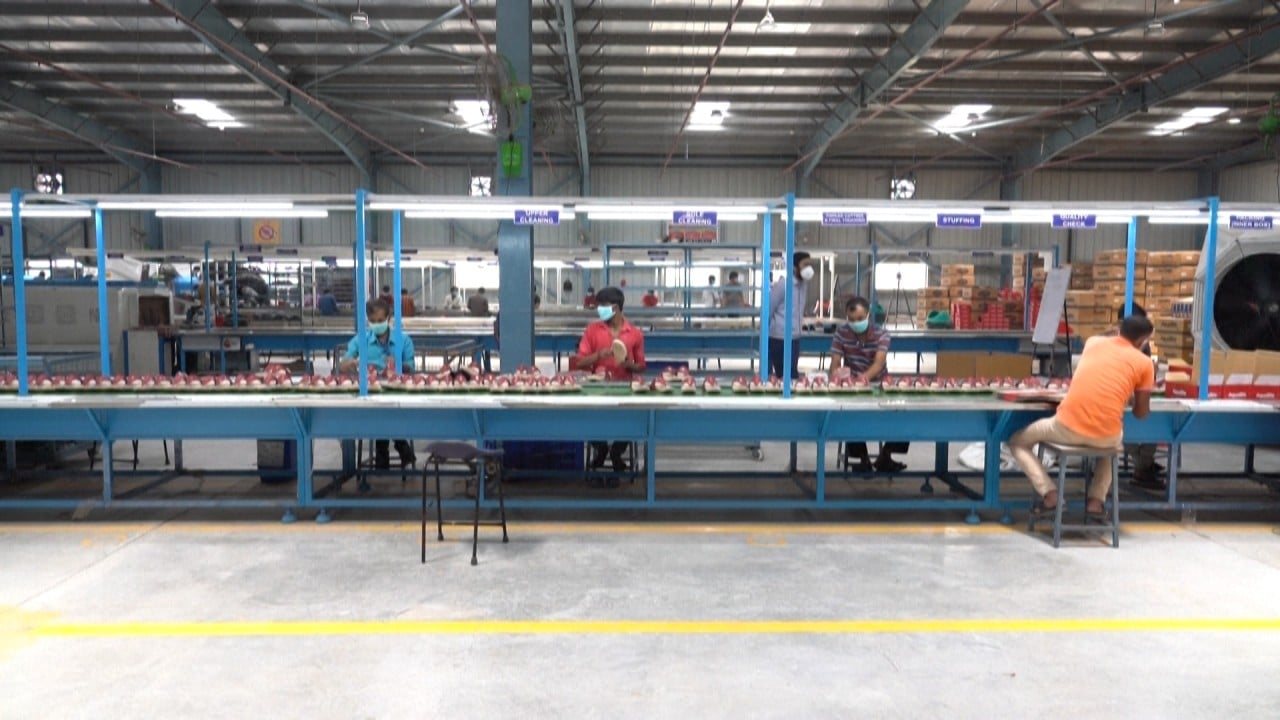 02:01
Indian factories struggle to reopen after coronavirus lockdowns because of a lack of workers
Indian factories struggle to reopen after coronavirus lockdowns because of a lack of workers
But at the same time, the upgrading of China's manufacturing landscape – its official statistics agency estimates that there are about 350,000 manufacturers in the country – looks to be uneven, with smaller, outdated players being phased out.
Liu Yi, the founder of an industry website trying to match fabric demand with suppliers, said that many small manufacturers will not have the resources to make their factories "smart" by connecting them to platforms such as Xunxi. After all, he said, it is much more complicated and costly to develop an intelligent production line than to open an online shop.
In addition, technology alone cannot solve excess supply problems caused by weak foreign demand, since the size of the domestic market is limited. "Don't overestimate the domestic market," Liu said.
"Clothing manufacturing is a labour-intensive industry employing several million people in China. For any factory to survive, it needs a steady stream of orders. Otherwise, it will not be possible to keep so many workers," Liu said. "Therein lies the value of foreign trade orders.
"In addition, we must still wait and see if new smart systems such as Xunxi AI will offer a proper level of profit to supplier factories, or merely add to their costs."
This article appeared in the South China Morning Post print edition as: Factories have designs on getting 'smart'