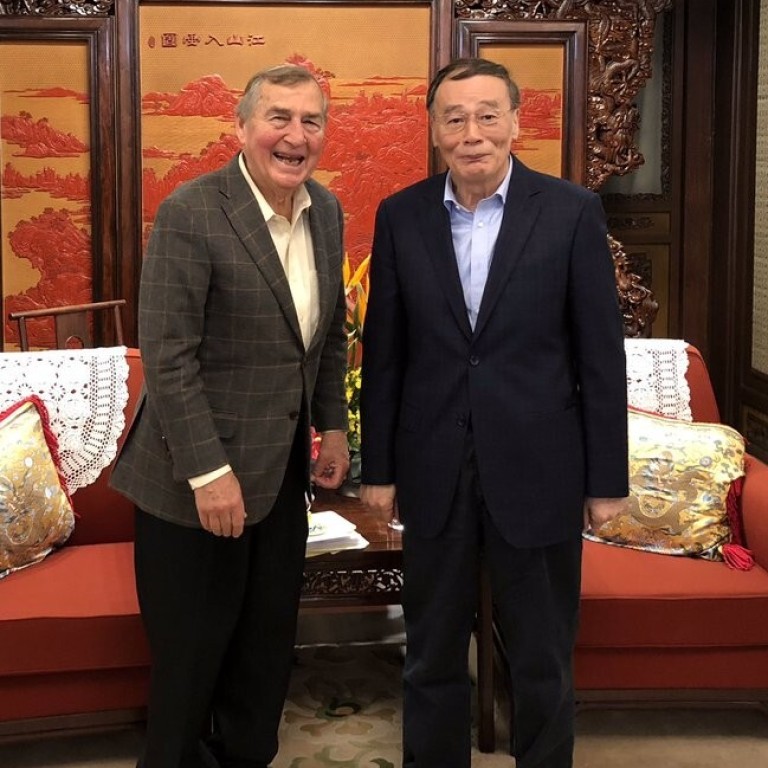 US-China relations: rivalry in early stage and will only get 'fiercer', Harvard professor Graham Allison says
China and the US have been locked in a trade war for over two years, with relations have been further soured over Hong Kong, Xinjiang and the South China Sea
Graham Allison wrote 'Destined for War: Can America and China Escape Thucydides' Trap?' and is the Douglas Dillon professor of government at Harvard Kennedy School
China's rivalry with the United States has only just started, and is only likely to get fiercer down the road regardless of who occupies the White House, said Harvard professor and author Graham Allison on Wednesday.
The world's largest economies have been locked in a
trade war
for over two years, with relations between Beijing and Washington have been further soured over issues including Hong Kong, Xinjiang and the South China Sea.
"There has been a rolling wake up in the US to the fact that China really has emerged as a rival in virtually every dimension," Allison told the Credit Suisse investor conference.
"[China] is ahead of the US in the economy, technology and military space. I would say we are in the early stages of a competition which will get fiercer and fiercer in rivalry."
Allison, who wrote Destined for War: Can America and China Escape Thucydides' Trap?, a book that explores the idea that when a rising power challenges an established one, it is likely to end up in military conflict.
The 80-year-old American has also been involved in US defence policy since working as an adviser to the Pentagon in the 1960s, while he is known as a frequent guest of top Chinese politicians, including Vice-President Wang Qishan and Vice-Premier Liu He.
This relationship went as far as Allison advising Liu, China's chief negotiator with the US, how to address the trade deficit complaints made by US President Donald Trump.
"I said to Liu He, this is an easy problem for you guys to fix. Why don't you just tell [Trump], we'll eliminate the bilateral trade deficit … and you could probably reach a deal with Trump to get it done by the end of the first term, and he'll drink it," Allison added.
"[Trump] would declare a great victory. And all you have to do is shift the purchases of stuff you are now buying from somewhere else."
But the deficit has remained stubbornly hard to narrow, even as China has sped up purchases of politically important American commodities such as soybeans, pork and corn.
Allison, though, said cooperation and competition could coexist between the US and China, just like Samsung is Apple's primary supplier even though the two are rivals.
Allison said a Joe Biden presidency would mean the US would unlikely push its Asian partners to choose sides between Beijing and Washington. Trump had quit the Trans-Pacific Partnership (TPP) because he said it was a "bad deal" for the US.