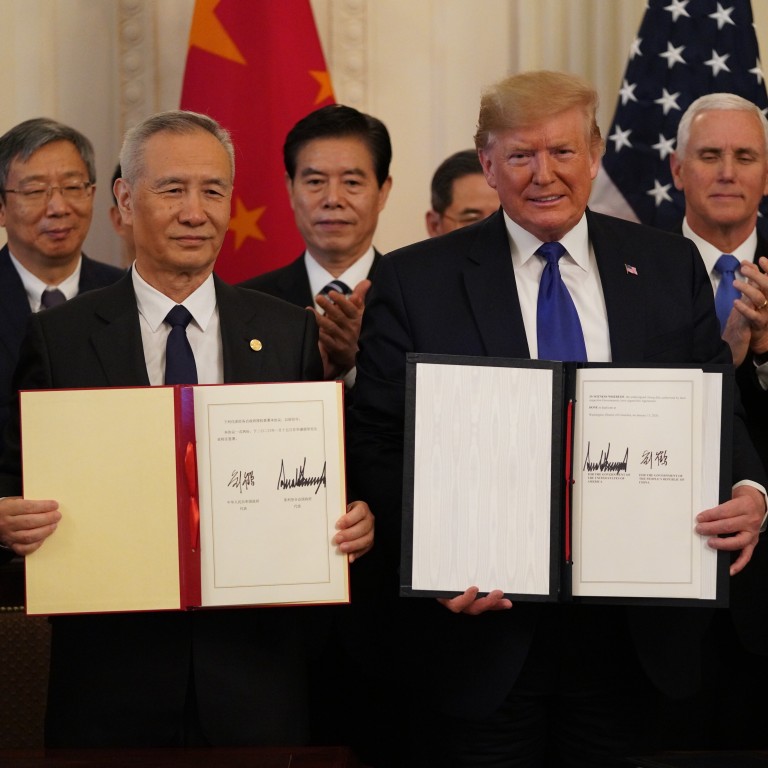 China targets trademarks violations in effort to improve IP protection, but unlikely to satisfy US demands
The China National Intellectual Property Administration launched the two-year long Blue Sky campaign in May 2019
One of the primary demands from the United States has been for Beijing to strengthen intellectual property protection and stop forcing the transfer of technology
More than 850 violations relating to the malicious squatting and hoarding of trademarks have been identified under a campaign started in China last year in an effort to improve intellectual property protections.
Under the two-year long Blue Sky campaign, which was launched in May 2019, the China National Intellectual Property Administration has reviewed 47,000 registered trademark agencies, although this is seen as a less important area compared to copyright and patent rights, lawyers said.
The campaign specifically targeted unlicensed patent agents and agencies, malicious trademark agency behaviour and other illegal intellectual property services.
Nearly half of all violations – 858 in total – concerned malicious squatting and hoarding of
trademarks,
while others involved agencies practicing without a licence or the forging or altering of legal documents, seals and signatures, according to China's intellectual property administration on Monday.
In total, according to details published at the end of October, the administration had fined 56 Chinese patent firms a total of 2.5 million yuan (US$380,000) for operating without a licence or for other related violations.
The potentially lucrative practice of malicious squatting of trademarks is not a new occurrence in China. It only takes around 1,000 yuan (US$151) to register a trademark but the owner could then gain tens of thousands yuan – sometimes up to hundreds of thousands – when they transfer the ownership of the registration.
During the outbreak of the coronavirus, Chinese agencies attempted to register related trademarks including Leishenshan and Huoshenshan, the names given to the two temporary hospitals built to help fight the outbreak in central China's Hubei province.
Attempts were also made to trademark the names of hero doctor Li Wenliang and infectious disease expert Zhong Nanshan, both of whom rose to fame as part of China's response to the virus.
Meng Fanchen, a lawyer at Beijing Weibo Law Firm, said illegal trademark agencies may be gradually deregistered after the Blue Sky campaign, which is an essential move to protect other trademark applicants' interests.
Xu Chendi, a lawyer at Beijing Zhongwen Law Firm, said it used to be relatively easy for law firms to obtain a trademark agency licence, even if they had been disqualified before, as the industry was loosely regulated.
He agreed that the campaign is a positive sign, but that it is too early to say that China has made any major progress in intellectual property protection.
"Trademark protection is actually a less important area in intellectual property protection, compared to copyright and patent rights," he said.
In April, China's trademark administration released its intellectual property action plan, including 133 specific actions to amend the country's legislation and practices, which is seen as a move to meet obligations outlined in the
phase one trade deal
with the United States.
Around 20 per cent of the deal signed in January demands protections for trade secrets, trademarks, patents, pharmaceutical-related intellectual property and from counterfeit goods from China.
However, most of the 133 items listed within the plan are not new, according to Hogan Lovells law firm, including "combating bad faith trademarks" and the "presumption that the copyright owner is the person mentioned in the work".