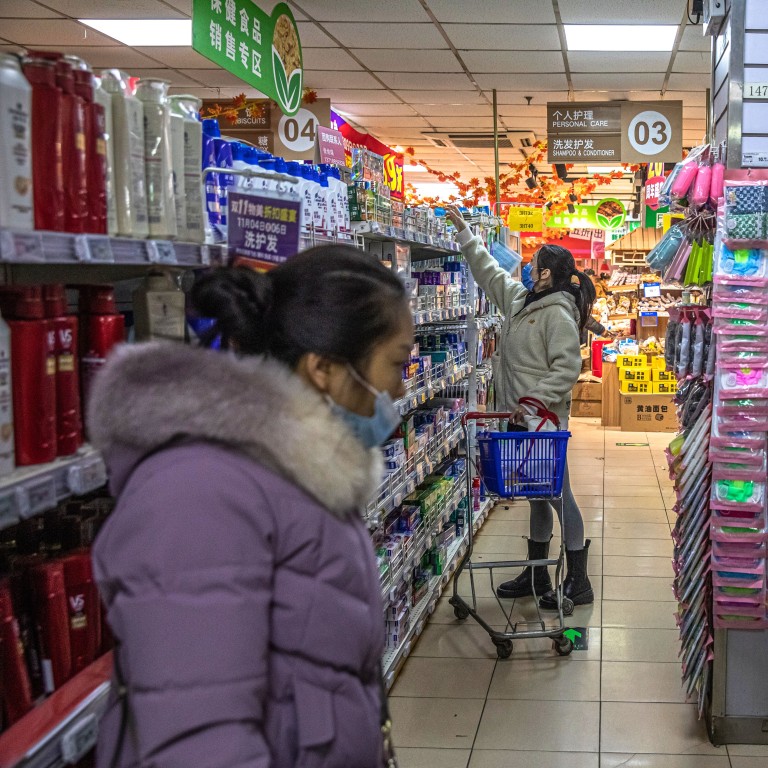 As China's consumer inflation rate hits 11-year low, economists warn of possible deflation in coming months
Analysts expect the headline consumer inflation rate to turn negative in November and possibly stay there into 2021
But signs point to a drop in pork prices being the main culprit in dragging down the consumer price index to an annual rate of just 0.5 per cent in October, year on year
The larger-than-expected deceleration in the Chinese consumer inflation rate to an 11-year low in October has prompted some economists to warn of a possible risk of deflation in the world's second-largest economy.
Other economists, however, say the risk is remote because most of the downward price pressure is being caused by a continued drop in pork prices as the nation's pig population is replenished following the devastation caused by African swine fever, which was first detected in China in August 2018.
Nevertheless, most analysts expect the headline consumer inflation rate to turn negative in November and possibly stay there for several months.
China's official consumer price index (CPI) dropped sharply to an annual rate of just 0.5 per cent last month from 1.7 per cent in September, compared with the same period last year, according to data released by the National Bureau of Statistics on Tuesday. The October figure was well below the median expectation of 0.8 per cent in a Bloomberg poll of analysts.
The close-to-zero reading suggested to some that China stands on the brink of falling into a technical deflation – a sustained drop in the general price level of goods and services.
Deflation is seen as a risk to the economy because consumers could tend to postpone purchases in anticipation of further price declines if they wait. This, in turn, can dampen overall economic growth and increase pressure on the central bank to consider injecting more monetary stimulus.
"The CPI [rate] is expected to turn negative in November," Liang Zhonghua, chief macro analyst at the Research Institute of Zhongtai Securities, wrote in a note on Tuesday. "Monetary easing has had difficulty producing upward price pressures, mainly due to the impact [of the coronavirus pandemic] on consumers' income."
The sharp decline in the inflation rate in October was largely due to a drop in pork prices dragging down the consumer inflation rate. China's pork prices last month fell 2.8 per cent from a year ago, down significantly from September when pork prices rose 25.5 per cent – marking the first time the annual rate has turned negative in 19 months.
However, the core inflation rate, which excludes food and energy prices, remained at the record low of 0.5 per cent for a fourth straight month in October.
"Food is no longer the major driver of China's CPI like it used to be, but there is still an oversupply situation in the Chinese economy," said Shen Jianguang, chief economist at JD Digits, the fintech arm of e-commerce firm JD.com.
He also forecast that the headline consumer inflation rate would fall below zero in the coming months.
"If defining deflation as [the rate] falling below zero, it is very likely that there will be deflation early next year," Shen said.
Beijing is not alone in facing such a deflation risk. The inflation rate in the Eurozone – the 19 nations that share the euro currency – turned negative for two consecutive months in August and September.
Christine Lagarde, the president of the European Central Bank, said deflationary pressure was likely to persist until early next year due to weak consumption and depressed oil prices, but central bank policymakers in Frankfurt left their monetary policy unchanged at their October meeting.
For a nine-month stretch in 2009, from February to October, China suffered from deflationary pressure following the sharp economic downturn caused by the global financial crisis. Beijing's 4 trillion yuan economic stimulus package helped pull the country out of the downward spiral.
Worries that China was a risk of repeating the extended price stagnation surfaced during the past decade, even before the pandemic, as the nation's credit- and investment-driven growth model gradually lost steam.
Moreover, the current large debt burden of Chinese businesses and consumers is limiting policymakers' room to manoeuvre, compared with 10 years ago.
The overall indebtedness in the Chinese economy rose to 270.1 per cent of gross domestic product (GDP) at the end of September, up 27.7 percentage points from nine months earlier, according to a report issued by the National Institution for Finance and Development on October 30.
And indebtedness in China's household sector rose to 61.4 per cent of China's GDP at the end of September, up 5.6 percentage points from the end of last year, the report showed.
Shen said the negative CPI rate indicated that China still has ample room to ease monetary policy, given that the country's stimulus programme this year was not as robust as those employed by developed economies. Moreover, there are signs that China's monetary policy has tightened further, he said.
Nevertheless, "China is unlikely to have a prolonged period of deflation," he added.
Lu Ting, chief China economist at Nomura, said that a further decline in the CPI rate in November would not indicate that the country was experiencing deflation, as he said the drop was mainly driven by the impact of a structural change in the supply of pork on pork prices.
"China's economy has been recovering and, in monthly terms, is also experiencing a moderate reflation," he wrote in a note on Tuesday.
Lu expects the People's Bank of China to maintain its "wait and see" monetary policy approach – neither increasing nor rolling back its existing easing measures.
Julian Evans-Pritchard, senior China economist with Capital Economics, said consumer prices might even gain upward support in the coming months, given a rebound in consumer spending and ongoing infrastructure-led stimulus.
"Policymakers are likely to look through the volatility in food prices and focus on the recovery in underlying inflation," he wrote in a note on Tuesday. "As such, we don't think low headline inflation will prevent the People's Bank from raising interest rates next year."
Zhou Hao, an economist at Commerzbank, said in a note on Tuesday that there was no consensus on whether China is at risk of deflation, though the market was nearly unanimous in expecting the inflation rate to gradually fall in the coming months.
"The market is generally ignoring the risk of deflation, and, looking at interest rates, we will even find that China has obvious inflation expectations," Zhou said.
This article appeared in the South China Morning Post print edition as: Mainland faces deflation risk, economists warn