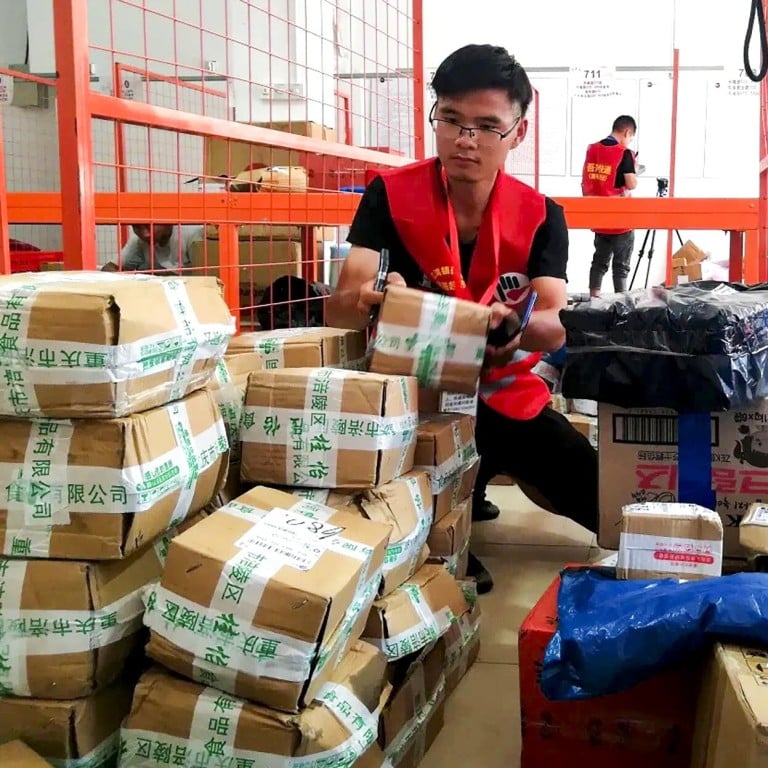 Singles' Day: online shopping becoming China's new normal as record sales build on pandemic boost
Online sales accounted for 24.3 per cent of all sales in the first nine months of the year, and the trend looks to continue with a strong fourth quarter
Disincentives for shopping in stores remain even though China has largely recovered from the coronavirus health crisis
Online shopping is becoming increasingly commonplace in Chinese consumers' lives, and nowhere was that more evident than the Singles' Day shopping extravaganza that peaked on Wednesday.
E-commerce had already seen a massive boost this year amid the coronavirus pandemic, with shoppers reluctant or unable to venture out to bricks-and-mortar stores.
Singles' Day – the November 11 celebration that gets its name from the four ones in 11.11 – annually generates far more revenue than that of the comparable Black Friday in the United States. And this year, Singles' Day built on the momentum of past years to once again post record sales.
With about seven weeks still remaining in the year, 2020 looks to shatter the previous annual high-water marks for online sales, which have undoubtedly been the saving grace of overall Chinese consumer spending this year.
In the first three quarters, overall retail sales fell 7.2 per cent year on year, as in-store sales plunged 13.4 per cent from the same period in 2019. But online sales remained resilient, growing 15.1 per cent compared with a year earlier.
Furthermore, online sales accounted for 24.3 per cent of all sales in the first nine months of the year. That was an increase from the 20.7 per cent proportion held by online sales for all of last year, and their 18.4 per cent share in 2018. Analysts expect the proportion of online retail sales to grow further this year, marking the seventh straight year of gains.
Even though China has largely recovered from the coronavirus health crisis, disincentives for shopping in stores remain. Health and safety restrictions are still in place, especially in public areas, throughout the country.
Yu Tian, a public relations manager in Beijing, said she has been mostly eating at home rather than going out. But she continues to shop online.
"I don't think the outbreak has changed the way I shop as much. I was already shopping online regularly," she said. "It's more convenient, and it's less tiring" than shopping at malls.
US-based research firm eMarketer, in its latest forecast in June on China's e-commerce sector, said Chinese "consumers will spend US$2.09 trillion on retail e-commerce this year, an increase of 16 per cent. That is 7.7 percentage points less than our pre-pandemic forecast, but still hundreds of billions of dollars in additional spending compared with 2019".
Analysts also expect retail sales – mainly goods purchases – to grow in the fourth quarter this year, boosted in particular by Singles' Day.
The annual event is seen as an important barometer for China's economic health. Last year, online shoppers in China spent 410 billion yuan (US$62.08 billion) in 24 hours – or double what Amazon generates in an entire month.
Furthermore, sales associated with this year's Singles' Day started early on November 1, giving online shoppers almost two weeks to take advantage of discounts.
Fitch Ratings said in a report last week that it expected "strong sales" during the annual online shopping bonanza this year, lifting overall retail sales for the rest of the year.
"China's consumer and retail market is likely to finish the year with a strong fourth [quarter], underpinned by a faster recovery in the offline segment and a boost to consumer spending from the upcoming 'Double 11' shopping festival in November," Fitch Ratings said. "We expect the momentum of China's fourth-quarter retail sales recovery to see growth in the mid- to high single digits, narrowing the full-year sales drop to the low single digits."
But that shopping exuberance is not shared by everyone, particularly those whose incomes have been hit by the pandemic.
Guan Huai, a Beijing-based commodities trader with a private company, said he was shopping less during this year's Singles' Day due to poor market conditions.
The commodities market has been badly hit by the pandemic. And although almost all commodity prices recovered in the third quarter, the outlook remains uncertain as the coronavirus continues to spread across Europe and North America.
"My income has dropped quite significantly," Guan said. "I will still shop a bit, but I think I will be cautious, given that I don't know what the coming months will be like. It will affect my pay."