Jobs
Get more with myNEWS
A personalised news feed of stories that matter to you
Learn more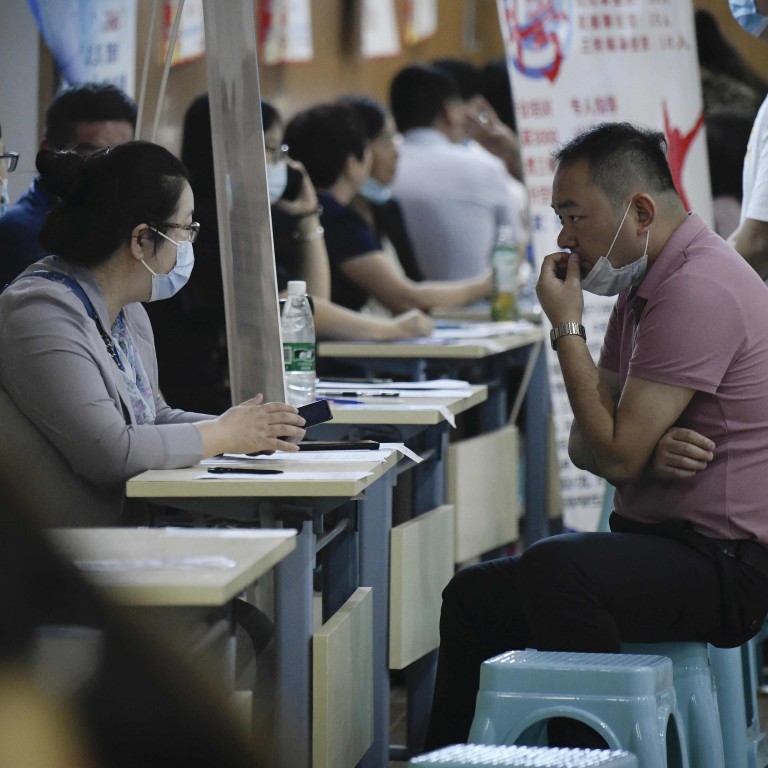 Explainer

|
China unemployment rate: how is it measured and why is it important?
China provides an official surveyed unemployment rate but it does not include 149 million self-employed business owners and nearly 300 million migrant workers
The rate rose to historic levels in the wake of the coronavirus pandemic, but since then has gradually retreated to near pre-pandemic levels
How is China's unemployment measured?
The official surveyed unemployment rate for urban workers in China rose to historic levels in the wake of the coronavirus pandemic, touching a nearly two-decade high of 6.2 per cent in February. Since then, the figure has gradually retreated to near pre-pandemic levels.
China's official jobless indicators are released on a monthly or quarterly basis, but because they only cover part of the job market, it is hard to gauge the real state of China's unemployment situation.
For the whole of 2020, China's surveyed jobless rate was 4.7 per cent compared with 5.5 per cent the previous year.
Beijing expressed its concerns about the national employment rate in the first half of 2020, given its importance to social stability in the world's most populous country.
Why is China's official unemployment rate seen as unreliable?
No government data set offers a clear picture of the job market, and most economists believe official figures underestimate joblessness.
Unlike developed economies, which typically offer a broad range of employment indicators, China has historically relied on only two figures for unemployment data – both of which have shortcomings.
Before 2018, Beijing published data on how many urban workers registered with the government when they lost their jobs. Data from local authorities excluded migrant workers who were not born in the city in which they worked and were therefore not eligible for social benefits. To be counted as unemployed, people also had to be between the ages of 16 and 59.
The data was detached from the reality of the overall labour market, particularly during the global financial crisis of 2008-09, when more than 20 million migrant workers became unemployed but the headline jobless rate barely moved.
Since 2018, China has used a monthly survey-based unemployment rate as its main indicator. The data captures all regular urban residents, does not include an upper age limit and the NBS claims it also includes migrant workers, although this is disputed by analysts.
But to be considered unemployed, a worker needs to have been actively looking for a job in the past three months and be able to start work within two weeks; otherwise, he or she is not counted as employed or unemployed.
Does China have an unemployment crisis?
But the coronavirus broke this virtuous cycle, fanning the government's worst fears about massive unemployment and the potential for ensuing social unrest that could undermine its grip on power.
"The downward pressure on China's economy has increased significantly, and the employment situation has continued to deteriorate," wrote Ouyang Jun and Qin Fang, two economists from Southwestern University of Finance and Economics in Chengdu, earlier in 2020.
"After the coronavirus outbreak, the already difficult task of stabilising employment became more complicated and harder to manage."
The employment situation has improved as the economy has recovered faster than expected, but many workers in labour intensive industries and new university graduates remain unemployed or under employed.
What benefits are available to China's unemployed?
As the coronavirus took a heavy toll on jobs, China's Ministry of Human Resources and Social Security vowed to make it slightly easier for people to claim unemployment benefits by reducing paperwork.
Earlier in 2020, China announced a modest package of welfare support to help some of its most vulnerable citizens, including migrant workers, but this was limited in scope and excluded the vast majority of workers affected by the virus.
China has not implemented a broad-based, wage-protection scheme requiring employers to maintain headcount and pay workers. As a result, most furloughed workers have no source of income.
The burden is so heavy that many Chinese employers, especially in the private sector, try to avoid paying the contributions by either under-reporting salaries or by hiring workers on a temporary basis.
In 2019, it was also the first year since 1990 that China's payouts of unemployment benefits surpassed contributions, suggesting the overall employment situation had reached a critical point even before the impact of the pandemic.
What are the job prospects for China's graduates?
But the change in criteria fanned speculation that Beijing was trying to inflate employment figures for young graduates in a worsening job market.
Want to know more?