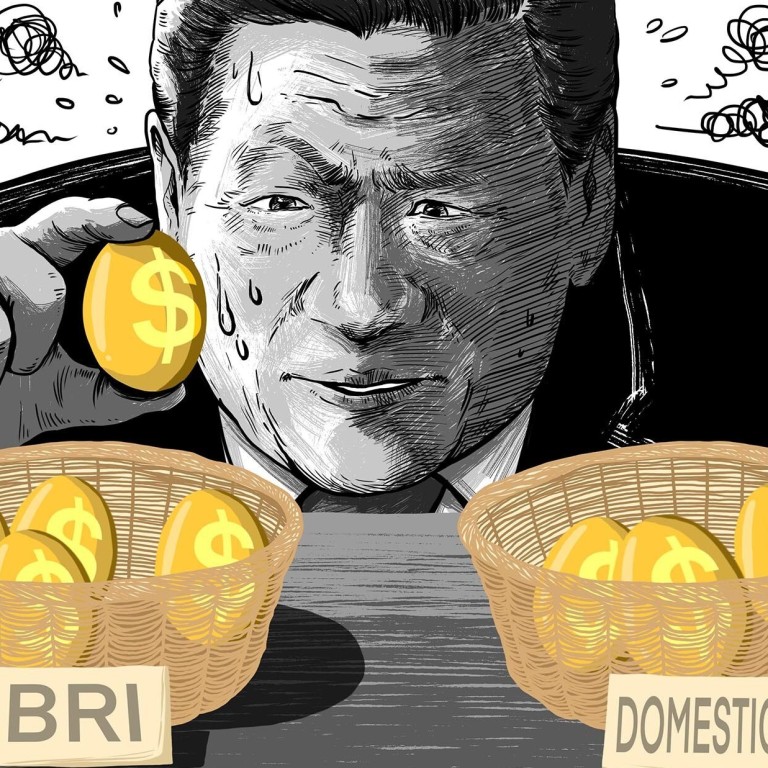 China debt: Beijing may cut belt and road lending due to domestic pressure, to ensure future of project
President Xi Jinping reaffirmed China's commitment to his Belt and Road Initiative last week at the Asia-Pacific Economic Cooperation (Apec) forum
But China may need to cut back on overseas lending due to domestic debt concerns and to also ensure future funding is sustainable, analysts say
President Xi Jinping last week doubled down on China's commitment to his grand foreign policy project, the Belt and Road Initiative, but opinions are split over the sustainability of such investment amid a backdrop of rising debt at home.
"China will further harmonise policies, rules and standards with [Belt and Road Initiative] partners, and deepen effective cooperation with them on infrastructure, industry, trade, science and technological innovation, public health and people-to-people exchanges," Xi said in his keynote address to the Asia-Pacific Economic Cooperation (Apec) forum.
However, as growth in the world's second largest economy has slowed and as the
domestic debt burden
has risen due to the coronavirus pandemic, questions have been raised whether China will have to slow its international engagements in the next few years, in particular its financing of belt and road projects.
This ambitious belt and road plan, first introduced by Xi during his 2013 visit to Kazakhstan when it was initially called One Belt, One Road, involves connecting more than 70 countries on the continents of Asia, Europe and Africa via a series of rail, road and sea infrastructure projects, thus forming a New Silk Road. The goal for Beijing is to promote regional connections and economic integration, thereby expanding China's economic and political influence.
And while China will by no means abandon funding projects, it may cut back on lending, both due to domestic needs and moves to make sure future lending is sustainable, analysts said.
There are no
official figures on the total amount of loans
to, and investment in, belt and road projects, but according to data provider Refinitiv, in the first quarter of 2020, the value of belt and road projects, including projects with Chinese involvement, exceeded US$4 trillion for the first time. Among these, 1,590 projects – valued at US$1.9 trillion – were belt and road projects, while 1,574 other projects with a combined value of US$2.1 trillion were classified as projects with Chinese involvement.
The World Bank estimated last year that around US$500 billion was invested in belt and road projects in 50 developing countries between 2013 and 2018. Of that amount, about US$300 billion was estimated to have been financed via public and publicly guaranteed debt.
Non-financial corporate debt in China rose to over 165 per cent of its gross domestic product (GDP) in the third quarter of 2020, from 150 per cent of GDP in the same quarter last year, according to a report released by the Institute of International Finance (IIF) last week.
The growth of debt is not only the highest among emerging economies, but has also already outpaced all developed markets as well.
Total Chinese debt across household, government and non-financial corporate sectors rose to nearly 290 per cent of GDP – excluding financial debt to avoid the potential for double counting – in the third quarter, up from 255 per cent a year earlier, according to the Washington-based IIF, the association of global financial firms.
In a report published this month, French insurance-credit group Euler Hermes estimated that the 10 African and Latin American countries that have benefited from strong Chinese engagement since 2010 – Argentina, Brazil, Ecuador, Angola, Egypt, Ethiopia, Ghana, Kenya, South Africa and Zambia – will face an external financing gap of US$47 billion by 2025 as a result of China's gradual disengagement from financing.
"China will need to be more selective in the projects it can finance, especially in emerging economies. [Belt and Road Initiative] countries in the midst of major infrastructure projects, and also indebted due to them, may no longer find the resources available to continue with these projects," said Alicia Garcia-Herrero, chief economist for Asia-Pacific at French financial firm Natixis.
Emre Tiftik, head of sustainability research at the IIF, said China has the capacity to increase exposure to belt and road countries, so the recent rise in debt levels is unlikely to change China's policies. However, the IIF believes China will place more emphasis on the sustainability of related financial flows, he added.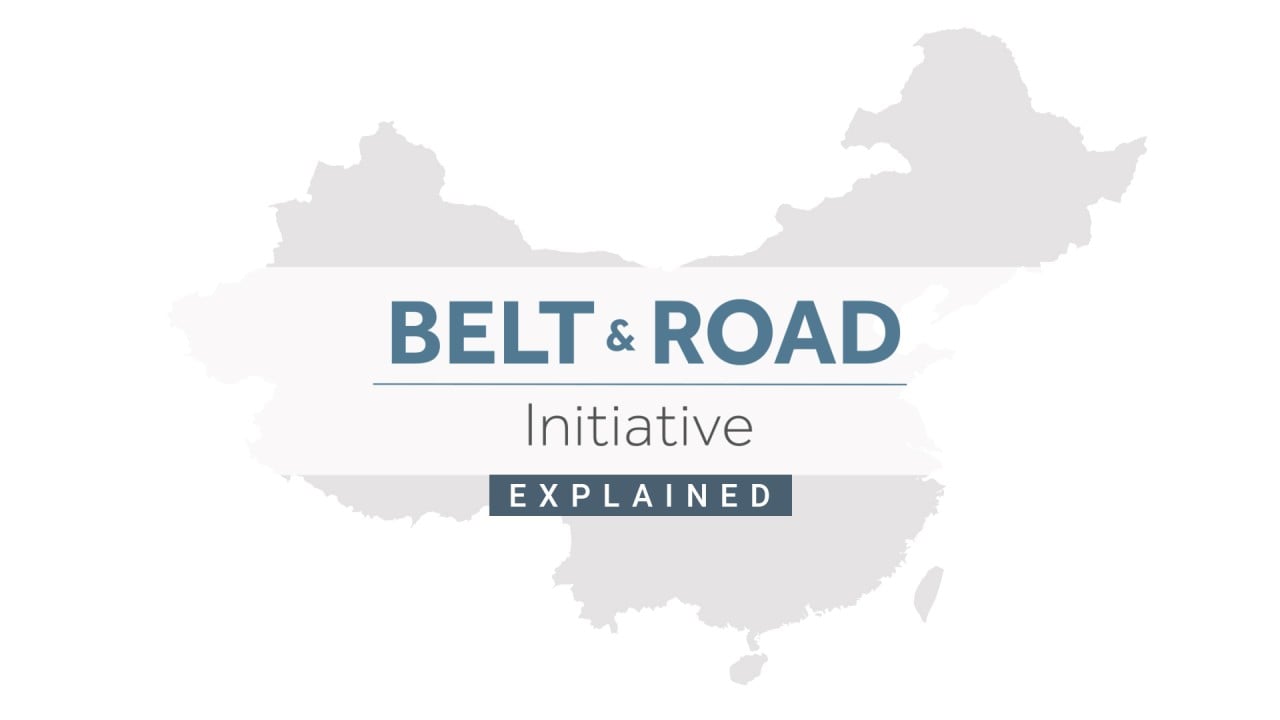 02:35
Belt and Road Initiative explained
Belt and Road Initiative explained
"As we noted earlier this year, nearly half of cross-border flows related to
China's Belt and Road Initiative
are directed to regions that are exposed to a significant level of climate change risk … against the backdrop of China's recent commitment to reduce net carbon emissions to zero [by 2060], the form of [Belt and Road Initiative]-related investment flows will also change," Tiftik said.
China's engagement in belt and road projects has shrunk so far this year in terms of both the number of new contracts and in the total new project value
due to the coronavirus.
The number of new contracts signed by Chinese firms in the first nine months of 2020 in 61 countries "along the belt and road" dropped by 29 per cent compared to the same period in 2019, according to data from China's Ministry of Commerce. It did not provide an update for the number of contracts signed in October, but the data showed the value of contracts from January to October shrank by 17.5 per cent year on year.
The two primary Chinese policy banks financing belt and road projects – the China Development Bank and the Export Import Bank – had already started to reduce new loans before the pandemic, after lending peaked in 2016.
Criticism from some recipient countries, China's deleveraging campaign that began in 2016 to curb the excessive borrowing by local governments, financial institutions, and businesses are believed to have been some of the factors behind the move, as well as concerns over balance of payments and a directive by Beijing to be more selective in belt and road financing.
Kanyi Lui, finance partner and belt and road expert at international law firm Pinsent Masons, said that while there has definitely been a slowdown in lending amid the pandemic, he does not believe China's debt issue will have a significant impact on financing as the source of funding is different than for domestic loans.
"A large number of [Belt and Road Initiative] loans are immediately converted into Chinese goods and/or services upon disbursement and the loan proceeds never exit China. While there is a strong push to use [yuan] on BRI financing, historically [Belt and Road Initiative] loans tend to be denominated in US dollars or euros which, under China's foreign exchange regulations, cannot be freely converted into [yuan]. As a result, the calculus is quite different," he said.
And over recent years, large Chinese banks have considerably improved their lending processes, with the trend to be more selective in belt and road financing "accelerating", he added.
China's overall domestic debt level has been growing at an average annual rate of around 20 per cent since 2008, faster than its GDP growth.
In November 2008, Beijing announced a two-year 4 trillion yuan (US$586 billion) stimulus plan to counter the impact of the global financial crisis. That stimulus quickly revived Chinese growth, but also prompted an explosion of domestic credit.
The country has increased its effort to reduce its debt pile since 2016 to curb financial risks under a deleveraging campaign led by the central bank, but progress was thrown into reverse this year because of the impact of the coronavirus on the economy.
China's external debt has also grown, partly because of the country's push to acquire foreign assets, and stood at US$2.13 trillion by the end of June, up US$75.1 billion, or 3.7 per cent, from the end of 2019, China's foreign exchange regulator said in October.
But the scale of foreign debt is "reasonable" and the risk from foreign debt is "generally controllable", said China's State Administration of Foreign Exchange.
Agatha Kratz, an associate director at economic consultancy Rhodium Group, said belt and road loans are just a small part of China's overall lending portfolio, and both the China Development Bank and the Export Import Bank have enough political backing to bear the cost, meaning the real question is "if the country still wants to [continue massive lending]?"
She added that the China Development Bank may have less of an appetite to continue strong foreign lending as it is struggling between its conflicting objectives of supporting China's global commercial diplomacy and the Chinese economy with new domestic loans.
"So [China Development Bank] would be the first barrier. Meanwhile, the wave of renegotiations [of existing belt and road loans] we are seeing at the moment may be another reason for the country not to continue lending as much as it did in the past," she said.
A report by Rhodium Group in October found that requests for the renegotiation of repayments have been increasing after the pandemic and 12 countries are still in talks with Beijing as of the end-September, covering US$28 billion in Chinese loans.
"As many as one in four dollars extended by China through overseas lending to date has come under renegotiation, amounting to US$94 billion. Faced with the reality of unsustainable past lending, Beijing is recalibrating to limit and rationalise future flows, at least in the medium term. This will only be amplified by Covid-19," the report said.