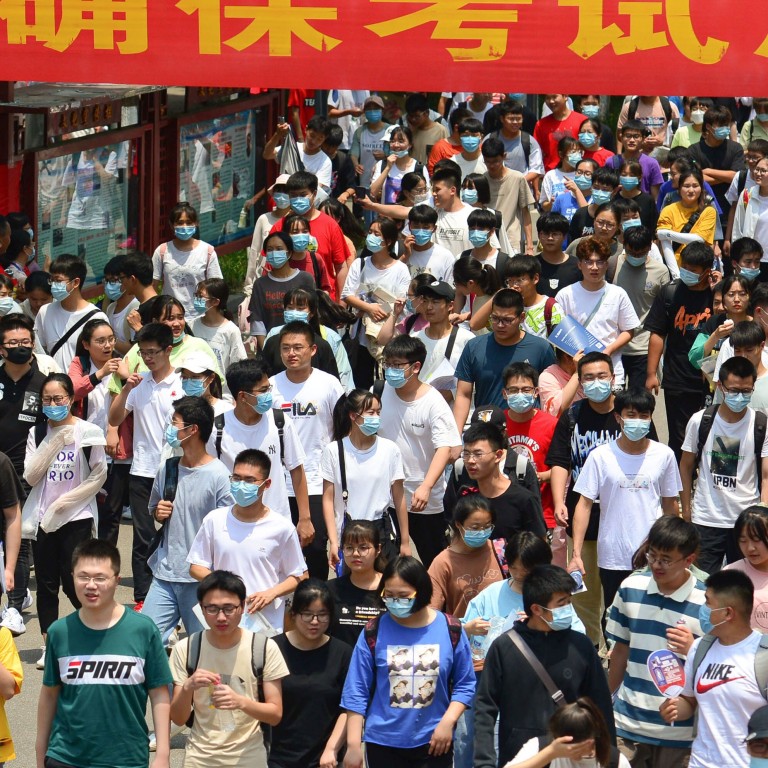 China must boost education quality 'to avoid middle income trap', rising inequality
China has made progress in boosting enrolments to high schools and universities, but a significant portion of its rural population lags behind
If China wants to avoid the 'middle income trap', where growth stagnates and incomes stall, it will need to improve its education system, experts say
China must improve enrolment and the quality of high school education, particularly in rural areas, if it is to transition to a high-income country, researchers say.
Beijing has set its sights on growing gross national income per capita from US$10,410 in 2019, to at least US$12,536 by the end of 2025, the bar for becoming a high-income country according to World Bank standards.
But with only a low proportion of China's labour force having attended high school, it will face a steep challenge and runs the risk of falling into the middle income trap, where growth stagnates and income stalls.
Only one in three Chinese adults aged 25 to 64 attended high school, a level on par with Mexico, and far below the 90 per cent average among high-income countries like the United States and Germany, according to research from Shannxi Normal University and Stanford University. The researchers analysed China's 2015 micro census, which surveyed 1 per cent of the population, and data from the Organisation for Economic Cooperation and Development.
"While all kids do not need to go to college, all children should be going to high school. This is critical at this stage of development to get all children the skills they need in the future," Scott Rozelle, who leads the Rural Education Action Programme at Stanford University, said in a virtual talk earlier this month. "Actually China has the lowest level of human capital in the middle income world."
The researchers from Shannxi Normal University and Stanford University said last year that China must improve education across the country to "avoid falling into the middle income trap".
"China must attain and maintain high levels of both educational quantity and quality as well as ensure that children receive necessary parental and nutritional inputs to become healthy and productive citizens in the future," said the six researchers led by Bai Yu, from Shannxi Normal University, in a paper published by the Journal of Contemporary China last year.
China's seventh census,
which started this month and will release preliminary results next year, should shed light on the changes over the past five years.
What economists – and certainly officials – do not want to see is for China to follow countries like Mexico into the middle income trap, where work is lost to low-income nations that have cheaper labour, but a lack of education means it is unable to pick up high skilled and highly-paid jobs.
This can lead to rising crime, social unrest and the growth of informal sectors that are full of unprotected and low paid jobs, such as food deliverymen and on-demand drivers, analysts said.
In China, there are already signs of a drift from manufacturing work to informal jobs in the labour-intensive services sector among the country's
290 million migrant workers
.
The share of migrant workers in manufacturing and construction dropped from 51 per cent in 2009 to about 46 per cent last year, according to China's National Bureau of Statistics. Meanwhile, those taking jobs in the labour-intensive service sector, including transport, retail, catering and household work, rose from 35 per cent to 38 per cent.
From 2010-17, annual real wage growth for migrant workers in China fell by four percentage points, but it increased 1.3 percentage points for high-skill jobs, such as finance and IT, according to a research from Rozelle.
While wage polarisation also happens in high-income countries, inequality in education leads to widening wage gaps in almost every economy trapped in middle income status, Rozelle said in the paper published in September.
"There has been almost no case in which a [trapped] country has been effective in re-training their workforce to allow the transformation of low-skilled workers into a profession that is employable in a skill-intensive industry," he said in the research.
To be sure, China's high school enrolment has improved significantly over the past two decades. The share of 15-17 year olds in high schools increased from slightly above 40 per cent in 2000 to more to 89 per cent last year, according to data from the Ministry of Education.
China only guarantees nine years of education to every citizen until the end of junior high, but the ministry said in 2017 it wanted to boost high school enrolments by more than 90 per cent by 2020.
China's educational inequality mirrors other disparities between its
cities and countryside
, including in incomes.
Nearly all teenagers aged 15-17 with urban residency or hukou – a household registration that separates urban and rural populations and controls access to basic services – attended high school, but at least 10 per cent of their rural peers did not, according to estimates from Bai's team based on official data.
Big cities such as Beijing and Shanghai, where the best education is found, generally do not allow migrant workers' children with rural hukous to enrol in local high schools.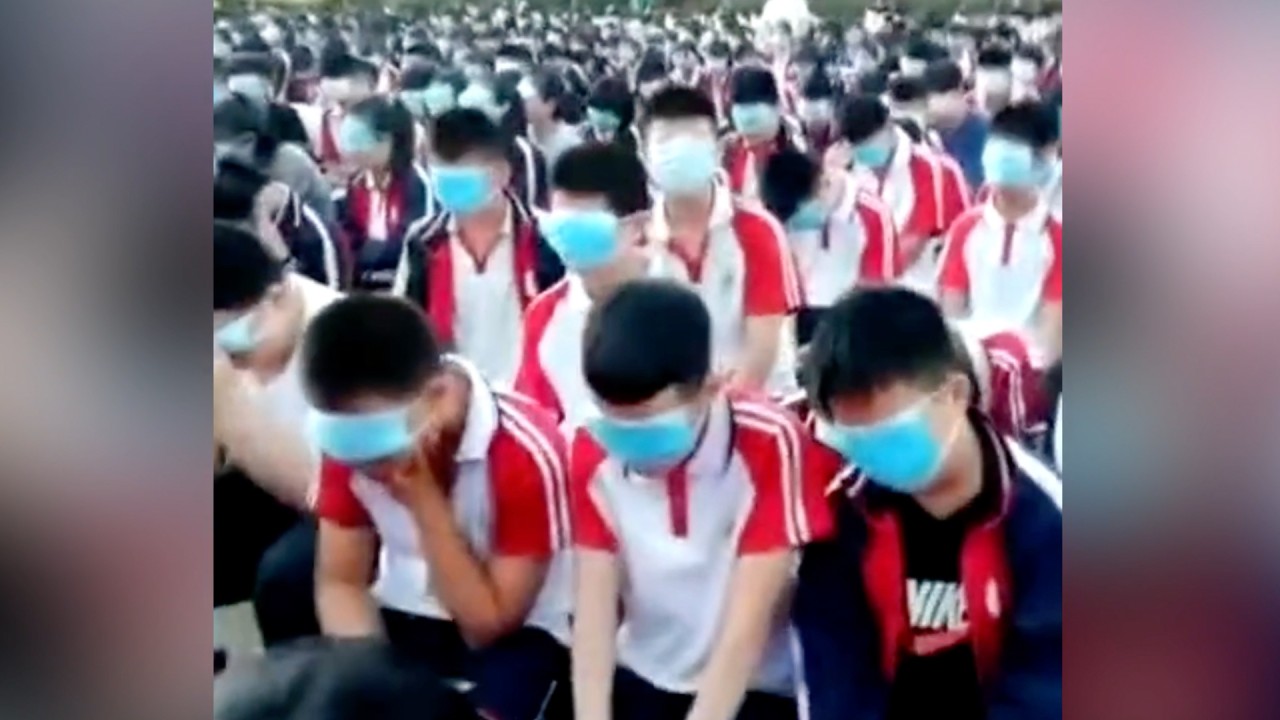 02:00
Schools in China make students cover eyes to feel gratitude for parents
Schools in China make students cover eyes to feel gratitude for parents
Many of these children have to return to their hometowns for schooling, where they attend one of China's more than 10,000 vocational schools, which are often regarded as of lower quality.
Vocational schools accounted for more than 40 per cent of China's total high school enrolments last year, but dropout rates were as high as 32 per cent, according to a Rozelle-led study in 2016 of nearly 250,000 rural students across four provinces.
For China's rural population, however, access to education might only be part of the problem.
Poor health and delays in development due to living conditions and parenting skills are also a drag on educational achievement, according to research.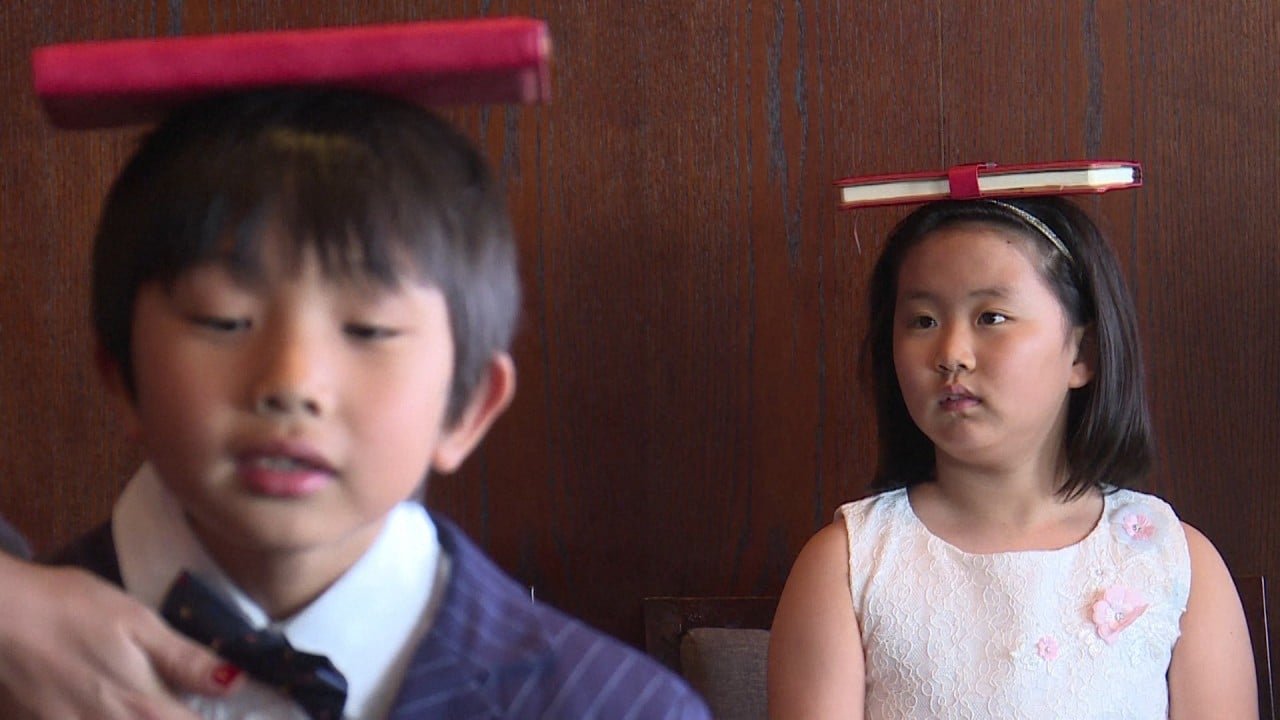 02:17
Chinese parents pay for expensive etiquette classes to make 'perfect' children
Chinese parents pay for expensive etiquette classes to make 'perfect' children
In a sample survey of infants and toddlers aged 24 to 36 months old in four major rural areas, Bai's team found that half suffered from cognitive delays.
In another survey they conducted among rural children aged three to six in 2017, about 18 per cent had anaemia – a decrease in red blood cells that can cause tiredness and problems for children's growth – which was much higher than 3 per cent in US.
Other studies have shown a substantial proportion of rural children aged six to 12 had poor vision and intestinal worms.
"Chinese rural parents love their children, will do anything for them and have very high aspirations, but their parenting skills are poor and investments very low," Rozelle said during the virtual seminar last week.