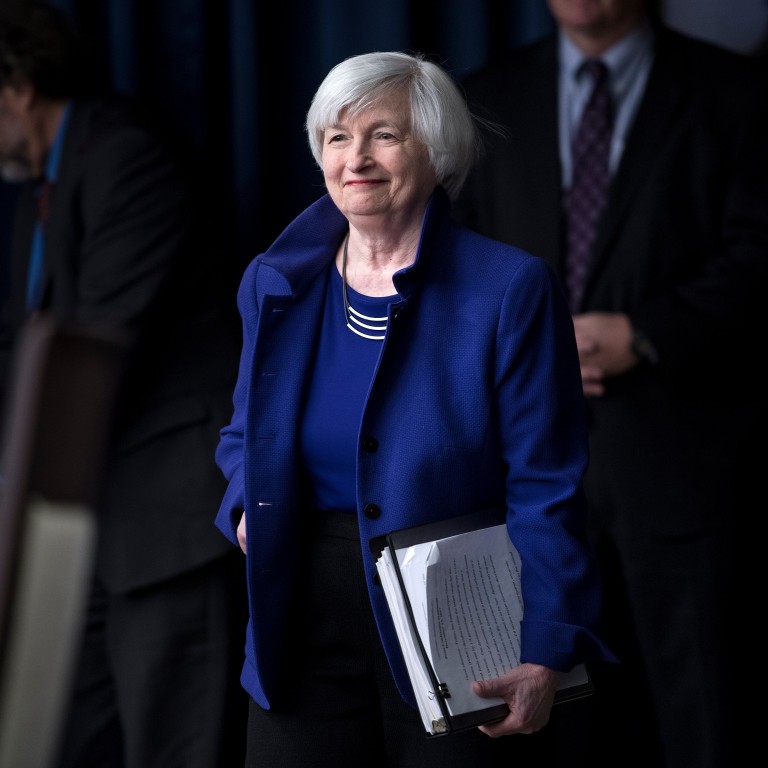 Joe Biden cabinet: US Treasury Secretary pick Janet Yellen faces huge challenge to reconcile China trade policy, support American economy
US President-elect Joe Biden has reportedly selected former US Federal Reserve chairwoman Janet Yellen for US treasury secretary
The pick suggests more orthodox and predictable US engagement with China on economic issues over the next four years, analysts say
Janet Yellen will step into a difficult role as US Treasury Secretary, facing the immediate need to support a domestic economy at risk of slowing significantly due to the latest surge in the coronavirus pandemic, while beginning the delicate task of reversing some Trump-era trade measures imposed on China and other countries, analysts said.
President-elect
Joe Biden's reported choice of Yellen
indicates a more orthodox, predictable US government approach towards China in the realms of economic and trade policies compared with the Trump administration, analysts agreed. But the challenge for Yellen will be enormous.
Yellen disagreed on economic grounds with the
tariff strategy
that the Trump administration has pursued for the last two years against China, seeing the duties as a tax paid by US consumers and thus damaging to the American economy.
"She is someone who understands the need for a stronger economy and for easy [economic] conditions to get there," said Evan Brown, head of multi-asset strategy at UBS Asset Management.
"The first six months of the [Biden] presidency will be focused on building up the US rather than tearing down other countries. We would not be surprised to see some tariffs removed as a partial reset in relations over the course of 2021."
Known as a labour market academic before she joined the US Federal Reserve, she quickly gained praise for her monetary policy expertise during her time at the American central bank, which started in 2004 as president of the bank's San Francisco branch and culminated as chair between 2014 to 2018.
Under her leadership, the US Federal Reserve started the controversial process of raising interest rates that had been stable at near zero per cent for nearly a decade after the 2008 global financial crisis.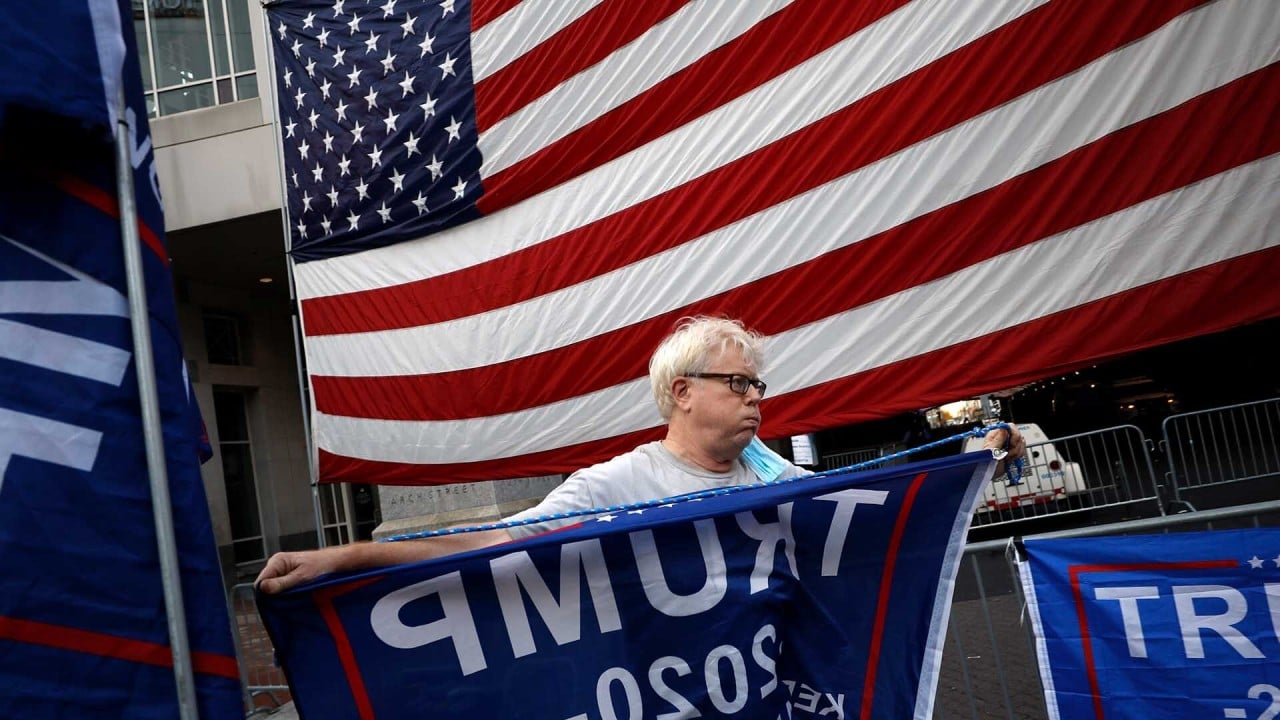 02:01
Disbelief among Trump voters in Pennsylvania as Pence says US presidential election 'ain't over'
Disbelief among Trump voters in Pennsylvania as Pence says US presidential election 'ain't over'
Current US Federal Reserve chair Jay Powell continued that process, which gave the central bank the leeway to cut interest rates sharply this year in response to the economic damage caused by the pandemic.
Yellen is considered to have broad support among both Democrats and Republicans in Congress, suggesting she may have a relatively easy confirmation process. She also has support in both the moderate and progressive wings of the Democratic Party, which should help limit infighting over the Biden administration's economic policy proposals.
Yellen's experience at the US Federal Reserve is likely to come in handy in her role heading the Treasury, since she has detailed knowledge of what the central bank can and cannot do.
She has a reputation as a policy "dove" – meaning that she would generally support looser policies to promote growth and employment – but also as a policy pragmatist, which is likely to manoeuvre her through a difficult economic and political period ahead.
"[Steven] Mnuchin's stance is a reflection of his boss, [Donald] Trump, so Yellen's stance towards China is primarily dependent on Biden's approach," said Cliff Tan, an independent economist and former East Asian head of global markets research at MUFG Bank.
"I doubt the next [US Trade Representative] will be as hawkish as [Robert] Lighthizer, so overall the team may be a bit more dovish."
Current US Treasury Secretary Mnuchin and
US Trade Representative Lighthizer
have been pushing for measures this year to decouple the US and Chinese economies because of the perceived inability of American companies to compete on a level playing field in China's economy.
Yellen may have limited room to manoeuvre on China trade issues, given that the ongoing US-China rivalry in technology, plus high-profile disputes over human rights issues and Taiwan, which will continue to be points of contention given the anti-China sentiment levels of the American public and policy hawks from both parties, said Stephen Innes, chief global market strategist at foreign exchange brokerage Axi.
"If Trump comes out and places heavy restrictions on China [before he leaves office], there will be political pressure not to reverse those," said Innes. "A lot of people in the Democratic Party are vehemently against China."
Yellen's ability to reduce trade tensions will be limited, a fact she acknowledged earlier this year.
In January, Yellen said that disputes over the subsidies offered to Chinese state-owned enterprises, as well as competition in artificial intelligence and 5G technologies, which spill over into national defence and security concerns, are part of a long list of issues that are "quite difficult to deal with".
"Democrats will be wary of a large-scale rolling back of Trump-era tariff policies given the rust belt states will remain vital in the 2024 election," said Tom Rafferty, regional director, Asia at The Economist Intelligence Unit.
"[But] the critical areas will be [Yellen's] approach to regulation of Chinese investment in the US and her attitude to the use of sanction measures on Chinese firms and individuals." 
Earlier this month, President Trump signed an executive order barring Americans from investing in 31 Chinese companies that the US says supply and otherwise support China's military, intelligence and security services. The ban is due to start on January 11, just days before Biden is due to take office.
The Trump administration is also close to barring US companies from doing business with 89 Chinese companies, including some in aerospace, that have military ties, restricting them from buying a range of US goods and technology, Reuters reported on Monday.
News of the new US blacklist has sparked a sell-off in technology stocks in China's stock markets while index compilers FTSE Russell, JPMorgan Chase and MSCI are also said to be rethinking their stance on the equities and bond securities issued by those Chinese firms.
As an institution, the US Federal Reserve has generally focused on domestic economic concerns such as inflation, employment and growth. But Yellen's understanding of China may resonate with global investors since she exerted enormous influence on US international financial policy when she was chair during Obama's presidency, including taking part in gatherings of G20 finance ministers and central bank governors.
In 2015, she said heightened concerns about growth in China and other emerging market economies had led to notable volatility in financial markets. These fears were so strong that the US Federal Reserve had to leave its benchmark interest rate at zero per cent, which had been in place since the depths of the financial crisis in 2008.
She was referring to the sharp reversal in the Chinese stock market that precipitated a dramatic correction in many global equity markets, including a 1,000-point plunge in the Dow Jones Index, which analysts said was an acknowledgement that the US was so closely integrated into the global economy that it could no longer focus on just domestic economic and market conditions.
This article appeared in the South China Morning Post print edition as: Biden's pick for Treasury chief faces challenge on China