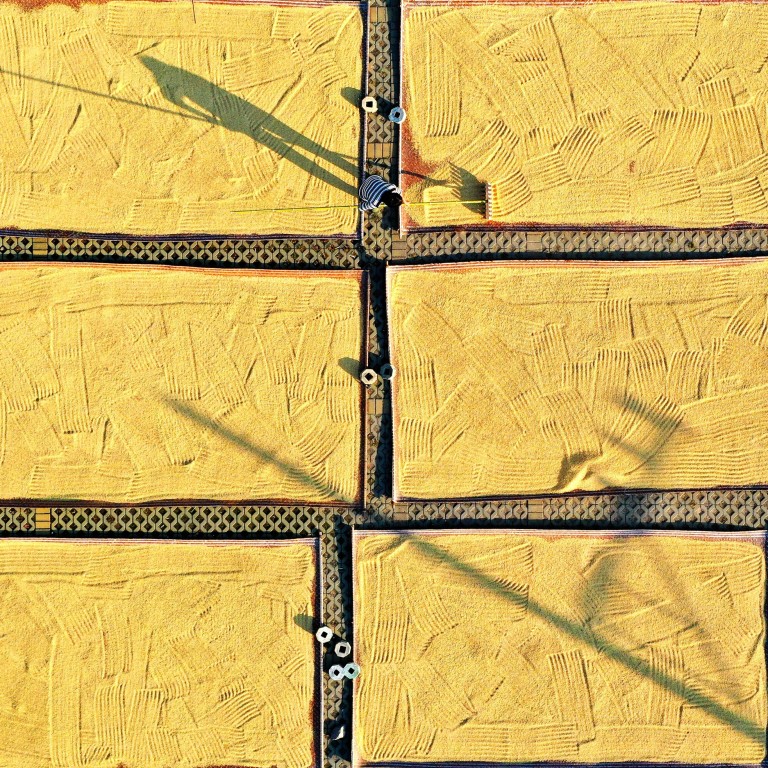 Explainer
China food security: how's it going and why's it important?
China needs to feed 1.4 billion people, but recently African swine fever, the coronavirus and natural disasters have raised questions about its food security
Imports play a key role in China's food supply chain, including its commitments under the phase one trade deal with the United States
Why is China's food security important?
China needs to feed its 1.4 billion people, around one fifth of the world's population.
The memory of China's Great Famine that swept the country from 1958-62 is still rooted in the hearts of older generations. Mao Zedong's Great Leap Forward, a radical agricultural campaign, was supposed to lead China into a communist utopia through rapid industrialisation and collectivisation, but it led to the death of tens of millions of people.
And in a turbulent post-coronavirus world, ensuring food security has become an increasingly more crucial political priority for Beijing's new development strategy, which relies more on the domestic market and its consumers to resist external uncertainties.
President Xi Jinping has said that the rice bowl of China must be firmly kept in Chinese hands, meaning China must ensure absolute safety in the supply of grains.
"A little more food is an economic issue in China, but a little less may turn into a political problem," said GLOCON Agritech Co-Innovation Institute agriculture analyst Zhang Xin.
What impacts China's food security?
China possesses around 10 per cent of the world's total arable land, but in terms of per capita the acreage available for crops was less than half of the global average as of 2006, according to the World Bank. Some of the limited high-quality and reserve land suitable for farming has also been used for industrial and real-estate purposes.
Shocks from the coronavirus pandemic in 2020, as well as the outbreak of
African swine fever in 2019-20,
along with floods that swept China's southern region and a summer drought in the north in 2020, have all put pressure on China's food security.
Unprecedented typhoons
hit the northeastern provinces and a pest outbreak in southwestern part of the country in 2020, also added to that pressure.
Long-term factors affecting China's food security include a
shrinking rural labour force,
the reduction of available farmland by urban development as well as a farmland management system that is an obstacle to modern farming and large-scale cultivation.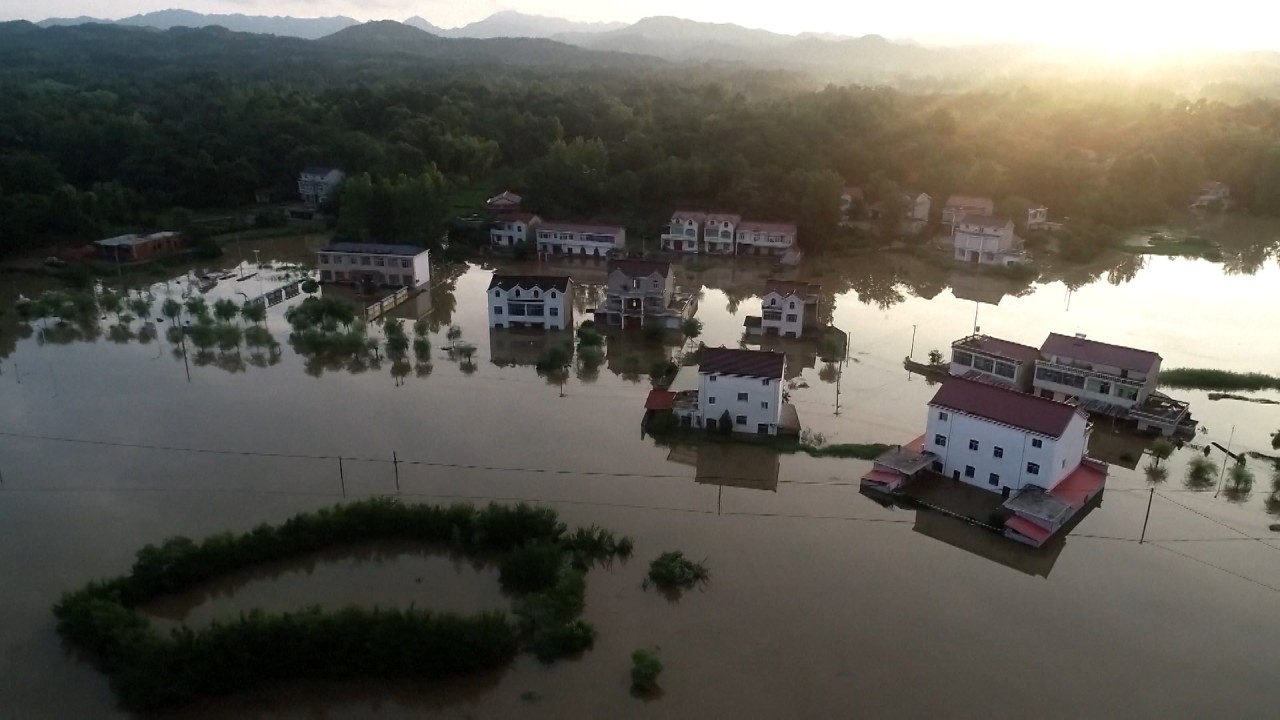 02:16
Deadly floods and torrential rain in China affect over 8.5 million people
Deadly floods and torrential rain in China affect over 8.5 million people
How did the floods in 2020 affect China's harvest?
From early June 2020, heavy summer floods washed over farmland in multiple Chinese provinces along the middle and lower Yangtze River, including Hubei, Anhui, Jiangxi and Jiangsu, all of which are major rice producers.
As the period between June and August is key
for harvesting
rice and then planting the next crop, this raised doubts about China's grain production. China, though, still reported that rice output in 2020 rose 3.9 per cent from a year earlier.
Floods then hit the northeastern Chinese provinces of Jilin and Heilongjiang, two major producers of Japonica rice and corn, this time during the critical Autumn growing season.
As of the end of October 2020, state purchases of two major subcategories of rice in China, indica and janica, dropped 13.9 per cent and 12.4 per cent, respectively, from a year earlier, highlighting the difficulty in
collecting grain from farmers
to be used for reserves.
State purchases of corn in 2020 nearly doubled to 8.1 million tonnes although this was from a low base of 4.7 million tonnes in 2019, according to China's National Food and Strategic Reserves Administration (NFSRA).
What impact did the coronavirus pandemic have on China's food security?
The coronavirus pandemic dealt a heavy blow to the global food trade and supply chain, pushing up international food prices.
Many countries, including Russia, Ukraine and Vietnam, imposed strong restrictions on food exports, which also affected the Chinese market and sparked concerns about the country's food security.
"Imported inflation due to heavy monetary stimulus has been inevitable, underscoring the importance of protecting the fundamentals of China's agriculture and the urgency of ensuring food security," agriculture analyst Zhang said.
Strict lockdown measures in the early part of 2020 also cast a psychological shadow over many Chinese farmers, who began to stockpile more crops at home and were more reluctant to sell to wholesalers, out of concern that there would be a resurgence of the coronavirus.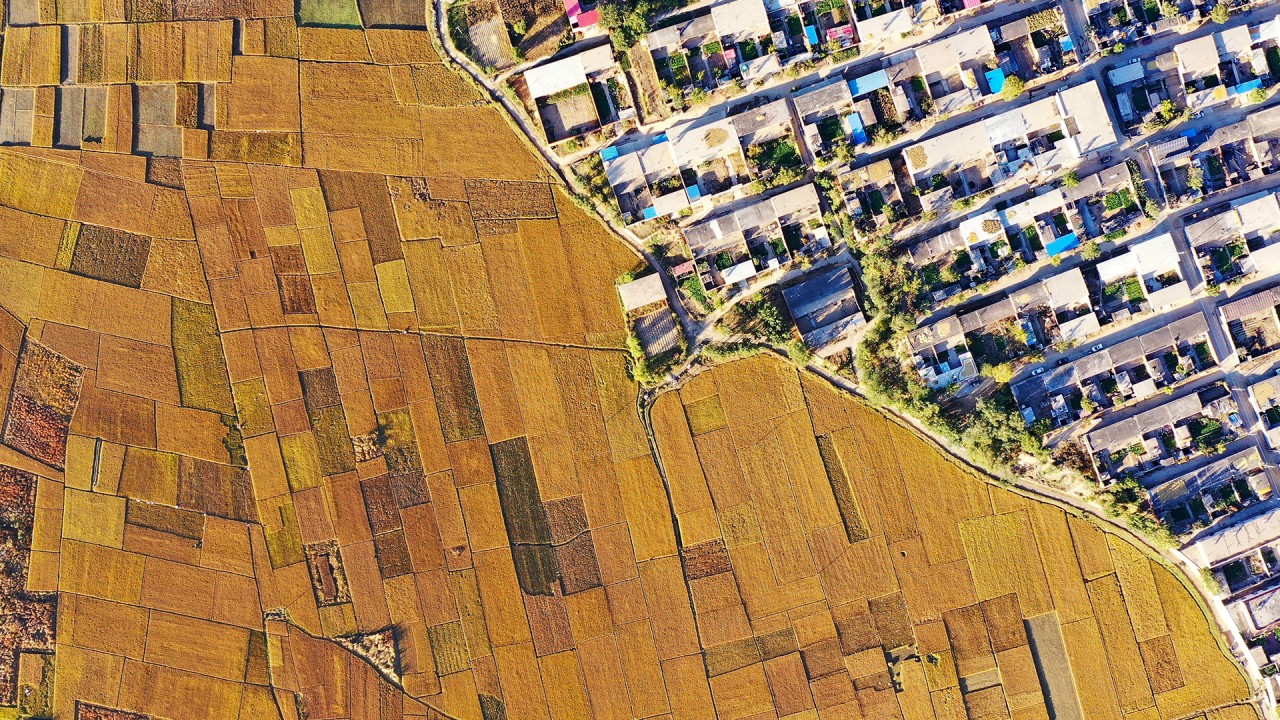 02:12
China can expect bumper 2020 harvest despite bad weather and floods, officials say
China can expect bumper 2020 harvest despite bad weather and floods, officials say
What does China do to protect its food security?
China decided to establish national grain stockpiles in 1990, and has now built up a system "coordinating central state reserves and local reserves, and complementing government and corporate inventories with each other".
The country introduced an accountability mechanism combined with detailed assessment criteria in 2015 to require all provincial governors to take full responsibility for local food security.
In a bid to protect its limited land resources, Beijing also set a minimum level of 120 million hectares (297 million acres) for the country's total cultivated farmland.
It has also set a target to build 53 million hectares of "high-standard farmland" by 2020 and then another 66.7 million hectares by 2022, all of which will be used for large-scale mechanical farming to increase crop yields per acre.
China has increased its imports of soybeans and corn to ensure self-sufficiency in staple grains, including wheat and rice.
And in August 2020, President Xi asked people not to waste food, which was immediately transformed into a national campaign.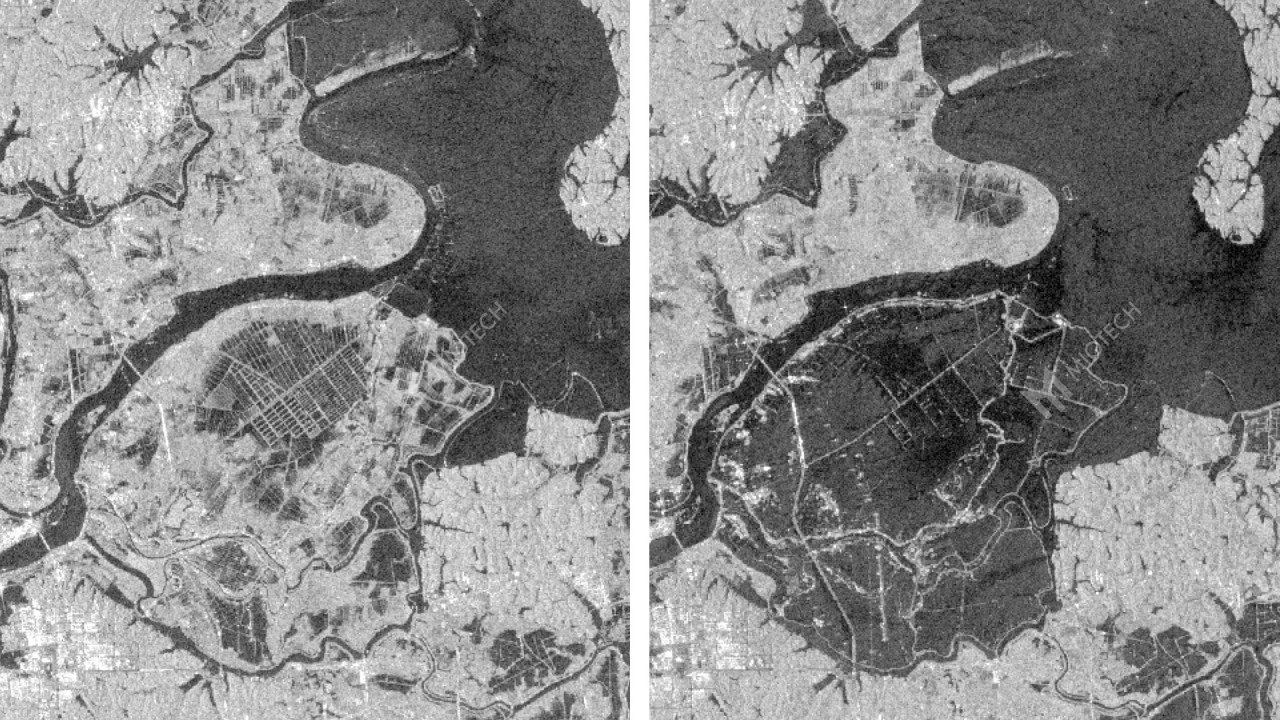 00:33
Satellite images show flood damage in China
Satellite images show flood damage in China
Does China rely on overseas imports to ensure its food security?
"Moderate imports" is a part of China's official strategy on food security, according to a government white paper issued in October 2019.
Cheng Guoqiang, a member of the National Food Security Policy Expert Advisory Committee and a professor at Tongji University, said that the country has to leverage imports to demand demand because of a domestic planting area shortage of 90 million hectares.
At the price of being fully dependent on foreign soybean imports, China is able to ensure enough land resources to be self-sufficient in the production of rice and wheat, two major staple crops.
China is already the world's largest importer of food. Since 2014, the country's grain imports have remained above 100 million tonnes.
It imported 115.1 million tonnes of grain during the first 10 months of 2020, up 28.5 per cent from a year earlier.
China imported 7.82 million tonnes of corn in October, up 97.3 per cent from a year ago, exceeding the low-tariff import quota of 7.2 million tonnes for the first time. The purchase of foreign wheat also rose 163.6 per cent to 6.69 million tonnes in October.
China, though, is still a net exporter of rice, meaning it exports more than it imports.
Does China have a pork crisis?
China claims to have made significant progress towards rebuilding the nation's pork supply after more than half of the nation's pigs were wiped out by the
outbreak of African swine fever
that started in August 2018.
Its stock of live pigs rose by 26.9 per cent in October 2020 from a year earlier, growing for the fourth consecutive month, while the stock of breeding sows rose 31.5 per cent, up for a fifth straight month.
As a result, the price of pork dropped for the first time in a year in October after rising for 19 straight months due to the impact of African swine fever.
At its peak in
February 2020,
the price of pork jumped 135.2 per cent from a year earlier, up from 116 per cent in January. In
October 2020
, China's consumer inflation slowed to their lowest rate in 11 years as the price of pork fell 2.8 per cent from a year earlier.
The recovery of pig production, though, also pushed up the domestic demand for corn to be used for feed, further highlighting the tension with the supply gap.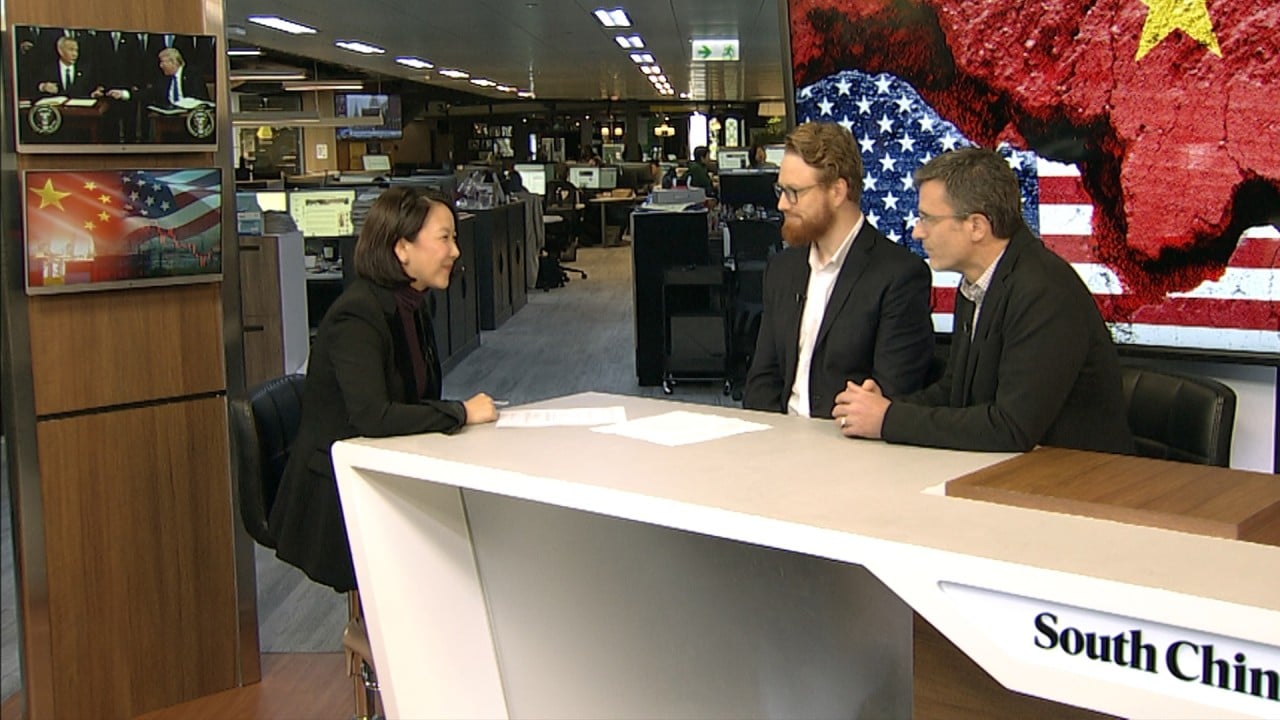 07:38
Unpacking the 'phase one' deal for the US-China trade war
Unpacking the 'phase one' deal for the US-China trade war
What impact did the phase one trade deal with the US have on China's food security?
China also pledged to remove barriers to a long list of US food imports, including beef, pork, poultry, seafood, dairy, rice, infant formula, animal feed and biotechnology.
According to the Peterson Institute for International Economics, China committed to an additional US$12.5 billion of covered agricultural products in 2020 above 2017 levels, meaning an annual target of U$36.6 billion.
Up to October 2020,
China's imports
of covered agricultural products stood at US$15.6 billion, 27 per cent of the target of US$27.1 billion in the trade deal.
Over the same period, US exports of covered agricultural products was US$17.5 billion, compared with a target of US$24.6 billion, meaning it had achieved 71 per cent of its target.
In terms of quantity, corn imports from the US soared 1,244 per cent from a year earlier in September, imports of the US soybeans declined by 32.44 per cent from a year ago but rose 602.4 per cent compared to the previous month, Chinese customs data showed.
Despite the robust rise in agricultural i
mports from the US,
"China will stick to the basic self-sufficiency of grains and absolute security of staple crops, keeping the bottom line of national food security unbroken," China's ministry of agriculture said.
"[China and the US] have broad space for agricultural cooperation, and expanding imports will help [China] fill the domestic supply gap," said Zhang Yansheng, chief researcher at the China Centre for International Economic Exchanges.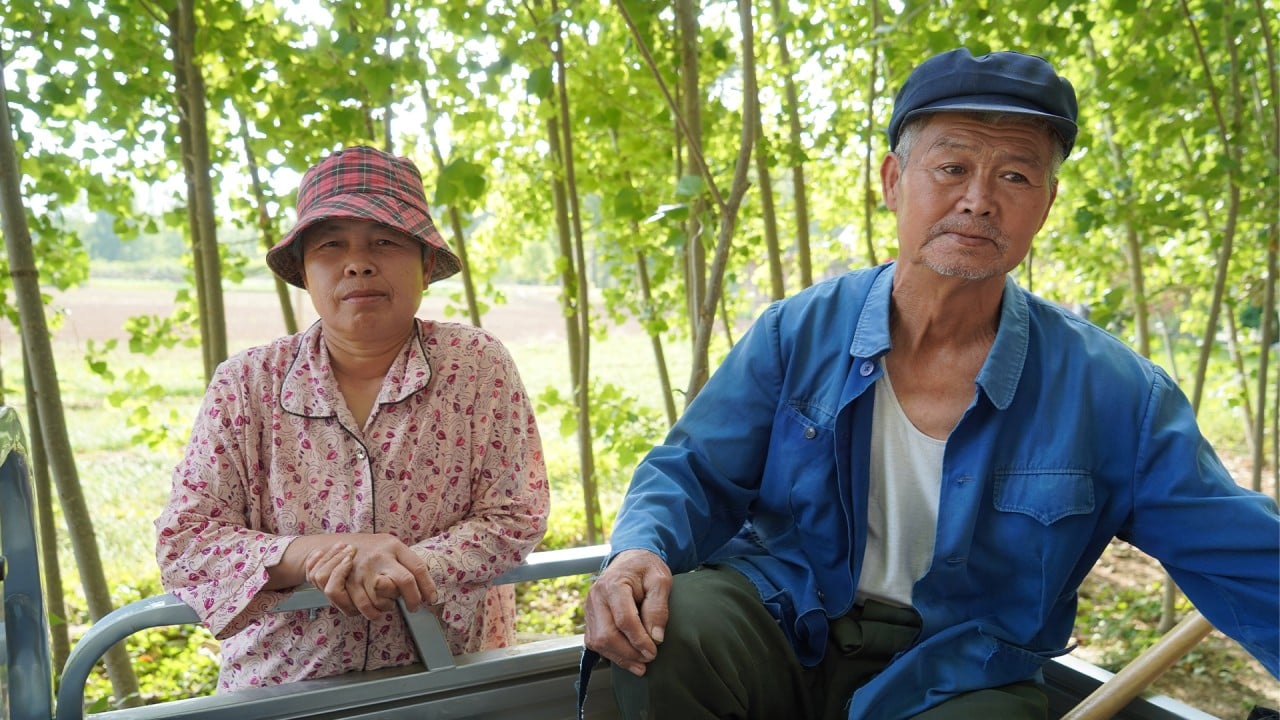 05:41
Why China's elderly farmers can't afford to retire
Why China's elderly farmers can't afford to retire
What is the outlook for China's food security?
Official data does not show an immediate danger of food shortages in China, but risks lie in structural imbalances.
Corn and soybean production faces the obstacle of limited land resources, and in the summer of 2020, a supply gap in corn caused producers turn to wheat, normally used only a human staple food, as an alternative ingredient for pig feed.
"China's grain supply and demand will still be in a tight balance in the medium and long term, and currently the structural contradictions are prominent," Zhang Wufeng, head of the NFSRA, said in October 2020.
Still, Beijing expects annual grain output to reach a record high in 2020, above the benchmark of 650 billion kilogram for the sixth straight year, according to a Ministry of Agriculture and Rural Affairs report at the end of November 2020.
02:46
Chinese rats, cobra farmers face debt and poverty after wildlife ban
Chinese rats, cobra farmers face debt and poverty after wildlife ban
Officials also made assurances in April 2020 that there was enough wheat and rice in storage to feed the "Chinese population for a year".
Zhang from the GLOCON Agritech Co-Innovation Institute, said that there was no shortage of overall grain supply in China, but that the potential sharp volatility in agricultural product prices was likely to shake national food security.
"It is possible that [in 2021], once the consensus on China's food supply gap collapses, there is likely to be a large drop in [food] prices," Zhang said. "This would hurt the industries and growers the most."
Want to know more?
In every episode of the
Inside China podcast,
we take a deep dive into a specific topic, mixing independent reporting and exclusive interviews to bring you unique insights into an emerging potential superpower. Now, we are featuring regular updates on the coronavirus pandemic from across the country.