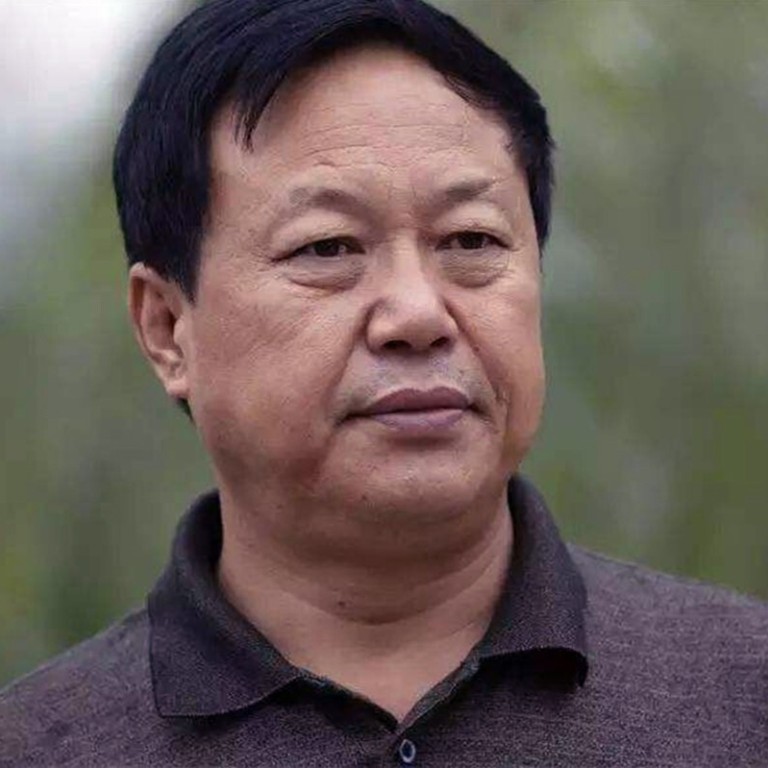 Sun Dawu vs the state: a cautionary tale for China's private sector?
The outspoken entrepreneur was detained in an early-morning police swoop, along with members of his family and company executives
There's no official word on the reason he was taken into custody but his business has been embroiled in a feud with a state farm
Sun Dawu, the 66-year-old founder of a private conglomerate in the northern Chinese province of Hebei, was
detained earlier this month
by armed police in a new twist in the life of an outspoken figure that many see as a cautionary tale for Chinese entrepreneurs under the watch of a powerful state.
Sun, the founder of Dawu Agricultural and Animal Husbandry Group, was among a number of people taken into custody early on November 11 on suspicion of crimes such as "picking quarrels and provoking trouble" and "sabotaging production and operations", the Gaobeidian public security bureau said in a brief statement that day.
The bureau did not specify how many people were detained or why Sun, whose company was not registered in Gaobeidian, was taken away by officers from the county-level city.
Beijing-based China News Weekly reported two days later that 28 people had been detained, including Sun, Sun's wife, his two sons, his two daughters-in-law as well as Dawu executives. Only four were released on bail within 48 hours, the report said.
On Wednesday, a social media account run by magazine Business 2.0 published three police detention documents for Sun's two daughters-in-law and Dawu's chief financial officer. According to the documents, all three were held on suspicion of "illegally appropriating public deposits".
In addition, a bail request for Sun's wife, Liu Huiru, was rejected by the police, according to the report.
There were no details about others taken into custody.
Provincial authorities have not provided any details about Sun's case in the last two weeks and the Gaobeidian police declined to comment further when contacted by the Post. The Gaobeidian Communist Party branch also declined to comment, as did a lawyer for Liu.
An assistant to Sun, who declined to be named, confirmed the detentions, adding that private businesses in China had to deal with this "misery".
The dramatic way in which Sun, his family members and the Dawu executives were detained, and the lack of official explanation about the grounds for the swoop, has fanned concerns that local authorities have infringed Sun's rights for their own purposes.
The case is also being widely watched to see whether Beijing's promises to protect entrepreneurs will be honoured by local authorities.
Jia Kang, former head of research at China's Ministry of Finance and a member of the Chinese People's Political Consultative Conference, said at a forum on November 17 that Sun's detention would have a chilling effect on private business owners.
"A group of armed police from a neighbouring region, with automatic machine guns and police dogs, smashed in doors at one o'clock in the morning to arrest 28 people," Jia said, describing the police action. "The central government has always emphasised a rule-of-law business environment, and many people are concerned about this case. If Sun is really a criminal suspect who must be arrested, at least there has to be a clear explanation."
The transcript of Jia's speech was published on his social media but was later censored.
In a post that was also later removed, Wu Danhong, a professor at China University of Political Science and Law, wrote in a blog on November 20 that Sun's case was just one of many, with "such things happening across the country every single day".
Hu Xingdou, a Beijing-based independent economist who knows Sun, wrote on his social media account on November 17 that Sun could be the victim of China's unreasonable land control system and had become a target for local authorities for being uncooperative.
It is not the first time that Sun has been in trouble with local authorities – he was arrested in 2003 for "illegally appropriating public deposits" and
he was later sentenced to three years in prison
. The sentence was suspended for four years and Sun was set free after the trial.
The reasons for Sun's detention now are not known. According to a report by the China Times newspaper, the arrest could be related to a land dispute between Dawu and a state-owned farm. Dawu employees had a violent clash with workers at a state farm in August, resulting in the detention of 39 Dawu employees. Neither the police nor Dawu have confirmed any link between Sun's detention and the land dispute.
However, Sun has made speeches and public comments embarrassing local officials in the past. In 2019, for instance, he accused Hebei authorities of covering up the real damage to the region's pig population caused by African swine fever.
And in Beijing in October last year, Sun said many Chinese entrepreneurs were "on the road to jail" because China's legal and bureaucratic system favoured state enterprises and local governments in conflicts between the state and private sectors.
"Is the legal system fair? No government department will be charged with wrongdoing, no state-owned enterprise will be charged with a crime, but we private companies can be the criminals," Sun said.
This article appeared in the South China Morning Post print edition as: Businessman's arrest a cautionary tale for private sector