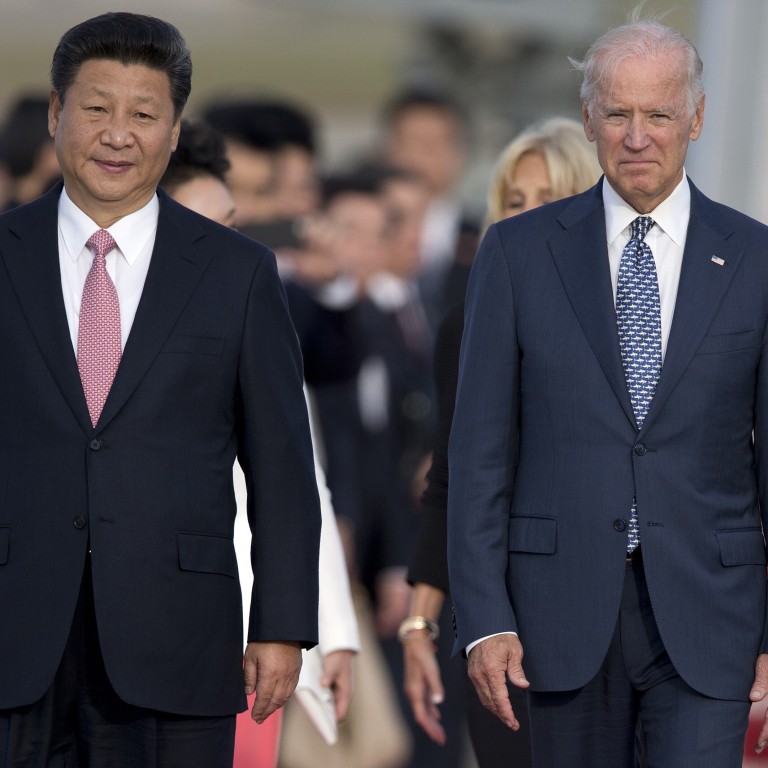 US-China relations: Joe Biden says trade war tariffs to remain in place for now as alliance building comes first
US President-elect Joe Biden tells The New York Times he will not make any 'immediate moves' to lift trade war tariffs ahead of trade deal review
Biden says 'best China strategy' is to get traditional Asian and European allies 'on the same page'
US President-elect Joe Biden confirmed that he will not make any "immediate moves" to lift the tariffs that the Trump administration has imposed on imports of Chinese goods before a full review of the existing phase one trade deal and consultations with US allies, despite China's hopes that it would be able to renegotiate the trade agreement with the new US administration.
In an interview with The New York Times published on Wednesday, Biden said the "best China strategy" was to get all traditional US allies in Asia and Europe "on the same page", which will be his major priority "in the opening weeks" of his presidency.
Biden said his trade policies will focus on "China's abusive practices", including "stealing intellectual property, dumping products, illegal subsidies to corporations" and forced technology transfers.
The phase one trade deal
was hammered out after months of painful negotiations and 18 months of trade war tariffs piling up on both sides. The deal has been hailed by the Trump administration as a major triumph amid the protracted trade dispute between the world's two largest economies.
The deal saw China commit
to buying US$200 billion worth of additional US goods over two years, on top of 2017 levels, but it stopped short of forcing major structural changes to China's economic model.
However, China has not been able to fulfil its purchase commitments under the deal. From January to October this year, China's imports of all covered products accounted for only 55 per cent of its year-to-date target, according to a November report by the Peterson Institute for International Economics (PIIE).
China's year-to-date total imports of covered products from the United States were valued at US$75.5 billion, compared with a prorated year-to-date target of US$137.3 billion. Over the same period, US exports to China of covered products totalled US$70.3 billion, compared with a year-to-date target of US$125.4 billion, the PIIE report said.
In October, the last month before the US presidential election,
China's trade surplus
with the US rose 18.7 per cent from a year earlier to US$31.35 billion, due in part to a surge in US imports of supplies used to combat the coronavirus outbreak, as well as electronic equipment to support the work-from-home movement. This was up from US$30.75 billion in September and was 46.5 per cent higher than when Trump took office in January 2017.
Despite Chinese government advisers having said that Beijing would seek to
renegotiate the trade deal
because the current deal is unrealistic for China to implement, US trade watchers counter that it would be wishful thinking for Beijing to try to renegotiate the trade deal in the near term. A significant shift in current US policies towards China is "unlikely" in the early months of the Biden administration, because any such move would validate Trump's claims that Biden was soft on China, they added.
In the interview with The New York Times, Biden also said that the US does not yet have the "leverage" to deal with the world's second-largest economy, so a bipartisan consensus at home for an American industrial policy is necessary. He said his administration will also increase government-led investments in research and development, infrastructure and education to better compete with China.
The US Congress may continue to be divided over several domestic issues after Biden takes office, given the likelihood that the Republicans will maintain control of the Senate, but the general Washington bipartisan consensus on the need to confront Beijing could result in agreement on legislation aimed at China, especially in the areas of science and technology.
Congress has proposed a number of bills aimed at preserving America's technological edge. The US House of Representatives is set to vote on a bill that could threaten the future of Chinese firms listed on US stock exchanges by requiring them to comply with US accounting principles and to prove that they are not under government control.