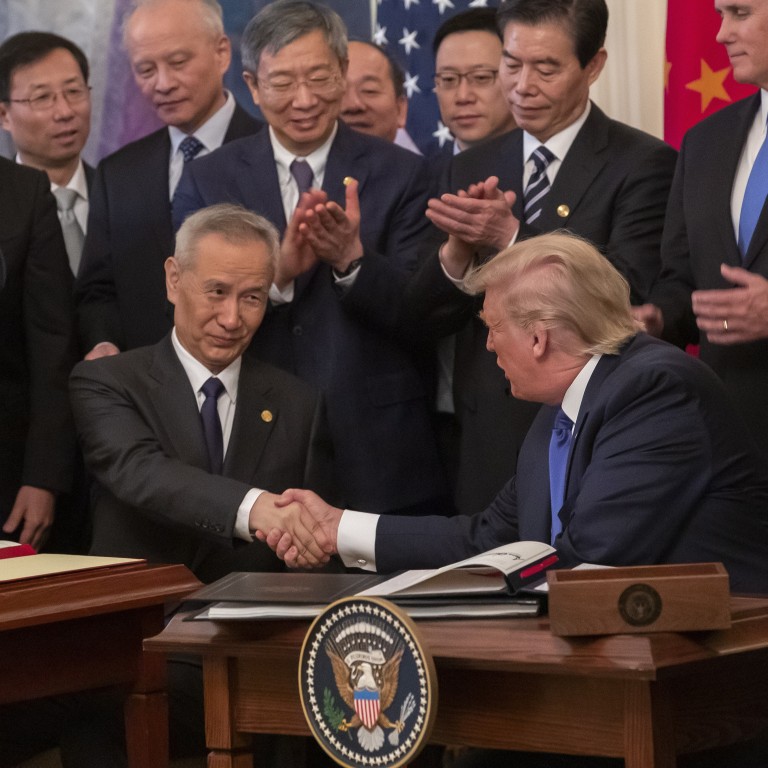 China 'accepts' Joe Biden will not rush to remove Donald Trump's US trade war tariffs, analysts say
US President-elect Joe Biden told The New York Times this week that he will not immediately remove tariffs imposed by Trump on China
China and the US signed the phase one trade deal in January, but tariffs remain on some US$370 billion worth of Chinese goods
US President-elect Joe Biden's decision to keep the Trump administration's tariffs on Chinese goods for the time being is "acceptable" for China, analysts said.
China and the United States signed a phase one trade deal in January, and the US halved a tariff on US$110 billion of Chinese goods to 7.5 per cent, but 25 per cent tariff on US$250 billion worth of goods remains.
And in an interview with
The New York Times
published on Wednesday,
Biden said
that he will not immediately remove tariffs on China imposed by Trump when he takes office next month.
"From China's perspective, it is acceptable that Biden has a period of adaptation," said Wang Wen, executive dean of the Chongyang Institute for Financial Studies at the Renmin University of China.
"China is mentally prepared, the country has the best expectations for Biden's China policy, but is prepared for the worst-case scenario at the same time."
The US-China trade war
started in July 2018, some 18 months after Trump took office, with the trade deficit with China a major political issue during the 2016 US presidential campaign.
"It's too early to make a call [over Biden's trade stance on China] and we should keep watching," said Xu Hongcai, deputy director of the Economic Policy Commission at the Beijing-based think tank, the China Association of Policy Science.
Xu admitted it was within China's expectations that Biden would not rush to mend trade relations, with domestic issues viewed as a priority for the president-elect, including containing the coronavirus outbreak and supporting the economy.
Biden was quoted as saying that he would first conduct a full review of the phase one trade agreement as well as consult all traditional allies in Asia and Europe, which he called the "best China strategy".
The deal saw China commit
to buying US$200 billion worth of additional US goods over two years, on top of 2017 levels, but it stopped short of forcing major structural changes to China's economic model.
However, China has not been able to fulfil its purchase commitments under the deal. From January to October this year, China's imports of all covered products accounted for only 55 per cent of its year-to-date target, according to a November report by the Peterson Institute for International Economics (PIIE).
China's year-to-date total imports of covered products from the United States were valued at US$75.5 billion, compared with a prorated year-to-date target of US$137.3 billion. Over the same period, US exports to China of covered products totalled US$70.3 billion, compared with a year-to-date target of US$125.4 billion, the PIIE report said.
In October, the last month before the US presidential election,
China's trade surplus
with the US rose 18.7 per cent from a year earlier to US$31.35 billion, due in part to a surge in US imports of supplies used to combat the coronavirus outbreak, as well as electronic equipment to support the work-from-home movement. This was up from US$30.75 billion in September and was 46.5 per cent higher than when Trump took office in January 2017.
"Even if Biden is willing to abandon trade frictions and take a rule-based approach … he may not be able to do so as soon as he enters the White House," former Chinese finance minister Lou Jiwei said last month.
A number of Chinese experts still predict a bumpy relationship between China and US even with Biden in the White House, with Tsinghua University professor Li Daokui saying at the weekend that potential sanctions by the incoming administration that target specific Chinese industries and companies could be one of the biggest risks to the economy next year.
"Biden won't be much different from Trump in broad strategy, but there could be changes in tactics," Guan Qingyou, the chief economist at the Reality Institute of Advanced Finance private think tank, said last month, suggesting China-US technology decoupling would continue under Biden.
This article appeared in the South China Morning Post print edition as: Beijing 'accepts' Biden unlikely to rush lifting of Trump tariffs, observers say