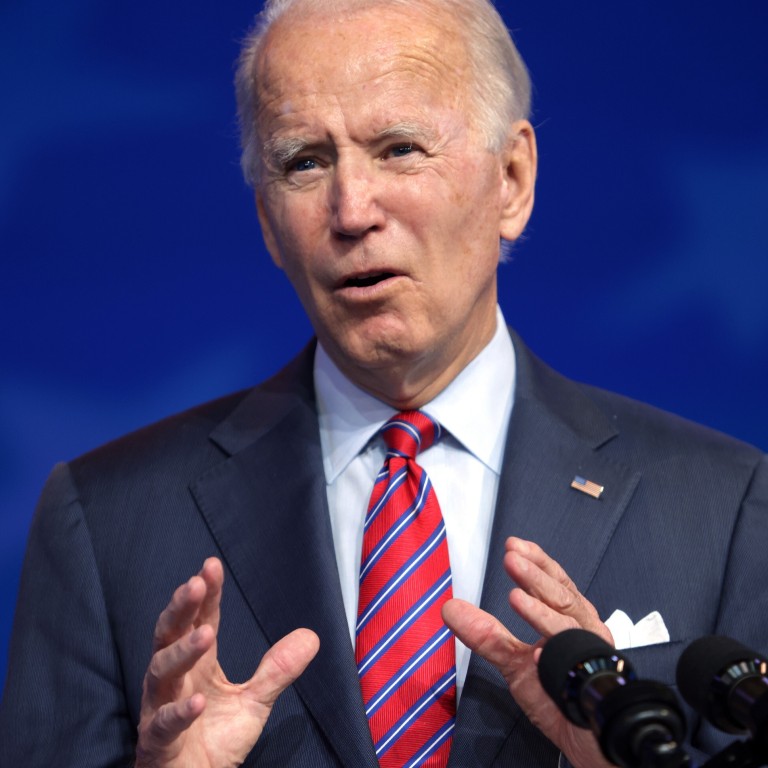 Katherine Tai: Joe Biden's US trade chief pick 'unmatched' on China issues, would not be soft on Beijing
Katherine Tai is a native Mandarin speaker who led US trade enforcement on China during time with Office of the United States Trade Representative (USTR)
Ex-Donald Trump official says she would 'share Robert Lighthizer's hawkishness on China', but has history of building coalitions at home and abroad
As America's chief enforcement lawyer on China trade issues during the Obama administration, Katherine Tai was charged with corralling partners to join the United States in a trade dispute against China on restrictions involving exports of rare earth elements – a market dominated by China.
It was a landmark case – one that stoked regional tensions between China and its neighbours, but which also helped raise awareness on some of the major grievances that trading partners had with Beijing, a decade into its World Trade Organization (WTO) membership.
Tai helped recruit 18 other economies to join the 2012 suit, including Australia, the European Union, Japan, Russia and South Korea. China dropped the export quotas in 2015, but the issue of
rare earths
has rumbled on against the backdrop of wider trade issues, as bilateral relations have deteriorated.
"We would fly to Brussels or Geneva or Tokyo, building that coalition," said Benjamin Kostrzewa, a Hong Kong-based trade lawyer with Hogan Lovells who worked on Tai's team. "Bringing Japan and the EU along was no easy feat – especially Japan, because they had, at that point, not brought a WTO dispute against China. Her combination of legal acumen and personal relationship were instrumental in building that case."
Fast forward eight years, and Tai, a native Mandarin speaker , is US president-elect Joe Biden's choice to lead the Office of the US Trade Representative (USTR), and is described as the first true China trade expert to have taken the top US trade job.
"Her experience successfully litigating trade disputes with China is unmatched. She intimately understands the challenge to the global trading system posed by China, as well as the strengths and weaknesses of the WTO as a tool to advance US interests," said Lauren Mandell, a trade lawyer with Wilmer Hale who worked with Tai on China issues at the USTR.
Tai's name has been linked with the role since soon after Biden's victory became clear. Over that time, some insiders privately suggested that her jumping from a congressional committee role to the US' top trade job might be "a bit of a leap".
In terms of raw ability and experience, one former official said Tai would "walk in the door as one of the most qualified USTRs in history", with a background on both the biggest issue, and an established Washington network and technical trade knowledge.
In addition to building an international trade coalition against China on rare earths, as the top Democrat trade lawyer on the House Ways and Means Committee, she was responsible for carefully juggling contentious issues such as the renegotiated US-Mexico-Canada Agreement (USMCA).
"To be able to deal with people and have them come to the table, even when they completely disagree with each other on a set of issues, and then find a way forward – that shows both political and policy chops," said Claire Reade, a predecessor of Tai's as chief China enforcer at the USTR, who said that her "record speaks for itself".
Tai also assisted in brokering Democratic support for the wave of legislation on Xinjiang in recent months, helping bank near-unanimous bipartisan support. Her appointment may be an indication that the US' tough line on alleged forced labour would continue, likely with bipartisan support.
But for many, it is her coalition-building record that fits in with how Biden is expected to approach China. Biden said last week that "the best China strategy" was to "get us back on the same page with our allies".
"For the Biden team, that hits on a critical area – to be able to say she worked on these tough cases and brought along our allies. And that's the kind of tough but cooperative message they are trying to get out there," said James Green, who was minister counsellor for trade affairs at the US embassy in Beijing while Tai was at the USTR in Washington.
Tai, an Asian-American, would be the first woman of colour to take the top US trade role. She spent two years living and working as a teacher in Guangzhou after graduating from Yale and before enrolling at Harvard. She spent seven years at the USTR – the final three as general counsel for China enforcement. Her past six years have been spent as counsel, then chief counsel, on the House committee.
She would be stepping into the shoes of arguably the highest-profile USTR in history, Robert Lighthizer – a renowned trade lawyer who built a career on protecting America's steel industry from foreign competition, before becoming Donald Trump's hawkish adviser on China.
But while she would be expected to pursue a more multilateral approach than Lighthizer, former colleagues categorised her as tough but thoughtful.
"I would describe her as having an iron-fist-in-a-velvet-glove approach," said Kostrzewa, who helped Tai build the US' rare earth cases against China. "She has great interpersonal skills but is also unafraid to push hard in negotiations."
In a sign that Tai may not face serious challenges in being confirmed by a potentially Republican-led Senate, former Trump officials have spoken of her appointment in glowing terms.
"I think she's fantastic and the right person for this moment – a substantive trade expert, well respected by business and labour, and [with] unimpeachable China-trade-enforcement credentials," said Clete Willems, who was director Larry Kudlow's deputy in the National Economic Council.
Willems said she would "share Lighthizer's hawkishness on China and has a tonne of direct background on China's industrial policy from her days at USTR", adding that "having someone who can directly converse with China in their own language is going to command respect".
"Katherine knows trade inside-out, going back to her USTR days when I had the pleasure of working with her," said Wendy Cutler, a veteran US trade official. "She's a problem-solver, demonstrated by her work with all sides and stakeholders to help bring USMCA over the finish line."
The appointment has also been noticed in Beijing.
John Gong, a professor of economics at the University of Business and Economics, said she "knows the complexity of China, having worked here before".
Victor Gao, an international relations commentator and former translator to paramount leader Deng Xiaoping, hoped that "her personal knowledge about China as a country, the Chinese people as a nation, the Chinese language, and the profound transformation in China over the past four decades", would "bode well for the reset of China-US relations" under Biden.
"The key is to make both China and America winners, not losers. Neither China nor America should behave as bullies, or be made victims," Gao said.
"Katherine Tai's experience litigating China-related trade issues at the WTO, and her reputation as a strategic thinker, make her a good pick for USTR. We have met with her in Washington, and we view her appointment positively, as she will be a strong advocate for US interests," said Ker Gibbs, chairman at the American Chamber of Commerce in Shanghai, who added that despite a turbulent four years, the chamber also enjoyed a good relationship with Lighthizer.
This article appeared in the South China Morning Post print edition as: 'Unmatched' U.S. trade chief choice lauded by experts